Students from the University of Maryland, Baltimore (UMB) showcased the importance of interdisciplinary education (IPE) this month as they received the grand prize at the sixth annual D.C. Public Health Case Challenge at the National Academy of Medicine (NAM) in Washington.
The challenge, aimed at promoting interdisciplinary, problem-based learning, asks student teams, with representation from at least three disciplines, to find a solution to a current public health issue present in the Washington community. This year's real-world issue was "Reducing Disparities in Cancer and Chronic Disease: Preventing Tobacco Use in African American Adolescents." The teams of scholars were given two weeks to formulate and propose a multifaceted solution to the issue.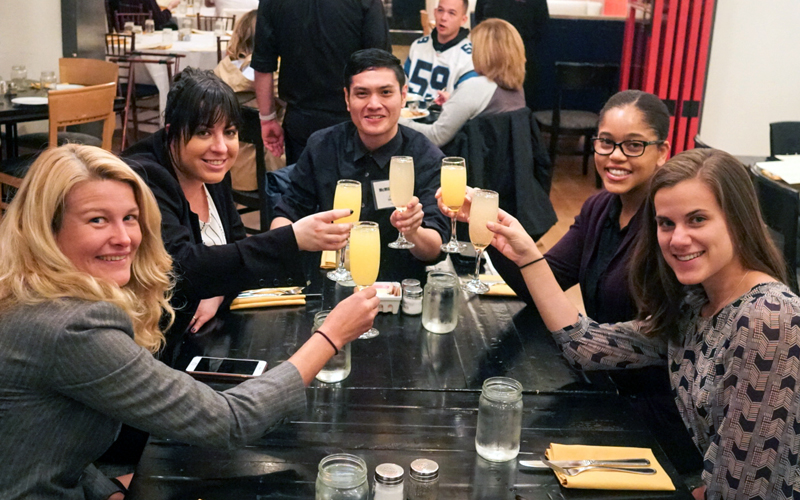 UMB's IPE team had an arsenal of interdisciplinary talent and experience, including six students from four professional schools: Jenny Breau, a student at the University of Maryland School of Social Work (UMSSW) and a Behavioral Health Workforce Integration Service and Education (BHWISE) fellow; Adrienne Thomas, a student at the University of Maryland Francis King Carey School of Law; Erin Teigen, a student at the UMSSW and a BHWISE fellow; McMillan Ching, a UMB Science Training for Advancing Biomedical Research Post-baccalaureate Research Education Program (STAR-PREP) fellow at the University of Maryland School of Medicine (UMSOM); Dominique Earland, also a STAR PREP fellow; and Chigo Oguh, a student at the University of Maryland School of Pharmacy and a Master of Public Health student.
"Public health problems span across disciplines by nature," Breau explains. "Looking at the issue through all of these lenses gave us the opportunity to tackle it from every imaginable angle."
Through research and development, the scholars formulated a single proposed solution titled D.C. Health Passport Program. The team describes the program as a multilevel advocacy and empowerment initiative targeting middle school students and their families in Wards 7 and 8.
"We knew early on that we wanted the program to include three main components: athletics, health education, and advocacy," explains Thomas, who has a medical background in oncology. "We spent a lot of time refining our ideas as a group because bouncing them off of one another helped create much stronger interventions."
Drawing upon each other's strengths, the scholars created a strong and feasible strategy for interventions that encompasses the whole community. Their D.C. Health Passport Program equips students with tools to be advocates for their communities and encourages healthy choices by engaging them through athletics and the arts.
The passport itself is an incremental goal-setting tool based in behavioral economics that is used to encourage participation in all aspects of the program. The program also connects families with critical resources, engages the larger Washington region, and empowers students and their families to create their own healthy communities.
"The students were passionate and excited about tacking the real-world problem," says Greg Carey, PhD, associate professor and director of Student Research and Community Outreach in the UMSOM and the team's lead mentor, recruiter, and advisor. "Their solution to the case certainly has potential real-world applications and implications, and we are so very proud of our young scholars."
The scholars worked under the guidance of Carey along with several UMB faculty advisors, including: Lauren Levy, JD, MPH; managing director of the Law and Health Care Program for the UMSOM; Laundette Jones, PhD, assistant professor and associate director of STAR-PREP in the UMSOM; and Michelle Beaulieu, LCSW-C, program director of BHWISE in the UMSSW.
The UMB team's proposal was declared the winner Oct. 15 at the NAM Annual Meeting. The victory included a $2,500 grand prize and an opportunity to present their proposal to other professionals at the "Building Leadership Across Generations for Health and Health Policy" luncheon.
"After the initial shock wore off, we were all really excited," Breau says. "It's always a great feeling when your hard work pays off!"
While thrilled to receive the grand prize title, members of team saw the victory as an extra boon to the invaluable experience and skills they gained from competing in the D.C. Public Health Case Challenge.
"Participating in the challenge helped me to gain a better understanding of health disparities and the multidisciplinary approach needed to eliminate them," Teigen explains. "The experience encouraged me to combine my background in medical research with my clinical practice skills to create change within an important public health issue, which I hope I may carry forward toward future doctoral studies."
The scholars also will benefit from the new relationships and connections they developed with students and professionals across the public health spectrum for years to come.
"This was one of the most enjoyable things I have done in law school," Thomas says. "Even if we hadn't won, it was a great opportunity to work with people from different perspectives and meet other students on campus who I never would have met otherwise."