After engaging more than 600 community members in its first year, the Social Worker in the Library program, which pairs social work students with library patrons seeking social services, will expand from four library branches in Baltimore City to seven.
"We are so proud to be launching another year of the successful Social Worker in the Library program," Heidi Daniel, president and chief executive officer of the Enoch Pratt Free Library, said at a Sept. 18 "meet and greet" for the newly expanded program, a collaboration between the Enoch Pratt Free Library and the University of Maryland School of Social Work (SSW).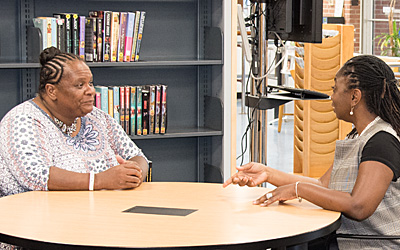 "This partnership ... is truly making a difference in all of our communities," Daniel said to the library and social work officials and student interns gathered at the Herring Run branch.
Social Worker in the Library, which began in 2017 at four library branches, brings graduate student social work interns into library branches to help customers address issues such as poverty, food insecurity, homelessness, and addiction. Three additional library branches will host the program in 2018-19 — Herring Run, Light Street, and Walbrook — joining the original program locations of the Brooklyn, Hamilton, Pennsylvania Avenue branches and Southeast Anchor Library.
Social work interns will be in the libraries at least two days a week providing one-on-one counseling to customers, conducting programs to serve the community, and training library staff on topics such as crisis management and positive engagement. The University of Maryland, Baltimore's Social Work Community Outreach Service (SWCOS) co-designed and manages the program for the SSW.
SSW Dean Richard P. Barth, PhD, MSW, said the school and the Enoch Pratt Free Library are committed to bringing services to people where they live and can best use them, so forming a partnership made a lot of sense.
"There's no question that the library has many patrons who come and want to use the services there, but they don't necessarily know how to use those services, or don't have access to them," Barth said. "The branch managers have recognized that for some time and working with the development team, as I understand it from Enoch Pratt, began to look for opportunities to expand the capacity that they have in libraries to serve some of our most in-need residents."
"People turn to the Pratt Library because they trust the Pratt, because we're anchors in our community," Daniel said. "Before this program started, our librarians said that they were seeing more and more people coming into our buildings looking for social services. Our staff is wonderful, and they were always able to point people in the right direction, but many times our customers didn't follow up because they didn't want to go to another facility. We started looking for a way to bring the services into our library, a place of trust in our city."
In 2017, the partnership between the SSW and the Enoch Pratt Free Library took shape, bringing eight social work graduate student interns into the four original branch locations. Twelve interns will serve in the expanded program.
"In just eight months, they were able to touch the lives of more than 600 library customers," Daniel said of the 2017 social work interns. "The social work interns have truly ingrained themselves in the library community in each of the neighborhoods. They provided referrals and information about housing, general and mental health, access to transportation, food, jobs and job training, and city, state, and federal government assistance."
Daniel credited Kimberly Street, MSW, LMSW, LPN, the SSW faculty clinical instructor who oversees the student social workers, for much of the program's success. Street "has been seen bringing birthday presents to regular library customers, going to other library branches when they have a customer in need of help, and even walking a customer to a local bank to help them open their very first checking account," Daniel said. "It's service like this that has made the program so powerful."
The Pratt library also has hired its first full-time social worker, Laurel Smith-Raut, LMSW '04, a SWCOS alumna.
"The growth of this program truly shows what can happen when anchor institutions like the Pratt Library and the University of Maryland come together," Daniel said. "The success stories we've heard have been life-changing, and I can't wait to hear more as the second year moves forward."
Barth said the partnership has turned out to be not only a great idea for Baltimore City but also could be a great idea for other schools of social work. To that end, Barth said he has shared the concept with the National Association of Deans and Directors of Schools of Social Work. "We're sharing ideas and best practices, and eventually I think this is an idea that could be not only something in Baltimore but that would be available to citizens all around the country."
Social science research suggests that institutions of social work coupled with libraries is a good fit for patrons, according to Wendy Shaia, EdD, MSW, clinical assistant professor and executive director of SWCOS.
"For many people, libraries serve as urban sanctuaries. Libraries are a free space where anybody can come," Shaia said. "They contain a high degree of social and natural support systems. Libraries are safe and natural spaces to find answers to questions and to inquire about resources."
Now with one full academic year completed for the program, Shaia said the possibilities are promising.
"We created a paradigm for how social work might play out in these urban sanctuaries, and it's really exciting," she said. "We believe that this pilot project will lead to an initial blueprint for how to engage social work professionals in a library system. We look forward to updating you over the next few years about our growth and evolution."
Street said the program has been one of "responsible field training and cultivating social workers that are compassionate and competent. Thank you for allowing me to be part of that family."
Another new aspect to the program this year will be the Circle of Security in the Pennsylvania Avenue branch, Street said. Circle of Security is an evidence-based early intervention program designed to enhance attachment and security between parents and children.
Kendra Owens, a library patron who frequents the Pennsylvania Avenue branch and has befriended Street since the Social Worker in the Library program began, also spoke at the event.
"She has attended every single support group meeting we have had," Street said of Owens. "Kendra is one of so many amazing people that we've met."
"Miss Kim [Street] is like a second mother to me," Owens said. "And when she asked me to come to a group at the library, she got me to open up. Now I don't stop talking."
Funding for the Social Worker in the Library program is provided by a grant from the Institute of Museum and Library Services, as well as the PNC Foundation, the Bunting Family Foundation, the Greif Family Foundation, and other key donors.