As the media relations director of the Baltimore Police Department, Capt. T.J. Smith, MA, MS, knows the ugly side of the city better than most. So he didn't sugarcoat Baltimore's problems on Sept. 26 when he spoke to University of Maryland, Baltimore (UMB) faculty, staff, and students as part of the President's Symposium and White Paper Project, which this year focuses on the fight against gun violence.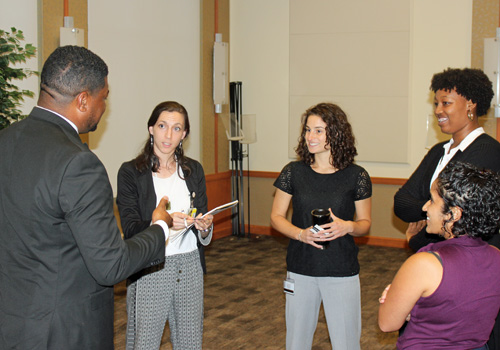 "These have been the most violent years in Baltimore history," Smith told the 80-plus people gathered in the Southern Management Corporation Campus Center ballroom. "So we're keenly aware of violence. Don't be fooled by any masks that people use to describe different tenures in policing over the years. Baltimore has been a very violent town for a very long time."
In fact, as Smith pointed out, USA Today recently ranked Baltimore No. 1 among large U.S. cities in the number of murders per capita. He said it wasn't even close.
"If we had a 40 percent reduction in homicides we would still be the largest city with the No. 1 problem," Smith said. "Just to use a comparison, New York City, with 8 million-plus people, had 285 murders last year. Baltimore City, with 615,000 people, had 342. If we had the population of New York City, we would have had well over 3,000 murders last year."
Not that Baltimore is the only city struggling with gun violence. Early in his talk, the personable Smith asked the crowd what state in the U.S. does not have gangs? Attendees guessed Utah or Hawaii. "No," Smith said. "The state of denialis the one that doesn't have gangs. Gangs are everywhere, gun violence is everywhere," he said, mentioning recent mass shootings in Harford County and a local elementary school that day where a student brought a gun.
He doesn't see things changing anytime soon despite determined efforts to curb such crimes. He pointed out systemic problems that have to be fixed first.
"Why is it easier for the kid in West Baltimore to get a gun than an apple or a salad?" Smith said. Combine the food deserts with poor housing "and then you're sending that child to school and telling them to sit still for six to eight hours a day and expect them to be a vibrant, productive member of society. We see zero percent proficiency in some of our schools."
And it's an ugly cycle that repeats itself, Smith said. "Let's just take three guys who spent 25 years in federal prison. One was from Baltimore, one was from D.C., and one was from New York and you dropped them back off in their hood. The only person who would be able to navigate through their hood today would be the one from Baltimore because it looks exactly the same as it looked 25 years ago. We just haven't been aggressive enough at changing what people have been used to."
Among numerous stories Smith told was one about Curtis Deal, 18, who in February 2017 got out of jail for the third time in a month before an altercation with police less than 24 hours later in which he was killed when he pulled a gun.
Smith said the story behind the gun is a sad tale in itself.
"That gun was reported stolen in Washington County by a husband and his wife who were getting some work done to their home. So he thinks it's these workers that are doing work, and reports it. Find out that his wife was opioid addicted and took these guns and sold them in Baltimore and that's how the gun ended up on the streets and used by Curtis Deal and he ultimately died as a result.
"We use Curtis Deal not to chastise him for what he did but to talk about an epic failure in the overall system. One, he probably should still be in jail. Two, we have an issue withpeople who are responsible gun owners having irresponsible people around."
With over 20 years in law enforcement, serving in community policing, tactical patrol, narcotics work at the Anne Arundel County Police Department before coming to the Baltimore Police Department just after the riots in 2015, Smith still takes tackling crime personally.
Especially a case in July 2017. Enjoying a rare vacation, Smith had just steamed crabs and taken some to his mother when one of the hundreds of texts he gets every day on police business came in with the subject line "Dionay Smith."
"I said, 'That's my brother,'" related Capt. Smith. "The age and address were the same and his first name is unusual. That's one of those surreal moments where you just can't believe it."
The younger Smith, 24, had been gunned down on the side of his home. Capt. Smith recounted to the UMB crowd how he reacted, details of the point-blank shooting, and how media outlets descended on him seeking a story during his time of grief.
As the public face who often is on TV reporting on the latest murder, Smith turned down dozens of story requests about his brother's death, which he called "number 173, because that's what we do in Baltimore, we count bodies."
After some closing remarks by Smith and emcee Courtney Jones Carney, MBA, director of Interprofessional Student Learning and Service Initiatives, the captain took many questions from the audience. He discussed the Safe Streets initiative, bulletproof vests for civilians, "suicide by cop," trust between police and the community, social media and crime, closing of rec centers, public housing, and many other topics.
Nicole Campion Dialo, a School of Medicine student who is one of the seven 2018 President's Fellows who is studying the root cause of gun violence, asked Smith if you could conceive of something to implement tomorrow that would cut our violence rates in half, what would it be?
"If I had a magic wand to fix our problem," Smith said, "I would start with our schools because really education is the key. There are not a lot of areas in this country that have an educated population and has these socioeconomic problems and social ills. So our school system is where it begins and our elementary school-aged kids."
Read more about the President's Symposium and White Paper Project.