A group of faculty members at the University of Maryland, Baltimore (UMB) who have expertise in multiple aspects of addiction research, education, and services took their knowledge into the community on Sept. 27 in Columbia, Md. Their insights were welcomed by the audience, including several parents of young adults whose lives have been harmed or lost because of opioids misuse.
The panel discussion is part of a series during 2018 led by the Office of Philanthropy, which is presenting "UMB: Targeting Solutions to the Opioid Crisis."
The series launched in Anne Arundel County last April and continues in October and November with sessions scheduled in Montgomery County and Baltimore County.

The Howard County presentation, held at the Wilde Lake Interfaith Center, took place in a county that had 51 opioid-related deaths last year, up from 40 in 2016 and 18 in 2015. And, according to the Howard County Health Department, 80 percent of the fatalities in 2017 involved illegal fentanyl.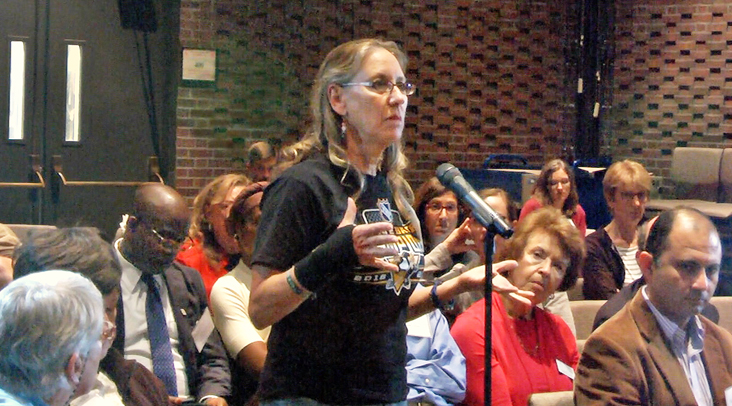 Synthetic drugs like fentanyl and carfentanil similarly account for 80 percent of Maryland's fatal opioid overdoses, said the panel's moderator, Natalie D. Eddington, PhD, FAAPS, FCP, dean and professor of the University of Maryland School of Pharmacy (UMSOP).
"This epidemic has brought us together around one core truth — and that's that our solutions have to be multifaceted and that education alone, or treatment alone, or prevention alone, isn't enough," Eddington told the several dozen people in the audience. "And that's why we're here: UMB has seven schools absolutely committed to working together on a comprehensive program to address opioid addiction."
She described how UMB is focusing the work of its schools through creation of an interdisciplinary Center for Addiction Research, Education, and Service (CARES) . The mission of CARES is "to strengthen and advance UMB's efforts to address the adverse impact of addiction on individuals, families, communities, and society," she said. Eddington is co-leader of CARES along with the dean of the University of Maryland School of Social Work (UMSSW).
The panel opened with remarks by Jay Unick, PhD, MSW, associate professor at the UMSSW, who also made reference to the appearance of deadly synthetic opioids in recent years. "History shows there's going to be a supplier," he said, noting how researchers previously had paid attention to heroin sold on the street or prescription painkillers diverted to illicit use. Rather than tackling supply, Unick suggested, "we have to do 'demand' reduction."
He gave two examples from his own research involving evaluation of programs intended to reduce the number of opioid users. In both cases, the goal is to capture the moment in which an addicted person is ready to accept treatment. "That's the kind of innovative thinking that we need," he said.
One, called Safe Stations, is operated by Anne Arundel County in police and fire stations and deploys crisis response teams. Unick said fire houses are accessible and make ideal portals because medically trained personnel are available on a 24/7 basis at no extra cost. A different program in Maryland is located outside jails, where workers in vans can enroll addicted people as soon as they emerge from incarceration.
Another panelist, Andrew Coop, PhD, professor and associate dean for academic affairs at UMSOP, also spoke about reducing the numbers of those who are driven to seek opioids. Yet unlike Unick's work at the societal level, Coop's work is at the molecular level.

Coop discovered the compound UMB 425, an opioid painkiller with the potential for no abuse liability. The scientist said he avoids the term addiction, saying it is imprecise and associated with stigma. Instead, Coop described the mechanisms of disease. If a user is motivated by avoiding withdrawal symptoms, perhaps after being given a painkiller because of surgery, the term is "dependent." A substance is "reinforcing" if the subject, whether a human being or a lab animal, uses it to get high.
Coop's research, funded for nearly two decades by the National Institute on Drug Abuse (NIDA) or other institutes at the National Institutes of Health, has achieved one of his two aims. UMB 425 causes no dependence but remains reinforcing. "The people on the street are very bright. If we had a compound that didn't give dependence, it would be great when used appropriately. But it would get diverted onto the street," he said.
"So we are halfway there with the compound," he said, as one part of UMB's multifaceted approach. "But we want to keep going." Otherwise, Coop concluded, our grandkids in 20 years will have to endure the same problem.
Bankole A. Johnson, DSc, MD, FRCPsych, DFAPA, FACFEI, the Dr. Irving J. Taylor Professor at the University of Maryland School of Medicine, spoke of the school tackling the opioid crisis on multiple fronts, from efforts in emergency departments to telemedicine in rural areas. And in his role as a pharmacologist, he said, he is placing his hope in the lab.
"It occurred to me we could probably develop some sort of vaccine against opioid dependence," Johnson said, describing the search for a molecular configuration "that allows you to be able to change behavior." The audience reacted positively when he shared one sign of progress: "We have non-heroin-addicted rodents, I'm pleased to say."
Johnson also spoke of his experiences as chair of the treatment component of the Maryland Heroin and Opioid Emergency Task Force. Johnson shared his dismay over the group's learning of a 12-year-old addicted to opioids as a way to illustrate the sweep of the problem, and he urged support for implementation of all of the recommendations.
Each presentation concludes with a Q&A session, which brought perspectives ranging from that of young adults to elders.
Harsana Showunmi, a student at the University of Maryland School of Nursing who is working on a doctorate, expressed interest about the very youngest, asking about any research in utero and drawing a response about a project studying neo-natal abstinence syndrome.
One father said he was a recovering cancer patient and his son, a recovering drug addict. In response, Coop drew analogies to the lifelong management of chronic conditions such as diabetes and heart disease.
One mother said she was desperate for answers to her questions, saying her 22-year-old daughter was, at that very moment, ready to enter treatment but unable to find a slot. Johnson suggested a University of Maryland addiction treatment program and gave her his personal contact information.
A Frederick, Md., resident, Edwina Stewart, MSW '96, said that at age 79, she is a clinical social worker serving elderly clients who sometimes refuse opioid pain prescriptions to avoid becoming dependent. She also recalled growing up in an era when expectations of pain tolerance differed greatly than in the present. "Maybe we don't always have to pick up a pill to fix things," she observed.