The University of Maryland School of Dentistry (UMSOD) collaborated with the United Way of Central Maryland to meet a need for dental care that had been identified as the No. 1 priority of homeless and underserved people in the area.
The UMSOD provided treatment to nearly 950 people at a Mission of Mercy dental clinic that concluded Oct. 13 at the Baltimore Convention Center. (View a photo gallery.)
The clinic was held in conjunction with United Way's Project Homeless Connect, which took place Oct. 12 and drew volunteers from several schools of the University of Maryland, Baltimore.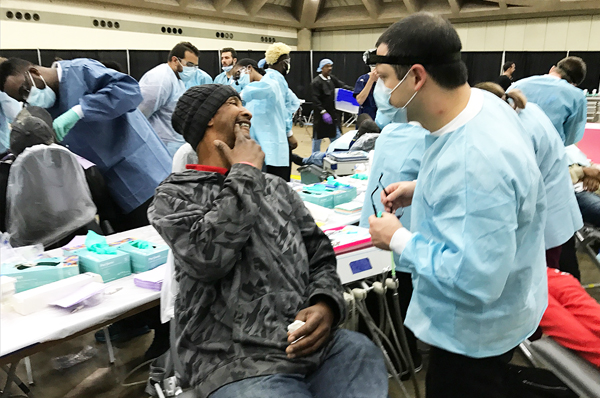 For UMSOD faculty, staff members, and students, this Mission of Mercy was an opportunity to refine a new model of treating a large number of people who lack access to oral health care or who cannot afford it. Unlike the typical clinic model that relies upon dentists who step away from their practices in the community to volunteer for a day or two, this groundbreaking model relied upon pre-doctoral students performing procedures under faculty oversight.
"I am extremely proud of what the School of Dentistry faculty, staff, and student volunteers accomplished at the Mission of Mercy. In two days, we provided oral health services to more than 900 of our neighbors in need, with most of the care provided by our exceptional students," said Mark A. Reynolds, DDS, PHD, dean and professor of UMSOD.
"We've also established a new model of treating a large number of people who lack access to care. In this model, our students gained real-world experience while providing much-needed treatment," he said.
About 275 UMSOD volunteers participated. More than 200 fourth- and third-year dental students performed extractions and restorations, with the third-year students assisting. Eighteen students from the Division of Dental Hygiene provided preventive care.
Last year's inaugural Mission of Mercy, tied to the 2016 Project Homeless Connect in Baltimore, was conducted with fewer chairs and held over two days. This year, the aim was to increase the number of patients served to a thousand from 701 in 2016. There were 100 chairs, up from 65, and what turned out to be a successful strategy to get a head start by screening a group of patients on Oct. 11.
On a first-come, first-served basis, UMSOD invited 200 people to check into the clinic and obtain their panoramic X-rays. Each patient was given a wristband that guaranteed a slot the next day.
Among the early birds were three siblings from Baltimore County who arrived at 3 o'clock on that Wednesday morning because they were so determined to get care. Lewanda Smith says she and brothers Timothy and Terence Smith each had teeth causing them pain, and all came away with a sought-after wristband and a digital image in a file folder. The next day, the Smith family arrived at the Convention Center at 4 a.m., with their folding chairs and a camp stool at the ready. By 10:30 a.m. on Thursday, their treatments were complete, she said.
"My smile is nice," said Lewanda Smith. She received fillings to repair four decayed upper teeth, and her brothers each had multiple extractions.
Ronald Ward, who says he signed up to be transported from a Baltimore City homeless shelter to the Convention Center on Thursday, was eager to be done with the pain of a decayed canine tooth and a molar. "It hurts pretty bad," he said, having been forced him to chew on one side for at least a year and a half.
Daniel DeCillis of the Class of 2018, assisted by Aja Ayala of the Class of 2019, performed two extractions. Afterward, Ward was beaming. "God bless you," he said, going on to repeat his thanks to others.
The two students and their dozens of classmates were similarly enthusiastic as they tended to one patient after another.
"The dental students just want to do some dentistry," said Ramsay Koury, DMD, clinical assistant professor at UMSOD. "Here they can just have the pure joy of treating patients," whom Koury said are being seen "in a very efficient manner and a very good manner" under the new model.
Louis G. DePaola, DDS, MS, associate dean and professor, UMSOD, elaborated on the model. "These events are focused primarily on disenfranchised populations. It's not just dental care, it's medical care in general. They have no resources or, for many of these people, they're extremely limited.
"I'm very, very proud of our dental students. We give them a very good clinical education, but we can't provide them real-world experiences like this."
The volunteer oral health providers completed 200 fillings, about 2,000 extractions, and 160 dental hygiene services. Led by John McDaniel, volunteers from the Central Materials Management Systems Department kept sterile instruments and supplies flowing consistently. Jeffery B. Price, DDS, MS, associate professor of oral and maxillofacial radiology, oversaw students and faculty members as they provided more than 950 panoramic X-rays, as some patients required more than one.
The Maryland State Dental Association Foundation and Remote Area Medical collaborated on the Mission of Mercy. The foundation, for example, provided two of the five panoramic imaging machines and other support.
Vanessa Benavent, DDS '09, MSD, FAGD, a clinical assistant professor at UMSOD and president of the association, said that unlike many other states, Maryland has no adult dental Medicaid benefit. "Clearly there's an unmet need with the population," she said. "We need to work toward something systemic."
This Mission of Mercy took place at the sixth annual Project Homeless Connect held by the United Way in Baltimore in keeping with a national, evidenced-based model to provide multiple services at the same time and in the same place. According to Scott Gottbreht of United Way, when the organization was setting up Baltimore's first one, it surveyed low-income people in the Central Maryland area and found that dental care was of greatest concern.