The University of Maryland, Baltimore (UMB) Graduate School, UMB Center for Global Education Initiatives, and the Centre for Trust, Peace and Social Relations based in Coventry, England, joined forces with community members for a dynamic two-day symposium called RISING Baltimore: Managing Tensions in Communities on Oct. 23-24.
The symposium, designed to share community engagement strategies across professions, universities, and borders, was based on the famous RISING Global Peace Forum held in Coventry and was the first to be held outside of that city.
The RISING forums hosted by Coventry University bring together global leaders and advocates working for peace in communities around the world.
UMB President Jay A. Perman, MD, said the symposium was a "transformative opportunity" to engage with and learn from different perspectives striving to achieve similar goals.
Perman joked, "Sometimes you just need to hear a really great idea in a different accent," but he quickly got down to business.
"Where we in Baltimore might talk about civil rights and social justice and community engagement, our colleagues in Coventry might talk of trust and peace and reconciliation," Perman said. "But vocabulary aside, our similarities are too similar to ignore."
Keynote speaker Lord John Alderdice, FRCPsych, is a member of the United Kingdom's House of Lords and played a key role in negotiating the 1998 Good Friday Agreement that ended 30 years of sectarian violence in Northern Ireland. He told the audience he got involved in politics because "it seemed to me there had got to be a better way of living together. There had to be some way we could disagree without killing each other."
Acknowledging that many in the audience might be wondering how his experience was relevant to Baltimore's troubles, Alderdice said, "We're not here to tell you how to solve your problem, we're just here to tell you our story.
"Of course, you will know our color problem is orange and green and not black and white, but what you may not know is how other historic aspects of our difficulties were not maybe as far away as you think."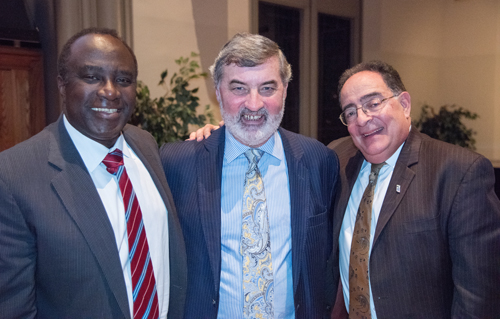 The symposium included the keynote Oct. 23 and panel discussions Oct. 24.
Day 2 consisted of well-attended panels and presentations featuring a mix of visiting Coventry University faculty, UMB faculty, and community members.
Virginia Rowthorn, JD, LLM, is executive director of UMB's Center for Global Education Initiatives. She helped organize the symposium and said global education can start in Baltimore. "We can't say we have all the answers, because we don't," she said. "This meeting is about sharing best practices, and my dream from this is to take some community members to Belfast or Malawi and to share how they work in communities and to show that we're part of the world."
A faculty lightning panel moderated by University of Maryland School of Social Work (UMSSW) Visiting Professor Jody Olsen, PhD, MSW, highlighted the successes and challenges of University engagement in the community.
Panelists included Bronwyn Mayden, MSW, UMSSW; Susan M. Wozenski, JD, MPH, University of Maryland School of Nursing; Michael Pinard, JD, University of Maryland Francis King Carey School of Law; as well as Coventry professor Harris Beider, who spoke about the white working class in England.
Pinard, who is co-director of the Carey Clinical Law Program, said listening to the needs of the community has led to several successes, including the HIV Clinic, the Access to Justice and Bail Clinic, and the Mediation Clinic.
"Focusing on community is really important for our students," Pinard noted in his remarks. "It teaches them to listen. It teaches them humility — the humility of being led and being taught by individuals who are directly impacted by the issues they are living with."
Pinard also listed some of the challenges of engagement, including maintaining strong community relationships while dealing with a revolving group of students that changes each semester. He also said the work itself can be difficult and uncomfortable at times.
"An obstacle on the teaching side is, if we actually do this right, if our clinic is really engaging the community, it is really uncomfortable at first. You fumble around at first, you make mistakes at first. You have to figure out what really works."
Alderice agreed, saying the work can be challenging but worthwhile. He offered this advice to attendees: "Together you've created something that is really valuable. For goodness sake, don't let go of it. Build on it, develop it. It won't be comfortable, it will be difficult."
In his closing remarks, Alderdice noted, "Baltimore has enormous strengths as well as big vulnerabilities." He encouraged the University and the community to continue to make progress and become a beacon of inspiration to others.
"When you succeed in creating something different, people will want to look to what you have achieved because they will know you've done something of enormous significance," he said.