Access to cancer screening services in Nigeria and identifying symptom changes in schizophrenia and depression patients are the focuses of the 2016 Research and Innovation Seed Grant award recipients, highlighting a collaborative research program between the University of Maryland, Baltimore (UMB) and the University of Maryland, College Park (UMCP). Part of the University of Maryland: MPowering the State initiative, the seed grant program was established to create opportunities for collaboration between disciplines and between the universities. All areas of research at UMB and UMCP are considered for funding.
(View a photo gallery.)
The award recipients were announced Oct. 17 in College Park by Bruce E. Jarrell, MD, FACS, chief academic and research officer and senior vice president at UMB and dean of the Graduate School.
The first team of 2016 seed grant recipients are Deanna Kelly, PharmD, BCPP, professor of psychiatry in the University of Maryland School of Medicine (SOM), and Philip Resnik, PhD, professor of linguistics in UMCP's College of Arts and Humanities. They will embark on the research project "Development of Computational Modeling to Identify Symptom Changes in Schizophrenia and Depression."
The second team named as 2016 seed grant recipients, SOM's Clement Adebamowo, BM, ChB, ScD, FWACS, FACS, professor of epidemiology and public health, Institute of Human Virology at UMB, and Kathleen Stewart, PhD, MS, of the UMCP College of Behavioral Sciences and Social Sciences, will research "Geospatial Mapping and Access to Cancer Screening Services in Nigeria, a Low and Middle Income Country."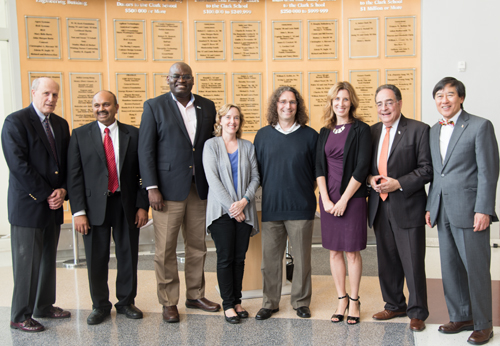 "It is very empowering to be able to harness expertise at UMB and UMCP for research aimed at reducing global cancer disparities," Adebamowo said after the announcement.
Added Kelly: "I am very honored that Dr. Resnik and I were selected as one of the seed grant recipients this year. I have attended the presentations for last year's winners and am impressed by the high caliber of collaborative projects that this mechanism funds. I was very surprised that we were selected, but have high hopes that our pilot work will turn into much larger funding mechanisms down the road."
Kelly's and Resnik's research project deals with helping to improve outcomes and lives of people with severe mental illness, a much-underserved condition, Kelly said. The work would not be possible independently, as UMCP has expertise in computational modeling and technology tools that UMB does not have, and UMB has access to patients willing to participate in clinical studies to which UMCP does not have.
"We'll look forward to a set of new and inspiring talks next year and a new competition for seed grant programs coming up in the near future," Jarrell said after announcing the winners during a reception in the rotunda of the Jeong H. Kim Engineering Building.
At the reception held in the engineering building rotunda, UMB President Jay A. Perman, MD, thanked faculty at both institutions for "giving life to very important ideas, investigating them and bringing them to bear for the good of mankind."
"Our partnership is very important to me," he said, referencing MPower. "But these are just foundational things. The people here in this atrium are the people who are doing the work, are making the partnership meaningful. Frankly, I can't think of two institutions that are better equipped coming together like this to make it happen."
In addition to naming the new grant recipients, the event also featured presentations highlighting the research results of the 2015 seed grant awardees.
Both universities "bring to the table different, but complementary strengths," said Perman. "It is this diversity that provokes novel explorations into some of the things you're working on: a better understanding of Parkinson's disease, a better ability to predict the probability of breast cancer metastasis, get real-time data on an individual's response to chemotherapy, making an earlier diagnosis of lung cancer. Speaking as a physician these are very meaningful, powerful goals and your work is so important."
Other leadership attending the event from UMB included Roger J. Ward, EdD, JD, MPA, chief accountability officer, vice president of operations and planning, vice dean of the Graduate School; James L. Hughes, MBA, director of UM Ventures and vice president and chief enterprise and economic development officer; Terry B. Rogers, PhD, assistant dean, research affairs in the School of Medicine; and William R. Randall, PhD, associate professor, Department of Pharmacology, also in the School of Medicine.
Representing UMCP were President Wallace D. Loh, PhD, JD; Michele A. Eastman, assistant president and chief of staff; Amitabh Varshney, PhD, interim vice president and chief research officer; Kenneth S. Gertz, associate vice president for research development; and Gregory F. Payne, PhD, professor, Fischell Department of Bioengineering.