Panelists from the University of Maryland, Baltimore (UMB) recently described innovative ways that UMB is helping to improve lives and livelihoods in West Baltimore.
Ashley Valis, MSW, executive director of strategic initiatives and community engagement at UMB, addressed nearly 100 participants gathered for the opening plenary at the West Baltimore National Community Development Conference. Held at Coppin State University (CSU), the conference drew dozens of participants on Oct. 13 and Oct. 14 to discuss the theme, "Exploring Innovative Ecosystems in Under Resourced Neighborhoods."
(View a photo gallery.)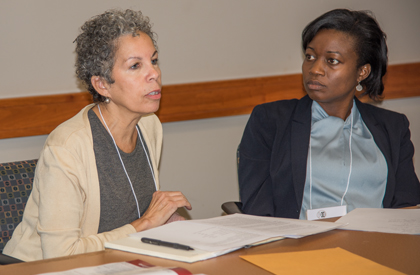 Bronwyn Mayden, MSW, assistant dean of the UM School of Social Work (SSW) and executive director of the SSW-led Promise Heights initiative, was one of two speakers in the session, "Resilient Approaches to Developing Healthy Communities."
The conference was organized by the Network for Developing Conscious Communities and its board president, Ron Hantz, who invited West Baltimore stakeholders and partners to share best practices and strategies. Mayden, for example, spoke about success in helping to reduce the city's infant mortality rate through B'more for Healthy Babies' community health workers. Baltimore City officials announced the improvement on Oct. 12.
UMB's Valis was joined on the plenary panel by Gordon May, PhD, president of Baltimore City Community College; Michael Molla, MEd, vice president of strategic initiatives at Maryland Institute College of Art; Douglas C. Dalzell, vice president and executive director, CSU Development Foundation; and moderator Charles Fletcher Jr., PhD, MS, professor, Delaware State University.
Valis outlined UMB's outreach through its Community Engagement Center (CEC), which the University's Office of Community Engagement has operated at the UM BioPark in the Poppleton neighborhood since last spring. "Our focus is in West Baltimore, because it's our neighborhood as well," said Valis, referring to the emphasis that UMB President Jay A. Perman, MD, has placed on service learning and other involvement in that part of the city.
In a milestone that occurred the day before, she said, the 100th person had sought employment assistance during what are dubbed "Workforce Wednesdays," at the CEC. Its staff, students, and nonprofit partners provide services weekly such as help with resumes and coaching in soft skills such as interviewing techniques.
Baltimore residents who take part in the process are guaranteed a chance at job openings for which they are qualified, and so far UMB has hired six people and the CEC has referred 20 others for job readiness programs at Baltimore City Community College and Civic Works.
Sometimes would-be applicants have complicated family situations or other hindrances to employment. "They need case management," said Valis. "It's slow work. It's new work that Dr. Perman has lifted up."
One goal is to ease barriers to employment such as those identified by the Baltimore Integration Partnership, a collaboration among anchor institutions that seeks to improve job opportunities for city residents, among other things. In some cases, it's not all that clear how to apply for employment. Workforce Wednesdays and other efforts, Valis said, are intended to guide residents to "the on ramp."
To help address families' issues such as food insecurity, the CEC offers fresh food at deeply discounted rates each week through the Baltimore Gift Economy's Organic Food Market, held on Tuesdays. The CEC's free services range from health and fitness to wealth-building and legal resources. For example, the UM School of Nursing conducts a play group for toddlers as well as steps and aerobics classes, and the Maryland Carey Law JustAdvice Legal Clinic holds regular sessions. The JACQUES Initiative, a program of the Institute of Human Virology at the School of Medicine (SOM), offers education and testing for HIV and hepatitis C.
Each month the CEC welcomes residents to a free community lunch. The October gathering drew 125 people.
Connecting directly with people was also a theme of the panel during which Mayden discussed the work of Promise Heights, including success in reducing infant mortality. "We don't have a trust with each other," she said. "It's part of the fabric that's torn apart in our communities."
To help rebuild trust and the neighborhood's social fabric, the B'more for Healthy Babies team is rooted in the community. Stacey Stephens, LCSW-C, the SSW clinical instructor who directs B'more's outreach in Upton/Druid Heights, has her office in an elementary school and relies on peer mothers who conduct activities in partner churches and places that are convenient to parents.
Said Mayden: "We're in the barbershops, in the beauty shops. We go everywhere."
That has included entering vacant properties when word gets out a baby is in unsafe circumstances. "We talk them out of abandoned houses," she said, recalling a situation in which Stephens encountered a young couple and their newborn in a vacant house without utilities. The solution: approaching the child's great-grandmother on the father's side.
"One of the most important things about community health workers is the relationship. We're able to build that trust," Mayden said.
"In over 30 months, we've not had an infant death in Upton/Druid Heights," she said. The unprecedented stretch has contributed to the city's overall improvement.
In 2015, Baltimore reached its lowest recorded infant mortality rate, according to a B'more release. The rate of 8.4 deaths per 1,000 live births amounts to a 38 percent drop since 2009, when the rate was 13.5 per 1,000 for Baltimore City.
B'more for Healthy Babies was established in 2009 as a public private partnership led by the Baltimore City Health Department, the Family League of Baltimore, and partners including UMB through the SOM and the SSW. The neighborhoods of Upton/Druid Heights and another in East Baltimore were targeted because demographics showed the need for greatest improvement.
Upton/Druid Heights, which is served by Promise Heights, is a poor neighborhood whose residents are primarily African-American. Infant deaths had contributed to an average life span in the neighborhood of only 62 years, 20 years less than a wealthier neighborhood only a few miles away, Mayden told the panel.
Health workers' impact in Promise Heights -- through more babies sleeping safe and more mothers getting care -- has been reflected in a citywide improvement for African-American outcomes. In 2015, Baltimore's infant mortality rate for African-Americans dropped to 9.8 per 1,000, which marks the first time in the single digits and a reduction of almost 50 percent, from 18.5 per 1000 in 2009.
Mayden was joined on her panel by Shalewa Noel-Thomas, PhD, MPH, director, Maryland Office of Minority Health and Health Disparities in the Department of Health and Mental Hygiene; and by moderator Daemon Jones, ND, of Healthydaes.