As part of an $11 million multi-institution effort by the U.S. Centers for Disease Control and Prevention (CDC), researchers at the University of Maryland School of Medicine (UMSOM) will focus on new and innovative ways to improve how hospitals and other healthcare facilities can better prevent the spread of germs, including the Ebola virus and other emerging infectious threats.
Anthony D. Harris, MD, MPH, Professor of Epidemiology & Public Health, will lead the school's part in the project. Overall, the effort includes six institutions nationwide.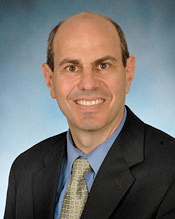 "This research has the potential to save thousands of lives," said Harris, who is also president of the Society for Healthcare Epidemiology of America (SHEA). "Despite decades of work in this area, we still have a lot to understand. We hope to identify efficient, real-world approaches to reduce the risk of microbe transmission in healthcare facilities."
The School of Medicine project, which will receive $2 million in funding, will focus on interactions between healthcare workers, patients, personal protective equipment, and the healthcare environment. Projects will be led by investigators from the UM SOM, the Veterans Affairs Maryland Healthcare System and Indiana University: Mary-Claire Roghmann, MD, MS, Professor of Epidemiology and Public Health; Kerri Thom, MD, MS, Associate Professor of Epidemiology and Public Health; Daniel Morgan, MD, MS, Associate Professor of Epidemiology and Public Health; Surbi Leekha, MD, MPH, Assistant Professor of Epidemiology and Public Health; and Kristie Johnson, PhD, Associate Professor of Pathology.
Research will examine novel ways to reduce transmission of infectious germs and to improve the effectiveness of personal protective equipment. The research team has extensive experience in infectious disease epidemiology, microbiology, clinical medicine, health economics, behavioral science, medical informatics, occupational health, and gerontology.
School of Medicine effort will have four components
First, researchers will study how Ebola virus spreads when healthcare workers remove their protective suits and novel methods of disinfection. During the Ebola outbreak last year, there were reports that some workers were infected while removing these suits. Because Ebola is too deadly to use in the study, Harris and his team will use another virus that is not hazardous, but which behaves similarly to Ebola on clothing. The scientists hope to better understand the safest ways for workers to wear, disinfect and remove their protective suits in the future.
The second and third parts will look closely at what patient attributes, and what patient-healthcare worker interactions, are linked to increased rates of infection. This study will involve observation of healthcare workers as they work with patients.
The researchers will analyze these patterns in two locations, hospitals and nursing homes.
A fourth part will focus on the potential usefulness of increased handwashing by healthcare workers. Now, workers generally wash hands before they enter a room, but not during the time they work with patients. It may be that increased handwashing, especially over gloved hands, could reduce the spread of germs from one part of a patient to another.
"Infectious disease, including Ebola, is a major public health threat. This project, which combines work from so many institutions, including ours, will make a difference in how we understand the spread of infection in the healthcare setting," said Dean E. Albert Reece, MD, PhD, MBA, who is also Vice President of Medical Affairs, the University of Maryland and the John Z. and Akiko Bowers Distinguished Professor at UM SOM. "The data that Dr. Harris and his colleagues gather will help save many lives."