The University of Maryland School of Social Work (SSW) is engaged in an ever-increasing portfolio of research and training to enhance the well-being of people ranging from children and adolescents to middle-aged men.
"In the last three months, the School has received notification of five newly awarded federal grants that will continue to deepen our expertise and generate greater impact," said SSW Dean Richard P. Barth, PhD, MSW. "In these new federally-funded efforts, we will be testing new methods to advance the capability of social work and to broaden health, education, and human service programs."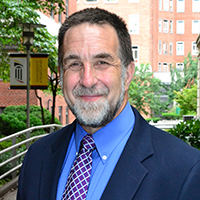 A five-year contract of more than $33 million from the Substance Abuse and Mental Health Services Administration (SAMHSA) of the U.S. Department of Health and Human Services (HHS) to the School's Institute for Innovation and Implementation is the largest single award ever made to strengthen children's mental health services.
The contract solidifies the Institute's role as the lead and coordinating entity for the National Training and Technical Assistance Center for Child, Youth and Family Mental Health (NTTAC) operated by the National Technical Assistance Network for Children's Behavioral Health (TA Network). The Network includes 13 sub-contracts with other universities and non-profit organizations. It provides technical assistance to the Child, Adolescent and Family Branch of SAMHSA and to grantees of the Children's Mental Health Initiative to support states and communities to expand and sustain their systems of care for children, youth, and young adults and their families.
Michelle Zabel, MSS, director of the Institute, is the principal investigator. "Our TA Network concept has been proven successful, during the last two years, and we are confident that SAMHSA's remarkable investment in us will again yield significant advances for our field," says Zabel.
A grant of $2.6 million, "Expanding MLDS Data Access and Research Capacity with Synthetic Data," will enable the SSW to work with the Maryland State Department of Education under a four-year initiative funded by the Institute for Educational Sciences (IES) to make state longitudinal education to workforce data available to more researchers by developing synthetic datasets from MLDSC data. The IES is the statistics, research, and evaluation arm of the U.S. Department of Education (DOE). Partners are the Maryland Longitudinal Data System Center, Maryland Higher Education Commission, the Maryland Department of Labor, Licensing and Regulation, and the University of Maryland, College Park (UMCP).
Associate Professor Michael Woolley, PhD, MSW, MPH, is principal investigator. In concert with colleagues at UMCP's College of Education and the three state agencies, the proposal will create a "synthetic data set," which will have the properties of the original data but will no longer have actual individual student records. Woolley says the research effort intends to "make it more possible to make what are now tightly held datasets into broader distribution so more scholars can learn from them."
A three-year grant of $2 million from the Administration for Children and Families at the U.S. Department of Health and Human Services (HHS) will build the capacity of Maryland's child welfare system to prevent homelessness among the most at-risk youth with child welfare involvement. The SSW will work in partnership with the National Center for Housing and Child Welfare, the Maryland Department of Human Resources, and the Talbot County Department of Social Services on behalf of five local agencies on the mid-Eastern Shore of Maryland.
This work on the mid-Shore, known as Thrive@25, is led by the SSW's Deborah Harburger, MSW '04; Ryan Shanahan, MSW '11, and Elizabeth Greeno, PhD '08, MSW '98, LCSW-C, who is research associate professor and principal investigator. It will install, implement, refine and evaluate an intervention model, Positive Youth Development, that is grounded in implementation science and a commitment to trauma informed care. The goal is four core outcomes: stable housing, permanent connections, social emotional well-being, and education/employment.
A $1.3 million, four-year grant from the Centers for Disease Control and Prevention (CDC) will support a group of interdisciplinary researchers who will address the disproportionately high suicide risk among middle-aged men, coupled with their limited use of mental health resources. The researchers, led by the SSW, will examine an online screening tool and an online therapeutic program, both targeting men ages 35-64. This grant, which the SSW announced Oct. 1, will enroll 200 men in the online programs and measure the individuals' suicide-related behaviors, their suicidal ideation and their depression.
The research will be led by Associate Professor Jodi Jacobson Frey, PhD '04, MSW '98, principal investigator, and Associate Professor Tanya Sharpe, PhD, MSW, co-investigator. Frey says the study will explore "unique approaches specifically tailored to the needs of this hard-to-reach population. The programs to be evaluated…target middle-aged men in places where they are most comfortable – at home, at work and online."
Finally, an award of $1.2 million from the DOE under its 21st Century Community Learning Centers program will fund the "Pupils of Promise Scholars Program." This support will allow the School to add its very effective community school model to a West Baltimore public school, Eutaw Marshburn Elementary, and to extend the capacity of Furman L. Templeton Preparatory Academy. Both are in Promise Heights, a federally recognized Promise Neighborhood in the Upton/Druid Heights area of Baltimore.
Bronwyn Mayden, MSW '77, assistant dean of the School and executive director of Promise Heights, notes, "This work means that we now have a community school operating in each of the five schools—from kindergarten through high school—in Promise Heights. This grant will benefit the community by improving the quality of educational and family services and the coordination between schools."