William F. Regine, MD, FACR, FACRO, the Isadore & Fannie Schneider Foxman Endowed Chair and Professor in Radiation Oncology at the University of Maryland School of Medicine (UMSOM) and Executive Director of the Maryland Proton Treatment Center (MPTC) and UMSOM dean E. Albert Reece, MD, PhD, MBA, announced today they are making final preparations for patient consultations at the new Maryland Proton Treatment Center (MPTC) to begin this November with patient treatment expected to start after the new year. The Maryland Proton Treatment Center is the first center in the Baltimore/Washington region to offer proton therapy, a highly advanced form of radiation therapy.
MPTC will be one of only a handful of centers in the country to have a fully integrated system of volumetrically image-guided proton therapy (IGPT) and intensity-modulated proton therapy (IMPT). Proton therapy is a precise form of radiation therapy which decreases the dose to normal tissues, and in many patients, results in fewer side effects. It is a highly effective treatment for a wide range of localized tumors, such as those found in the brain, base of the skull, head and neck area, eyes, esophagus, lungs, prostate, liver, breasts, and spinal cord, as well as gastrointestinal malignancies. It is a crucially important treatment option for children with cancer.
As an initial step in its preparations, all medical and support staff have now completed their move to 850 W. Baltimore St., the site of the MPTC at the University of Maryland BioPark in West Baltimore. The new 110,000 square-foot facility, which houses the 90-ton cyclotron that will generate the proton particles, will employ more than 170 physicians, technicians, and support staff. MPTC will be ready to open its doors for patient consults in November and will begin treating its first patients early in 2016. The center plans to ramp up to full capacity in 2017, when it will treat nearly 2,000 patients per year. MPTC is distinctive from other proton centers around the country in several ways, according to Minesh P. Mehta, MBChB, FASTRO, professor of radiation oncology at the School of Medicine, and medical director of MPTC.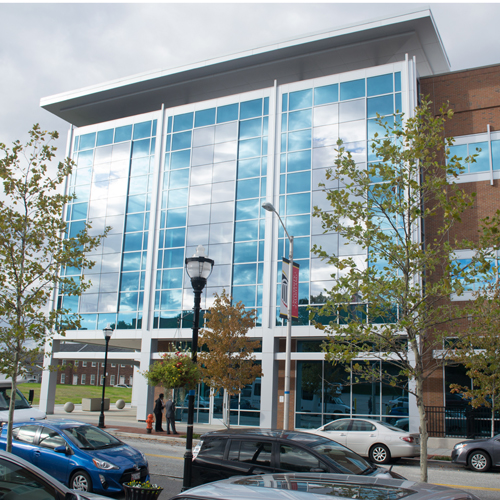 "Our vision for MPTC has always been what is most important to our patients: accessibility and affordability," Mehta said. "If you have great technology like this, it is worth doing it in a way that you can make it available to the people who need it most."
First, he noted that MPTC will feature increased efficiencies to maximize the number of patients who can be treated daily. For example, MPTC will be the first in the country to employ a unique patient throughput process. With a total of 10 patient preparation rooms, two for each of its five treatment rooms, MPTC can efficiently plan and prepare multiple patients for their treatment simultaneously in a safe, efficient manner. In timed simulation studies, this creative patient workflow model showed the potential to increase daily patient treatment capacity by 30 to 35 percent.
Second, from its inception, MPTC was designed to be a regional resource, providing the same training, privileges and clinical guidelines to physician groups across the region who will work side-by-side with MPTC faculty and staff. As a result, MPTC is projected to simultaneously improve efficiency and access, while maximizing its role as a regional, affordable resource.
Third, he said, the MPTC is fulfilling its original objective to make the facility cost-neutral for insurance providers. This approach is in line with pricing models established at proton treatment centers such as the Mayo Clinic. This model will enable patients to pay the same for proton treatment as they would for the more conventionally available intensity-modulated radiation (also known as IMRT) at the University of Maryland Medical Center.
"Above all, we want to ensure that there are no obstacles for patients who can benefit from this treatment," Regine said.
The School of Medicine has established an information line for patients who are interested in evaluation for radiation therapy, including proton treatment, at 410-328-7618.
About MPTC/Proton Therapy:
At MPTC, each treatment room will be equipped with the most advanced form of "pencil-beam scanning technology, which essentially paints the radiation onto the tumor while stopping precisely at the site of the tumor. Proton therapy is performed on an outpatient basis and is a well-tolerated, non-invasive treatment that has the potential to minimize short-term and long-term side effects. It can be used in conjunction with other modalities of cancer treatments such as chemotherapy and surgery. MPTC will offer a robust clinical trial program to all its patients to further evidence-based research.
For more information about MPTC, visit mdproton.com