"Cancer is still a major public health problem, with 24,000 new cancer diagnoses in Maryland each year, but it has been dropping," said Kevin J. Cullen, MD, director of the Marlene and Stewart Greenebaum Cancer Center at the University of Maryland Medical Center. In 1990, Maryland had the highest cancer death rate of any state in the U.S. But now, he added, Maryland's cancer incidence and mortality rates have dropped well below the national average. (View the photo gallery.)
Cullen explained to the nine members of budget and health care related committees in the Maryland General Assembly visiting the Greenebaum Cancer Center and the Maryland Proton Treatment Center Oct. 14 that much of the progress made can be credited to the Cigarette Restitution Fund Program (CRF). The General Assembly created the CRF in 2000 with funds derived from the Master Tobacco Settlement Agreement between states and the tobacco industry.
"The Cigarette Restitution Fund was critical to our building an NCI-designated center," Cullen explained, "that has been among the top 50 cancer centers in the U.S. for the last eight years." There are 69 National Cancer Institute (NCI) designated cancer centers in the U.S., considered the backbone of NCI's programs for studying and controlling cancer.
The Greenebaum Cancer Center provides state-of-the-art, multidisciplinary cancer care for patients in Maryland and beyond, and is a cornerstone of the University of Maryland Cancer Network. Launched in 2014, the UM Cancer Network connects the Greenebaum Cancer Center with UM Baltimore Washington Medical Center's Tate Cancer Center, UM St. Joseph Medical Center's Cancer Institute, and UM Upper Chesapeake Health's Patricia D. and M. Scot Kaufman Cancer Center.
"By combining the excellent patient care of the community hospitals with the innovation and scientific expertise of the Greenebaum Cancer Center, the UM Cancer Network is providing top-notch comprehensive cancer care to thousands of Marylanders," Cullen told the group. "Working together, anyone diagnosed with cancer in Maryland will move quickly to where they can get the highest quality care." The network now treats one-third of all cancer patients in Maryland.
Legislators were well aware of at least one recent patient – Maryland Gov. Larry Hogan, who just finished a six-part treatment regimen for non-Hodgkin's lymphoma. "His determination to get through this very difficult disease has been remarkable," said Cullen.
In addition to improving health outcomes for Marylanders, "Cancer research funding has also been an economic engine," Cullen continued. "We've been awarded nearly a half billion dollars in research grants since the Cigarette Restitution Fund was initiated." Some of that research has led to groundbreaking developments in the treatment and prevention of cancer. One example of excellence in research is the work of Angela Brodie, PhD. Brodie's research paved the way for a new class of drugs used to treat breast cancer called aromatase inhibitors, which have reduced the recurrence of breast cancer by 30 percent compared to the previously most widely used treatment.
"Now Dr. Brodie and her partner Dr. Njar [Vincent Njar, PhD] are developing Galeterone for prostate cancer," Cullen explained, "the first such treatment to receive [FDA] fast track approval."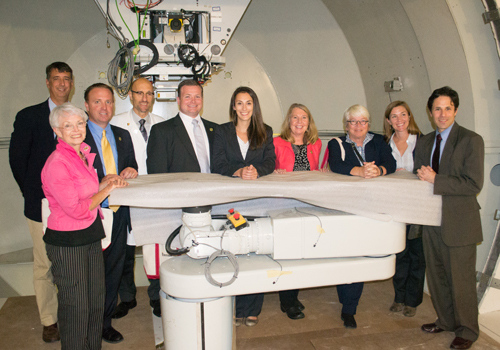 Following a tour of the Greenebaum Cancer Center, the legislators were given an inside view of the very latest technology in cancer treatment, and another example of the economic impact of CRF research funding, the Maryland Proton Treatment Center (MPTC).
The MPTC, which will begin treating patients in November, was built with $200 million in private funding and no state or local funding. When it comes on line fully a year from now, the center will treat 2,000 patients a year. Only 16 such centers exist in the U.S. and about two dozen others are operational outside the U.S.
"Proton therapy is useful in 20 to 30 percent of patients receiving radiation therapy," said William F. Regine, MD, FACR, FACRO, chair of the Department of Radiation Oncology at the University of Maryland School of Medicine and executive director of the MPTC. The reason, he explained, is that proton therapy uses an extremely accurate beam of radiation that can attack cancer cells without causing harm to surrounding tissue. This is especially significant when tumors are located adjacent to vital organs and when treating children.
MPTC's proton therapy will be even more effective, he added, because MPTC is only the second proton therapy center in the country to incorporate new technology that can allow for slight movements, such as breathing, in patients.
Senator Richard Madaleno Jr., chair of the Senate Health and Human Services Subcommittee of the Budget and Taxation Committee, asked about the cost of proton therapy, often reported to be two to three times the cost of traditional radiation treatment.
"We are the second [proton therapy] center in the country where the cost of getting proton therapy is the same as traditional radiation therapy," Regine answered, citing technological advances. "Looking at the long-term, proton therapy may also greatly reduce costs by reducing radiation impact on patients." Patients who suffer side effects from traditional radiation therapy may incur treatment costs even years after initial treatment. That's why Norway, a nation of just 5 million but with publicly funded medical care, plans to build four proton centers, he explained.
Walking through the core of the treatment center, legislators were shown behind the scenes much of the technical backbone. A 90-ton cyclotron generates the protons, spinning them at two-thirds the speed of light on a rapid 300,000-mile journey. The beam of energy is then steered by giant magnets, shaped, and focused before being delivered at any angle on a 230-ton gantry.
Delegate Craig J. Zucker, chair of the Health and Human Resources Subcommittee of the Appropriations Committee, asked about the duration of treatment and the side effects that might be avoided.
Regine explained that each treatment takes about two minutes, and that patients would typically receive treatments over a six- to seven-week period. As for side effects, "it depends on the cancer," Regine offered. "For instance, if you're treating someone for breast cancer, with traditional radiation you might expect higher rates of coronary artery disease."
MPTC will feature five treatment rooms housed in its 110,000-square-foot facility in the University of Maryland BioPark. Patient concierge service and an adjacent hotel also are planned to ease the cost and logistical burdens on patients and their families.