The University of Maryland, Baltimore (UMB) contributes greatly to the state's economy by strengthening its professional workforce and by triggering significant growth in other ways.
"UMB is an academic health center whose three core missions – education, research, and patient care — hold enormous value to the state," said James L. Hughes, MBA, chief enterprise and economic development officer and vice president, "not only in improving the health and well-being of Marylanders but in serving as a massive economic engine."
Hughes spoke on Oct. 2 to members of the Maryland Economic Development and Business Climate Commission in an appearance with other leaders in higher education. The panel, known as the Augustine Commission, was formed by Gov. Larry Hogan and is chaired by Norman Augustine, MSE, former chair and chief executive officer of Lockheed Martin Corp.
Augustine, who is esteemed for his business acumen and leadership skills, spoke about leadership at UMB in the first lecture of UMB's core values series last May.
The commission is made up of members of the Maryland General Assembly and leaders of state business and industry. The group held its Oct. 2 session at the Chesapeake Innovation Center in Odenton, Md. The commission's goal was to learn more about the role of higher education and the role that research universities, in particular, play in Maryland's economic future.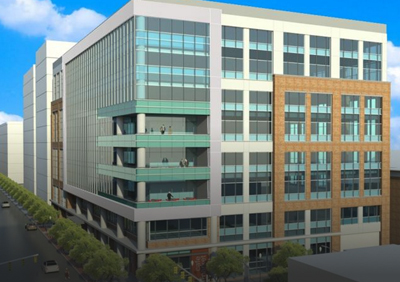 Hughes testified that UMB's role in job development would be greatly enhanced with a plan to add a $115 million, 250,000-square-foot lab and office building to the University of Maryland BioPark. It would, alone, employ 700 people, he said.
UMB is seeking approval from Baltimore City for tax increment financing (TIF) that would allow a private developer to begin construction next year at 873 W. Baltimore St. The TIF is, in turn, dependent on gaining designation as a Regional Institution Strategic Enterprise (RISE) Zone. A RISE Zone designation is seen as essential in attracting a tenant like Cambridge Innovation Center (CIC) of Cambridge, Mass., one of the nation's biggest technology incubators.
Calling Maryland's RISE Zone program "a jewel in Maryland's innovation economy," Hughes said its benefits could apply as much in Baltimore City as in other jurisdictions "if we secure more state participation in the tax credits."
"As you know, there's a critical need to expand Baltimore's tax base, and the RISE Zone's local burden only compels needy districts like Baltimore City to limit the size of their zones," he said.
RISE could, indeed, expand beyond real estate tax credits to include others such as a corporate income tax credit, he said.
He also advocated for adjusting the One Maryland Economic Development Tax Credit so that it would cover multiple companies located within a single RISE Zone. Broadening criteria to qualify for the incentive would be "a critical move for multi-tenant research campuses like the BioPark," he said.
Hughes thanked the commission for the opportunity to describe the impact of UMB as the state's only public health, law, and human services university, and he thanked his co-panelists "for their close collaboration and constant innovation in driving growth."
The University System of Maryland (USM) was represented by Assistant Vice Chancellor Andy Clark and by Brian Darmody, vice chancellor for technology development with USM. Darmody is also associate vice president for research and economic development at University of Maryland, College Park (UMCP).
Patrick O'Shea, PhD, MS, vice president and chief research officer at UMCP, spoke about the entrepreneurial spirit at College Park that has led to successful commercialization. UMCP and UMB collaborate as part of University of Maryland: MPowering the State, a program that includes UM Ventures, which Hughes directs.
Speaking of the UM Ventures tech-transfer effort, Hughes told the commission that startups (10) and licenses (56) have each doubled since the partnership began four years ago. He said licensing revenue ($3.1 million) is up nearly 75 percent.
Also representing Maryland's four-year institutions were Greg Simmons, vice president, institutional advancement, University of Maryland, Baltimore County; Tina Bjarekull, president, Maryland Independent College and University Association, and Tom Lewis, JD '82, vice president for government and community affairs, Johns Hopkins University.
Barbara Viniar, PhD, president of Chesapeake College; Sandra Kurtinitis, PhD, president, Community College of Baltimore County; and Brad Gottfried, PhD, president of the College of Southern Maryland (CSM), spoke on behalf of community colleges' role in workforce development.
The UM School of Nursing and CSM recently signed an agreement of dual admission that is expected to increase the number of bachelor's degree-prepared nurses in the state.
The commission was told that the state's economic growth depends more than ever on a better educated workforce. The Department of Legislative Services presented data showing, among other things, that a growing percentage of jobs will require a master's degree or better, according to projections for Maryland in 2020.