Public safety on the University of Maryland, Baltimore campus is a joint effort between law enforcement and the university community, according to a recent Town Hall meeting on public safety, featuring President Jay A. Perman, MD, and Assistant Vice President for Public Safety and Chief of Police Antonio Williams, MS.
---
View a full recording of the Town Hall Meeting on public safety below.
---
Perman and Williams called the meeting in Pharmacy Hall the morning of Oct. 14 to discuss with the community the steps that police and university officials have taken in response to recent crimes. The meeting also provided an opportunity for faculty, staff and students to ask questions about safety and security issues. Perman and Williams were joined by representatives from the Baltimore City Police Department, which has long partnered with university police on keeping the campus safe.

"Among all the things we do here, there is absolutely nothing more important to me and to the leadership of the university than the safety of our students, our staff, our faculty, our partners, our friends, our neighbors," Perman told the full lecture hall. "Without a doubt, public safety has been top of mind lately, and rightly so. We have had some very troubling events -- violence that's been perpetrated against members of our community. It's been upsetting, it's been unsettling, and therefore it deserves what we do in a university: To have an open conversation."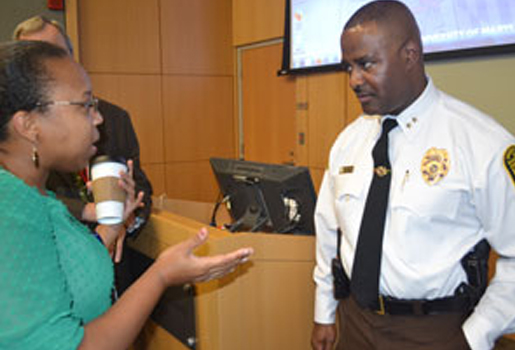 Williams presented statistics on campus crime, showing that crime overall is down 32.3 percent so far this year compared to the same time period last year. The campus has seen nine robberies so far in 2014, compared to seven in the same time period in 2013, a rise of 28.6 percent. "In the grand scheme of things, we may not say nine may be that many, but it's nine too many for us," he said.

The campus has seen six aggravated assaults so far in 2014, compared to one during the same period in 2013, a rise of 500 percent. Simple assaults are down from last year, with just 11 reported in 2014 versus 16 last year, a 31.2 percent drop.

The largest reduction in crime, Williams noted, is in thefts, in which just 53 incidents were reported on campus this year, compared to 94 last year and 110 in 2012. Thatýs a drop of 43 percent since last year.

Despite the numbers showing an overall drop in crime and reductions in certain categories, two robberies on Tuesday, Oct. 7 left the campus community "shaken," Williams said. Two robberies in such close proximity on the same evening is unprecedented for this campus, he added.

"This is an unusual event and certainly there is every reason for us to be very concerned about it," he told the crowd. "If you're afraid and there are issues, then we know we still have work to do."

The police have taken many steps to address crime on campus with more aggressive policing, Williams said. The force has implemented a strengthened patrol strategy, including more officers patrolling during the peak hours of 5 p.m. to 10 p.m., and the increased participation and visibility of building security guards. More officers are assigned to key street corners between the peak hours of 4 p.m. to 6 p.m., and supervisors are now on duty on evenings and weekends. Additionally, officers wear reflective vests to draw attention to the increased police presence, and they flash the yellow lights on their cars when patrolling in their vehicles.

"We want people to see us," Williams said. "We want even criminals to know that we're out."

Another key tactic has been to enhance UMB's walking and van escort program. The van escort program has added a second van to its services, and now runs at expanded hours from 3 p.m. until 1 a.m. The van escort program's boundaries have also been expanded three blocks in every direction to ensure that those who live or park slightly off-campus can be taken directly to their home or care in the safety of the van. The safe escort program also is now available to employees of the University of Maryland Medical Center, not just faculty, staff and students of UMB.

The van or walking escort program can be reached at (410) 706-6882. Williams urged the community members to utilize the service. "Please use it," he said. "If anybody doesn't feel comfortable walking on this campus at night, get a ride."

The police force also is working to improve its emergency alerts system to reach more people with faster, more succinct and accurate messages, Williams said.

The effort is a partnership with the Baltimore City Police Department, which also is stepping up patrols in this area to help combat crime, said Lt. Col. Melissa Hyatt, Area 1 commander. Specifically, the Central District will increase patrols during the busiest times for the UMB community -- in the morning, during the commute to work, in the afternoon at lunch time, and in the evenings during the commute home.

Crime overall is down in the Central District, but the city police still take seriously the concerns of the UMB faculty, staff and students, Hyatt said."

"Knowing that we've had less incidents of violent crime this year -- if you've been the victim of a violent crime or a property crime, or you know someone who has, you know every single case impacts people," Hyatt said. "Certainly the university and those in this room have been impacted very directly. We pledge to you to continue putting forth our best resources, working in conjunction with UMB to give you the best efforts that we possibly can in the downtown and west side area."

Partnership between the two police forces is key, all the law enforcement representatives agreed. But partnership with and the participation of the community is just as important, Williams said.

For example, cell phones are perhaps the most common target of robberies on campus, Williams said.

"One of the real simple things we can all do to help decrease our opportunities for victimization is simply not to pull that cell phone out, not to be distracted as you talk or text while you walk around this campus," he said. "This is one of the basic areas that everyone of us ... can help impact."

The first question from the audience focused upon data and statistics. The university community would benefit from updated, accurate statistics on crime being readily available, suggested one audience member. Williams responded that university police publish a 60-day crime log online in order to be as transparent as possible.

Another question suggested that evening students or those with class during the time of the Town Hall might benefit from another way to ask safety-related questions, or even another open forum meeting to air their concerns. Perman took the suggestion to heart and assured the audience member, a first-year law student, that he would hold another meeting at a more convenient time for that population.

One audience member suggested a more consistent message about community members' role in their own safety, including keeping phones put away, remaining alert at the ATM, and generally staying vigilant when outside on campus. He also suggested that men in particular might feel self-conscious about calling for the escort program, and suggested messaging to dispel that stigma.

Williams said all members of campus should feel comfortable using the escort vans or walking service. "I am personally asking for you to use it," he said. "There is no need for anyone to be walking around at night."

Another suggestion included extending the increased patrol hours to 7 p.m., rather than 6 p.m., to accommodate those who leave campus a little later. That audience member also suggested more assertive ways of communicating to criminals that the police are out and patrolling, including signage. Williams said the police force's tactic is "to do some more aggressive policing. The reality is that every member of our community can collaborate to send that message out that we're not going to be easy prey for criminals."

A shuttle to take faculty, staff and students would helpful to those who, for example, work on one side of the campus but park on the other, said another audience member. Otherwise, better parking options would be ideal, she added. Williams assigned a member of his leadership team to speak with the audience member about her specific concerns.

Perman closed the meeting by adding that he hoped public safety would remain top-of-mind throughout the university community.

"This is a continuation of a dialog," he said, "not the end of it."