For several University of Maryland Francis King Carey School of Law students and faculty members, a two-week trip to Malawi has further cemented a collaborative bond established years ago between the law school and the University of Malawi's Chancellor College of Law.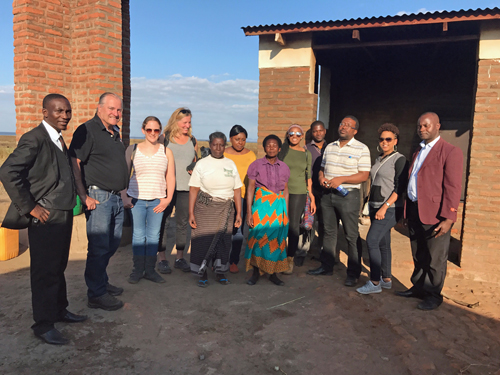 The collaboration began in 2010 when the University of Maryland, Baltimore (UMB) Center for Global Education Initiatives sent an interprofessional team of faculty and students to Malawi to study the health and legal needs of orphans and vulnerable children. Since then, UMB students have traveled to Malawi yearly to study alongside Malawian students and faculty on topics such as HIV policy, criminal justice, jail overcrowding, delayed access to legal representation for detainees, and, in July, the need for environmental law clinics.
"One of the center's primary goals is to stimulate out-of-the-box thinking and problem solving around some of the world's most difficult problems by bringing together teams from different countries and settings. We send these teams of students to do projects overseas," said Virginia Rowthorn, JD, LLM, executive director of the Center for Global Education Initiatives. "This kind of bi-directional learning is critical in this globalized world."
In July, Rowthorn, along with Robert Percival, JD, MA, Robert F. Stanton Professor of Law and director of the Environmental Law Program, law students Taylor Lilley and Julia Kenny, and Carey Law graduate Atiji Phiri, LLM '17, traveled to Malawi to provide input on environmental protection practices and clinical education.
The goal of the trip was to support the growth of Malawi's first environmental law clinic, the Environmental Justice and Sustainability Clinic at Chancellor College, launched by Professor Chikosa Banda of the University of Malawi.
Percival, who has extensive knowledge in creating environmental law clinics, selected the Carey Law students who traveled to Malawi to present in a workshop focusing on environmental clinical education and public health. Presentations by the Maryland group included Global Environmental Justice, Contemporary Environmental Clinical Law, video documentaries created by Carey Law students, the Student Practice Rule in the U.S., and Comparative Analysis of the Enforcement of Environmental Laws: U.S. and Malawi.
Malawi's parliament is in the final stages of enacting a National Environmental Management Act, which will create a new Ministry of Environmental Protection and facilitate citizen suits by virtually eliminating standing requirements for environmental nongovernmental organizations (NGOs), Percival said.
The Maryland group met with staff from the Environmental Affairs Department in Malawi's capital of Lilongwe to discuss challenges in implementing the new law. At meetings with Malawi's top environmental organizations, Chancellor College students and faculty along with the Maryland group explored potential projects for cooperation between the Malawi clinic and NGOs.
Student Kenny said she participated in the trip because she is interested in international and comparative law.
"I want to work in human rights and immigration, so I was looking for international experience," she said. "This trip presented itself to me as a way to challenge myself in a different area of law and to experience a glimpse of culture that I may otherwise not have the opportunity to explore. It was an invaluable experience, and I am glad to have been a part of it."
Kenny said she gained an appreciation for the effect the environment has on people's overall health and some of the battles communities face in addressing environmental issues. "Since I do not have a background in environmental law, much of what we discussed was new to me," she said.
Her experience made her all the more excited to pursue a career in international law, she added.
Finding ways to continue the collaboration between the two law schools is a challenge, Kenny said. "Both teams feel very strongly that an ongoing relationship will be beneficial to all of those involved, but there are geographical, financial, and resource constraints that make orchestrating an ongoing relationship tricky," she said. "We spoke about this a great deal while we were there, and there are already ideas of projects we can work on together. I'm optimistic that we will make it work."
Leslie Glickman, PT, PhD '64, an instructor at the University of Maryland School of Medicine (UMSOM), contributed toward funding the summer Malawi project in honor of her late husband, David R. Glickman, LLB '66, and because of her ongoing work with the rehabilitation community of Malawi for the past four years.
"I thought it was a great project to support and do something that had some lasting impact on people's lives," she said. "I thought it was money well spent, and my husband would be very proud."
Via Skype, Kenny, Lilley, and Phiri shared their experiences with Glickman after they returned. "It was exciting to hear their enthusiasm and to hear their description beyond what you can get from a written report," Glickman said. "It brings it to life, and you can hear the passion and excitement about the project."
It takes a special student to participate in global education initiatives, Glickman noted. "The right student has the passion for learning and exploring, with an open mind and a willingness to make a contribution. You are a spokesman for your profession, for your school."
For Phiri, who is not only an environmental law graduate but also a Malawian citizen, "the trip presented a great opportunity to learn about the status of environmental laws in Malawi and to get firsthand accounts of what the environmental community — that is the government, nonprofits, and citizens— were doing to address environmental concerns."
"This was a great opportunity to put my recently acquired knowledge of environmental laws to the test," Phiri continued. "It was also interesting to learn the similarities and the differences in the regulation of the environment in the United States and Malawi. There is a lot that Malawi could learn from the U.S., since the U.S. has one of the most developed environmental regulations in the world."
Phiri enjoyed being back home and especially sharing her homeland with the team from UMB.
"For starters, they made me look good, not only to my family but also to my undergrad professors at the Chancellor College law school," she said. "It was also amazing to experience Malawi from their eyes. I am hopeful that the connection between the University of Maryland and the University of Malawi will continue."
The students were selected for the trip by Percival after careful consideration, he said.
"The ideal student is one who is able to adapt to different environments and has had experience traveling and working in different countries," he said. "In the past, almost all the groups have been focused on health law issues. But this time they requested that we send over environmental law students.
"Malawi is one of the poorest, most densely populated areas in Africa. They have environmental challenges that would be unheard of in the U.S.," Percival added, citing as an example that out of Malawi's five sewage treatment plants, only one is in working order. "It's a particularly important time to be working over there."
Studies show international travel is transformational to the student, Rowthorn added. "They come back much more committed to social justice and the community. They grow in terms of knowledge and perspective, too. We didn't go there to teach as much as to grow together and to learn together."