Two days a week, four University of Maryland Francis King Carey School of Law students traveled from Baltimore to Bethesda to attend a unique externship opportunity at the National Human Genome Research Institute (NHGRI) at the National Institutes of Health.
Under the expert guidance of Karen Rothenberg, JD, MPA, Marjorie Cook Professor of Law, the students spent 13 intense weeks exploring the ethical, legal, social, and policy issues raised by genomics research.
Rothenberg, a leading national expert on legal issues in health care and genomics, created the externship in collaboration with colleagues at NIH, where she served as senior advisor to the director on Genomics and Society from 2012 to 2015. After her time at NIH, Rothenberg knew she wanted to expose students to the real-world convergence of health and law. While Carey Law provides many excellent externship opportunities, Rothenberg says the NIH program is a rare chance for law students to see the inner workings of NHGRI.
In addition to the expected reading assignments and required class participation, the workshop requires weekly attendance at the Undiagnosed Diseases Program (UDP) rounds, attendance at NHGRI Institutional Review Board meetings, and an extensive research project completed in collaboration with an NHGRI mentor.
After a rigorous application process, Rothenberg accepted four students for the fall semester. "It's very intensive; it's not your typical law school class. They're supporting each other and they're collaborative. I want them to be immersed in NIH culture and come away with a good understanding of how lawyers and scientists can be problem solvers together," she says.
Nana Tufuoh
Third-year law student Nana Tufuoh wants to be one of those problem solvers. Born and raised in Ghana, she decided to focus her research on sickle cell disease, an inherited blood disorder that affects red blood cells. The painful and often life-shortening disease is common in sub-Saharan Africa, but remains a low priority for many health ministries.
Tufuoh paired up with Vence Bonham, JD, senior advisor to the NHGRI director on genomics and health disparities, whose research focuses on the social influences of genomic knowledge and sickle cell disease.
Her project examines some of the challenges of implementing universal newborn sickle cell screening in Ghana and offers suggestions on how to overcome the hurdle. "One of the big obstacles that I noticed was the health insurance scheme wasn't doing too well," she says. "I'm looking at ways of strengthening that system, whether it be monitoring fraud and abuse, increasing premiums, which are pretty low, and looking at areas of the health insurance scheme that could tighten up and more effectively pay for screening programs that are supposed to be guaranteed by law."
Tufuoh says Bonham has been an "amazing" mentor who helped her connect with experts in the field to conduct research for her long-term project. "A really integral part of my research was interviewing experts," she says. "Sometimes that research can be hard to find online, so it was nice to hear straight from people working on the ground. That all came though his [Bonham's] network," she says.
Her goal is to publish a paper that includes policy recommendations for screening newborns in Ghana for sickle cell disease. "I hope it reaches people that are working on this issue," she says. "I hope someone in these countries in sub-Saharan Africa reads it and says, 'Hmm, that's something we could use to tackle this sickle cell problem.' "
Uma Ramamurthi
Workplace health and wellness programs are becoming a common employee benefit in the United States. A 2012 Workplace Wellness Programs study by the Rand Corp. found that about half of employers with at least 50 employees, and more than 90 percent of those with more than 50,000 employees, offered wellness programs. That's why third-year law student Uma Ramamurthi, along with mentor Lawrence Brody, PhD, director of the Division of Genomics and Society, decided to research wellness programs and how genetic information gathered could be used by employers for possible discrimination. Ramamurthi says that although this issue affects thousands, if not millions, of people, there is very little written information outside of legal and academic journals available to the public.
Ramamurthi says she is fascinated by the legal implications of genomic research and felt privileged to see them at play firsthand while accompanying the clinical director of the Undiagnosed Diseases Program, William Gahl, MD, PhD, on rounds. Gahl says the rounds help put a human face on the health care aspects of the legal system, including the equal access to treatments, Food and Drug Administration policies, and the ethics of overpricing drugs. As a law student, Ramamurthi tried to determine what legal issues the UDP patients were confronting. "How is the legal system impacting this patient? It could be immigration, family law, torts issues," she says. "You can see very clearly what your role is as a lawyer."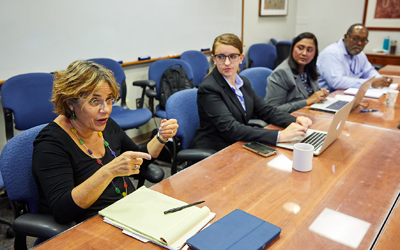 Eleanor Chung
Third-year law student Eleanor Chung worked with bioethicist Benjamin Berkman, JD, MPH, deputy director, NHGRI Bioethics Core, investigating patients' rights to direct their medical samples. While no advocacy group has sued specifically over the right to direct their samples, the issue is something she and her mentor think is a looming problem.
Berkman, an attorney, says he wants the students who work with him to think about nontraditional legal career paths. "My hope in working with University of Maryland law students at NIH is to show them that there is a broad universe of intellectually stimulating things that they can do with their degree outside of traditional legal settings," he says. "In particular, I want the students that work with me to see that it can be extremely productive to bring a legal perspective to academic and applied bioethics."
In addition to her in-depth research, Chung was particularly impressed by the legal and ethical issues brought up by the lightning-fast pace of cutting-edge technologies and protocols. She recalled a lunch meeting with an NIH researcher who was using supercomputers and artificial intelligence to figure out how gene modifiers affect the physical presentation of a disease, something that was only talked about as a possibility just a few years ago. Chung says that while what is ethical seems straightforward, in the world of science it's not always a clear-cut path. "What is ethical changes tremendously in a short period of time," she noted. "Especially because there are so many interests at stake that aren't always aligned: the interests of the institution, the patient, the advocacy group, the researcher."
NHGRI Director Eric Green, MD, PhD, says Chung and her colleagues are absolutely on the right track when contemplating the ethical concerns of scientific research. "The participating students have demonstrated a keen interest in NIH's mission and the desire to help build a healthier world," he says. "In some realms, such as genomics, the science is moving at a breathtaking pace, which can present major challenges for society. The students in this program are getting strong exposure to relevant legal issues that are arising from genomic advances."
Bach Nguyen
Bach Nguyen rekindled his love for science during his time at NHGRI working in the Technology Transfer Office, handling everything from research development to pushing that research on to broader markets. He credits his experience in the tech transfer office with helping him to recently be selected to participate in the UM Ventures President's Entrepreneurial Fellowship, a competitive technology transfer program at the University of Maryland, Baltimore.
Nguyen earned undergraduate degrees in biology and philosophy, and his externship experience helped him solidify the direction his career will take when he finishes law school. "I always thought I'd go into health policy, and that's still something that interests me," he says. "But I can make more use of that science background in a patent or tech transfer career path."
He is working on a research paper analyzing creative solutions to acquiring expensive hepatitis C medication, especially recent proposals using 28 U.S.C. §1498, which allows for government use of a patented technology without prior authorization from the patent holder. Nguyen says he was inspired by recent headlines about a spike in hepatitis C in Louisiana spurred by the opioid epidemic and needle sharing. "There's a large and growing need for these types of medications in Louisiana, and they're very potent. Most of them have above a 90 percent cure rate," he says. "The problem is that the Louisiana state budget can't afford the medication for everyone who needs it at current market prices."
Nguyen argues that voluntary agreements between the patent holder and the government preserve incentives for research and development in the pharmaceutical industry. He also says a lure for pharmaceutical companies to enter into voluntary licensing agreements is partially one of public perception. "It presents an opportunity for some drug companies to distinguish themselves from unscrupulous, price-gouging drug companies," he says.
For Nguyen and the three other students involved in the program, Professor Rothenberg has been a guide and sounding board for ideas. "She's always looking out for us and pointing us in the right direction. It's amazing how dedicated she is," Nguyen says.
Rothenberg's dedication to her students is evident in the amount of time and passion she puts into the NHGRI externship workshop. At the end of the day, she hopes the experience opens up a world of life-changing opportunities for the future attorneys. "You can take your law degree and do so many things," she says. "It's not just a question of going to a law firm or going into a courtroom or representing a plaintiff or a defendant. You can really change the world in so many ways by working with a diversity of talent."