When Yvette Rooks, MD, CAQ, FAAFP, assistant professor, University of Maryland School of Medicine, was growing up in the Bronx, N.Y., she had very few role models and even as the daughter of two police officers, had a penchant for getting into trouble.
"Many years ago, I was in your seat," Rooks told a group of about 100 freshman students from Edmondson-Westside High School, gathered in the auditorium of the University of Maryland School of Nursing (UMSON). "So as I speak with you today, I speak with you from my heart. Because you kind of see this middle-aged woman, she's a doctor now, how can she relate?"
Rooks served as guest speaker Nov. 9 at UMSON's launch of Gaining Early Awareness and Readiness for Undergraduate Programs (GEAR UP), a national program made possible through a $149,000 grant award from the Maryland Higher Education Commission. The grant provides high schools with college guidance services, professional development for staff, and support and resources for students and families through their senior year of high school.
(View a photo gallery.)
"My parents always told me you can either be or you can not be," Rooks continued. "I guarantee you that if you are going to 'not be' then you're going to be part of the problem that we have to look forward to in this world. You are already blessed by being here today because there are people who care about you and your future."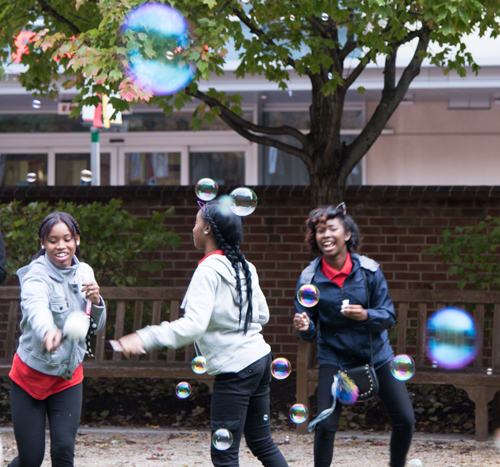 In the Bronx, Rooks' high school had no name, just a number – PS 155. She felt like a statistic in a school that lacked a library and computers.
"At that time in my life I was choosing not to be somebody," she said. Eventually she was introduced to the Boys and Girls Clubs of America, found a mentor, began to take her studies seriously and became an honor student.
"There's no magic there. I just didn't believe in myself and I didn't align myself with the right people. And when I started falling back in love with school and knowing what my education could do for me, I started believing more in Yvette."
UMSON Dean Jane M. Kirschling, PhD, RN, FAAN, welcomed the students to campus and provided a brief background of academic disciplines offered at the University of Maryland, Baltimore (UMB).
"In addition to nursing at the University of Maryland, Baltimore, we train the next generation of physicians not only for Maryland but also for the nation," she said. "We educate the next generation of dentists and dental hygienists. We also have people who are specializing in public health. We prepare pharmacists. We prepare social workers and we prepare lawyers. Have any of you thought about any of those careers?"
A few hands slowly rose skyward.
"All of those are great careers," Kirschling said. "They're careers that allow you to give back to people through delivering health care, through delivering social services, and through helping people navigate the legal system. As you go through high school and as you're preparing for your next step and as you are thinking about going to college, think about those opportunities in terms of what you could do to make a difference in the life of others."
While waiting for the ceremony to start, Adrian Batts, 14, said she was looking for any opportunity to help her fulfill her dream of becoming a medical examiner.
"I want to learn all the steps I have to take to become a medical examiner," she said. "I want to learn all about the body."
UMSON assistant professor Vanessa Fahie, PhD, RN, will lead a team from the School of Nursing to visit the high school and introduce students to various health careers.
"I graduated from this very school of nursing and prior to entering college, I graduated from Frederick Douglass High School (another GEAR UP school). It is a treat for me to work with GEAR UP schools this year because I am working with Douglass and I have worked with Edmondson-Westside in the past with other programs," Fahie said.
Students also learned about UMSON admissions procedures from Marchelle Payne-Gassaway, MS, associate director of admissions, and signed a pledge promising to graduate from high school in four years. Before heading back to their school, as an environmentally friendly alternative to releasing balloons into the air, students had a bit of fun blowing bubbles to symbolize the potential launch of future health careers.
"It's a very exciting opportunity for me and for my students," Edmondson-Westside Principal Muriel Cole-Webber said before the kickoff program began. "It gives them the opportunity to be exposed to a more career- and college-minded culture. For them, this is a new beginning."