Maryland Gov. Larry Hogan held a news conference on Nov. 16 to share the results of a PET scan that morning at the University of Maryland Medical Center (UMMC) that showed him to be "100 percent cancer-free" and in complete remission. Hogan was diagnosed with B-cell non-Hodgkin lymphoma in June and underwent procedures including three surgeries and a regimen of chemotherapy that regularly brought him to Baltimore.
The governor's jubilant announcement of the good news was made available on numerous livestream segments and, as noted by MarylandReporter.com, reported by various media. An account by Brian Witte of The Associated Press was widely circulated in national and state news outlets, such as The Frederick News-Post. Witte reported that Hogan said he will continue with preventive measures:
"I'm in complete remission, but as is the case with this particular type of cancer and many others, there's a chance of it coming back, so they don't usually say that you're completely cured until after many years of tests," Hogan said, after members of his staff cheered and applauded his announcement in a crowded reception room by his office. "And I'll be undergoing PET scans on a regular basis and taking steps to try to do everything we can to make sure it doesn't come back."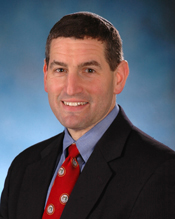 Hogan became emotional as he described the outpouring of support he has received from people young and old, including a 5-year-old pen pal.

"Such acts of kindness have kept me strong and my spirits high, and they are undoubtedly among the reasons I'm on the road to recovery," Hogan was quoted as saying in the AP article, which noted that he received a blessing from Pope Francis in September on behalf of all cancer patients. Hogan has pledged to continue working to raise awareness about cancer.
Aaron Rapoport, MD, a professor at the University of Maryland School of Medicine, director of lymphoma gene medicine at the UM Greenebaum Cancer Center, and one of the governor's doctors at UMMC, told the AP that Hogan will take medication for about a year, and he will be treated as an outpatient.

"Where he is right now is very positive, and God willing it should continue," Rapoport was quoted as saying in Witte's article.
While the governor was undergoing treatment, he often took time to meet other patients and tour University of Maryland Medical System facilities such as the Drs. Rouben and Violet Jiji Neonatal Intensive Care Unit (NICU).
After a tour of the NICU on Sept. 18, Hogan wrote on a blog: "Heading to my fifth round of five-day, 24-hour chemo this morning at the University of Maryland Medical System in Baltimore. As always thank you to everyone for your prayers and support during this journey!"