The University of Maryland, Baltimore's (UMB) international efforts to learn about, contain and prevent Ebola were the focus of the University's Ebola symposium in the School of Nursing auditorium on November 18. The symposium was organized by the School of Nursing's Office of Global Health with help from the UMB President's Office, the Ebola Interprofessional Information Network, Global Health Interprofessional Council, the Center for Global Education Initiatives, and the Center for Vaccine Development of the School of Medicine.

Speakers included keynote Joel Breman, MD, DTPH, FIDSA, senior scientific advisor emeritus of the National Institutes of Health (NIH) Fogarty International Center, who was present on the ground during the first Ebola outbreak in Africa in 1976. UMB experts spoke as well, including Alan L. Schmaljohn, PhD, a professor at the School of Medicine, who talked about Ebola vaccines and therapies; Trudy Henson, JD, program manager for public health at the School of Law's Center for Health and Homeland Security, who discussed legal issues surrounding quarantine; and Yolanda Ogbolu, PhD, RN, CRNP-N, assistant professor at the School of Nursing and deputy director of the Office of Global Health, who talked about the virus's impact on the nursing workforce.

"This symposium comes to you as an interprofessional effort with the theme of being aware, being prepared and doing so with an interprofessional approach,ý said Ogbolu, who had a leading role in planning the event. The goal, she added, was for UMB professionals to learn from and about one another's work with regard to the virus.

The day was moderated by Jody Olsen, PhD, MSW, a visiting professor at the School of Social Work and executive director of the Center for Global Health Initiatives. The first speaker was E. Albert Reece, MD, PhD, MBA, vice president for medical affairs at the University of Maryland and John Z. and Akiko K. Bowers distinguished professor and dean of the School of Medicine.

Reece gave an overview of the School of Medicine's footprint in 35 countries, with about $90 million in external funding for these international efforts. "This [international] strategy is one that we believe positions us to be responsive to various diseases and conditions that may arise in the world," including Ebola, Reece said. The Center for Vaccine Development, for example, is conducting Ebola vaccine clinical trials in Mali, West Africa and in Baltimore.

Keynote speaker Breman described the 1976 Ebola outbreak in the Democratic Republic of Congo (now known as Zaire). Breman spent the outbreak in Zaire, working with other clinicians and researchers to discover the source of the virus's spread. It turned out, he said, that a central hospital in the area had been using just five syringes for hundreds of patients, rinsing them with water between uses but not sterilizing them. The scientists determined the virus was spread by close contact, and that following protective protocols could prevent its spread. As a result, the outbreak died out after five generations of infections.

"What was successful here? The number one was leadership," Breman said.

The Congolese government provided most of the leadership and coordinated the efforts to treat and control the outbreak, he said. Even with the struggling and incomplete health care system of Africa, the organized effort was successful. "The key is to start with leadership, for any venture," he added.

Myron Levine, MD, DTPH, professor and division head of geographic medicine at the School of Medicine and director of the Center for Vaccine Development, spoke to the audience by video. He described the clinical trials that the Center is conducting, as well as the accelerated development that brought the technology from the bench to human testing in just a few months. The trial in Mali, he said, strategically uses health workers as volunteers in the safety trial in hopes that the vaccine works and might help keep the health system afloat. "We hope these subjects maybe protected," he said.

Schmaljohn described the process of developing a vaccine for Ebola, including the various platforms examined and the progress made on each one. While a federal research scientist, Schmaljohn played a leading role in identifying important genetic components for a vaccine against Ebola. The vaccine development process is progressing, he said, "but it is actually much more difficult than science fiction would have you believe."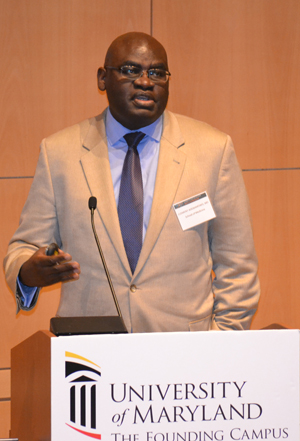 Another first-person perspective on an Ebola outbreak came from Clement Adebamowo, BM, CHB, ScD, FWACS, FACS, a professor at the School of Medicine and director of the West African Framework Program for Global Health. Adebamowo happened to be in Nigeria when a case of Ebola surfaced there on July 20. His experience was similar to Breman's, in that he saw strong local leadership swing into quick action to control the outbreak in a matter of weeks. No cases of Ebola have been reported in Nigeria since Sept. 25. Adebamowo said there are lessons to be learned from Nigeria's experience.

"We should not assume that contacts will follow guidelines closely -- they are humans," he said, describing people who have come into contact with Ebola patients and who must remain in isolation and take their temperatures for periods of time. Also, Adebamowo added, "we need to be ready. In the short time that Nigeria responded, the budget was $12 million."

Deborah Wilson, RN, a volunteer with Doctors Without Borders, also described her firsthand experience with Ebola. She returned in October from a six-week tour in Liberia, which was hard-hit by Ebola. She described the cultural challenges of working in a village where rumors spread that the health providers were actually giving people Ebola, not treating them, and that intravenous drugs to provide sedation were actually killing patients.

Wilson spoke of the orphans whose parents had died of Ebola, who stayed in tents near the hospital. She described the grind of treating violently ill patients daily, cleaning up blood, vomit and diarrhea while swaddled in heavy protective gear in 100-degree heat. She talked about the hygiene workers who carefully sprayed her with chlorine as she removed her protective gear each day, keeping her safe from Ebola. She talked about the burial workers who thanklessly buried the dead each day. She learned important lessons from all these experiences, Wilson said.

"We have to remember that we're a stranger in a strange land" when working internationally, she said. "We have to remember that these are not just victims of Ebola -- they are people with families, futures, dreams."

The University of Maryland Medical Center and other American hospitals are readying for the outbreak, with guidance from the Centers for Disease Control and Prevention, according to Kerri Thom, MD, associate professor at the School of Medicine, and Michael Anne Preas, RN, BSN, CIC, of Infection Prevention and Control at the medical center. Thom and Preas described how U.S. hospitals are learning lessons from hospitals overseas as well as hospitals and federal facilities in the U.S. that have dealt with Ebola.

Melissa McDiarmid, MD, MPH, a professor of the School of Medicine and director of the Center for Occupational Medicine, talked about health care workers and the risk they have taken on in this outbreak. Many of the infected worldwide have been caregivers, and the occupational health and safety of these workers must be paramount in fighting the outbreak, she added. McDiarmid summarized by quoting Guy Ryder, the International Labour Organization director-general, who said recently, "Safety and health at work is not an option; it's a basic human right."

Ogbolu also discussed the health workforce, focusing upon nurses. "We believe we are the backbone of the health care system, accounting for 60 to 80 percent of the health care workforce in most countries," she said. Nursing leadership internationally and at UMB has been instrumental in handling the Ebola outbreak, and they need to continue advocating for the profession whenever possible, she added.

Legal issues have arisen with Ebola in addition to medical issues, said Henson, of the Center for Health and Homeland Security. Isolation and quarantine used to be the primary method of containing infectious diseases, Henson noted, though antibiotics and other technologies have overtaken them. Because of that, Americans often don't know much about public powers to order isolation and quarantine in the face of an outbreak, she added.

Outrage and controversy have surrounded recent Ebola-related quarantines, particularly in New York and New Jersey, where the orders took on political undertones in the face of an approaching election, Henson noted. But quarantine and isolation are important tools for containing disease. "These are not punitive measures," she said. "They are protective measures for public health."

Henson praised Maryland's quarantine and isolation policy in its close adherence to federal recommendations of a tiered response, tailored at each level to respond to patients who are at high, medium or low risk of having or transmitting Ebola. Education and communication among the legal and medical communities and the public are key to making such programs work, she said.

Joshua Sharfstein, MD, secretary of the Maryland Department of Health and Mental Hygiene (DHMH), discussed the state response that his leadership helped to develop. He described working closely with hospitals from the very start of the Ebola outbreak. DHMH has reached out to doctors, the African community, schools and correctional facilities to make sure they are educated and ready for Ebola. It has developed policies for quarantine and isolation, and protocols for medical waste handling and burial of Ebola victims.

Sharfstein emphasized that quarantine is not the first tool to use in an outbreak, saying, "Quarantine really is a last resort -- it's not the first thing that you reach for."

He also praised UMB and UMMC for their response to the outbreak. "I certainly appreciate all the efforts of the University of Maryland to control Ebola internationally and in Maryland," he said.

James Campbell, MD, MS, associate professor at the School of Medicine, closed the program as the endnote speaker, saying he was impressed by the interprofessional opportunities for collaboration and learning that had arisen from the event. He was amazed "just hearing about how much this university is involved in not just Ebola, but many international aspects" of research, clinical care and education, Campbell said.