Come July 1, recreational cannabis will be legal in Maryland, allowing those over 21 to purchase and use the substance without a medical card. But even with the upcoming changes, the need for medical cannabis — and the experts who study it — still greatly remains.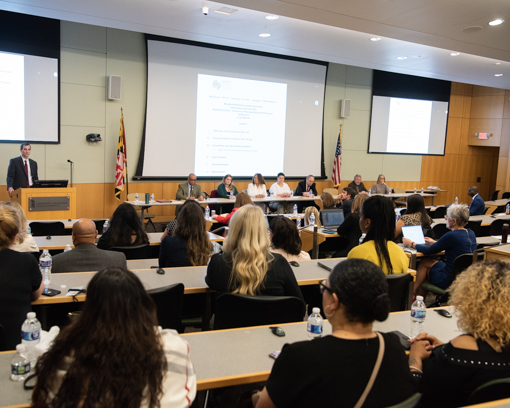 On April 26, at the University of Maryland School of Pharmacy (UMSOP), the Maryland Medical Cannabis Commission (MMCC) — established in 2013 by the Maryland General Assembly — held what is likely to be its final meeting, as the public body is dissolved and the state's new cannabis administration takes over.
And while a separate entity outside of UMSOP, MMCC has held a partnership with the school and its pioneering MS in Medical Cannabis Science and Therapeutics program, which was the first graduate program in the United States dedicated to the study of medical cannabis. The school's relationship with MMCC began in 2018, said Leah Sera, PharmD, MA, BCPS, co-director of the Graduate Studies in Medical Cannabis program and an associate professor in the Department of Practice, Sciences, and Health Outcomes Research.
The MS program has a community of almost 400 alumni, and more than 300 students are currently enrolled, she added.
"Maryland is entering a new phase of cannabis use and access. And I know that education is going to play a vital role in ensuring not only the continuation of a robust medical program here in Maryland, but the successful rollout of nonmedical cannabis use here in the state," Sera said. "Our MS and certificate programs give our students — who are clinicians, scientists, public health professionals, educators, advocates, and entrepreneurs — a scientific foundation for the medical use of cannabis and the development of well-informed cannabis policies. Our students are trailblazers who are already moving the industry forward in Maryland and around the United States and the world."
UMSOP and MMCC have shared the same goal, Sera added, of ensuring that there are safeguards and protections in place around medical cannabis.
For UMSOP graduate Jacquie Cohen Roth, MS '21, a member of the program's first graduating class, the need for experts trained like her is greater now than ever.
Cohen Roth is the founder and CEO of CannabizMD, a medical cannabis industry platform empowering industry professionals to deliver quality patient care and client service, and the nonprofit Tea Pad, a professional-level networking group for the cannabis industry, as well as an adjunct faculty member in UMSOP's MS program, where she teaches state and federal laws and policies.
"I think the critical need moving forward with this adult use industry is public health education," Cohen Roth said. "Overarching, our health care providers have not been educated."
Cohen Roth said there are 6 million certified medical cannabis patients across the United States now and, if you include the illicit market, 100 percent of America has access to cannabis in some form. A majority of states now have a medical cannabis program as well.
"And meanwhile, less than 9 percent of medical schools in the U.S. include [cannabis education] in their curriculum. So, there's this void that I'm focused on helping fill," she added.