Excitement abounded May 18 as the graduates of the University of Maryland, Baltimore's (UMB) Class of 2023 celebrated their many accomplishments with family and friends, though it was also a time for reflection on how the COVID-19 pandemic disrupted their early studies and bonded them with their classmates.
Students who gathered outside Chesapeake Employers Insurance Arena on the campus of the University of Maryland, Baltimore County were elated to be able to attend UMB's commencement, the second in-person ceremony since the pandemic started in 2020.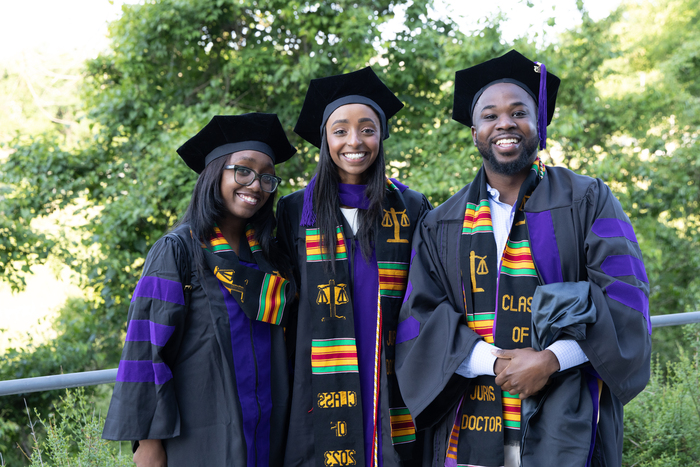 "COVID in general just changed a lot of things. It changed how the schools operate, and then also with the clinical setting how we approach medicine," said Chelsea Howell, DNP '23, who earned her Doctor of Nursing Practice from the University of Maryland School of Nursing. "To be able to celebrate with everybody is amazing because virtual graduations aren't the same. And it's nice to just be able to see everybody."
Howell, who is from California and came to UMB because she wanted to be in a top nursing program, was excited to celebrate the day with her parents and her brother and his girlfriend. A nurse practitioner, she plans to work in a clinic and hopes to teach.
Aditya Kavuturu, MS '23, who graduated with his MS in cellular and molecular biomedical sciences from the University of Maryland Graduate School, was especially appreciative about the in-person commencement.
"I graduated with my bachelor's from the University of Florida during the pandemic so I didn't go to the in-person graduation," he said. "The in-person graduation is a lot better."
Fasika Delessa, JD '23, earned her JD from the University of Maryland Francis King Carey School of Law and called the day "surreal. It's just been such a long time coming."
She was looking forward to celebrating with her parents, aunts, uncles, and cousins and "seeing the joy on their faces, just knowing it was all worth it."
Delessa began her studies during the pandemic and became close to classmates during virtual learning.
"But I was so grateful to go in person and for all the health care professionals that made that possible," said Delessa, who will work for a law firm in Washington, D.C., before clerking for U.S. District Court the following year.
Natalie Flynn, DPT '23, who earned a Doctor of Physical Therapy degree from the University of Maryland School of Medicine and started at UMB in May 2020, said that it felt like she had been waiting for this day for a long time. She said her first summer semester, which was supposed to be a cadaver lab, was completely online.
"They ended up doing a really good job with it. And I think in a weird way it kind of bonded our class more because there were a lot of unknowns for us and we had to figure out a lot of stuff together even with the faculty, too," she said.
Flynn, who will be moving to Seattle and hopes to work in acute care in a hospital and eventually specialize in cardio, added that commencement was the first time she was seeing some classmates without face masks because they have been working at clinical sites the past year.
University of Maryland School of Pharmacy graduate Emily Francis, PharmD '23, said she did a six-year program to earn her PharmD, while most students do four years of undergraduate and four years of graduate work.
"This is the culmination of all my efforts. This is it for me," she said. "I knew when I started college that I wanted to be a pharmacist. So now this is the realization of that.
"COVID was very difficult. It was something new almost every year. We had the first year half in person and half online, second year all online, and third year in person. So I don't even think I would imagine a graduation during COVID. I'm really happy just to be back in person and to be with everybody."
Francis, who will be starting a residency at MedStar Union Memorial Hospital in Baltimore, also was looking forward to celebrating with her family.
"My family have seen all the hard work, and I've called them and cried and struggled but also now we get to have the happy times. We finally did it," she said.
Jon Christofersen, MS '23, earned his MS in cellular and molecular biomedical sciences from the Graduate School and said this was just the beginning of his journey because he plans to apply to medical school.
"This is only a steppingstone for another degree later on and potentially another career later on," he said. "So there's still lots to accomplish after today."