The students who graduated from the University of Maryland, Baltimore (UMB) this year accomplished their feat amid a historic pandemic that impacted part or all of their time on UMB's campus. Their perseverance was a theme that resonated throughout the Class of 2022's commencement ceremony May 19, so who better to mark the occasion than the man who's been central to the fight against COVID-19?
"Clearly, this historic pandemic will leave an indelible mark on your entire generation," Anthony Fauci, MD, told the 800-plus graduates during his commencement keynote speech at Chesapeake Employers Insurance Arena on the University of Maryland, Baltimore County campus. "However, the fact that you have successfully navigated each hurdle the pandemic has put in your way is a testimony to your resilience, resolve, and strength of character.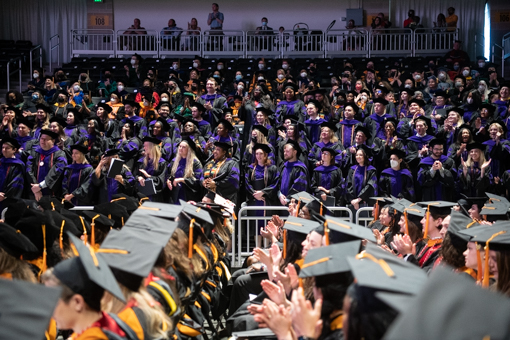 "I am in awe of you for this, and you deserve enormous respect for your adaptability and dedication to completing your studies and graduating amidst immense difficulties and uncertainties," added Fauci, director of the National Institute of Allergy and Infectious Diseases (NIAID) and chief medical advisor to President Joe Biden.
Fauci, speaking at UMB's first in-person Universitywide commencement since 2019, received applause throughout his address, a standing ovation at its conclusion, and praise from speakers throughout the ceremony. UMB President Bruce E. Jarrell, MD, FACS, presided over the festivities, welcoming graduates and their families, faculty and staff members, deans and vice presidents, and special guests including James Fielder Jr., PhD, Maryland's Secretary of Higher Education, and William Wood, JD, a University System of Maryland regent.
"The students we celebrate today take their place in a long line of distinguished individuals who've graduated from UMB, the founding campus of the University System of Maryland," Jarrell said. "These students have worked very hard to get here, especially through the upheaval of the COVID-19 pandemic. They are all so resilient and tough.
"I also ask you graduates to take in this arena — to look at all the people who've helped you along this journey. There's a lot of love and devotion around you this morning — a lot of support and guidance. And I think your families, friends, and faculty deserve your thanks."
Appreciation All Around
There was plenty of gratitude to go around, particularly for Fauci, who also received an Honorary Doctor of Public Service degree from UMB, adding to his long and impressive list of accolades that includes the Presidential Medal of Freedom and the National Medal of Science.
Myron Levine, MD, DTPH, the Simon and Bessie Grollman Distinguished Professor at the University of Maryland School of Medicine (UMSOM) and co-founder of UMSOM's Center for Vaccine Development and Global Health, presented Fauci for the honorary degree, calling him a "national hero." Fauci was introduced as keynote speaker by Class of 2022 graduate Nivedita Hegdekar, PhD, MSL, who called him "America's Doctor" and lauded his role in fighting diseases from HIV/AIDS to COVID-19.
"Dr. Fauci's decades of leadership and dedication to public service have been unparalleled," Hegdekar said. "Being at the forefront of the battle against COVID-19, he has served as a thoughtful and empathetic voice during this crisis, firmly dedicated to putting science first and saving millions of lives. To the Class of 2022 and the leaders of tomorrow, he has been an inspiration and a role model."
Another member of Fauci's family was recognized, as well. His wife, Christine Grady, PhD, MSN, chief of the Department of Bioethics at the National Institutes of Health Clinical Center, also was awarded an Honorary Doctor of Public Service degree from UMB. (Read about Grady here.)
The ceremony also recognized five honorary marshals who have combined for well over 100 years of service to UMB: Anthony Lehman, MD, MSPH, School of Medicine; Deborah Gioia, PhD, LCSW-C, School of Social Work; Francis Palumbo, PhD, JD, MS, School of Pharmacy and Francis King Carey School of Law; Karen Faraone, DDS, MA, School of Dentistry; and Katherine Fornili, DNP, MPH, RN, CARN, FIAAN, School of Nursing.
In addition, the festivities included a stirring rendition of the national anthem by UMB Staff Senate president Christina Fenwick; remarks by Fielder and Wood; and a 6-minute video that featured students sharing their thoughts about graduating, navigating pandemic hurdles, and how their UMB education has prepared them to enter the workforce. (Watch the video here.)
Four-Pronged Speech
In his speech, Fauci imparted some of the vast wisdom he's gained during his long and impactful medical and scientific career, which includes being the NIAID director since 1984. He broke up his speech into four parts: The Concept of the Perpetual Student; Expect the Unexpected; Health Inequities; and The Normalization of Untruths. For starters, instead of feeling that their days as a student are over, Fauci told graduates to consider themselves lifelong learners.
"In my case, it became painfully apparent shortly after I graduated from medical school that my student days had just begun," Fauci said. "However, this same principle applies to so many other fields in which we are all perpetual students. Indeed, the mosaic of our knowledge and experiences is eternally unfinished.
"I still feel a palpable excitement in the continual process of learning, no matter which of the many hats of responsibility I am wearing — seeing patients, working in the laboratory, directing a large biomedical research institute, or advising the president of the United States during a raging pandemic. I urge you to embrace such an attitude as you proceed in the wide range of careers that you will pursue."
Fauci noted that while it's normal to set goals and plan out your life, it's important to adjust to unanticipated events that might lead you off your charted path. He recalled how he changed course from his career in investigative medicine in the early 1980s after reading reports of an "unusual pneumonia" afflicting gay men in Los Angeles, New York, and San Francisco.
"We were witnessing the emergence of one of the worst public health scourges in recent memory — the HIV/AIDS pandemic," he said. "I became totally engrossed in this mysterious new disease that did not yet have a name or an etiologic agent. I decided to make an abrupt turn in the direction of my career, abandon my successful research pursuits, and investigate the pathogenesis of this mysterious disease."
The decision to focus on HIV/AIDS transformed his career, Fauci said, adding, "Please believe me that you will confront the same types of unpredictable events that I have experienced, regardless of what directions your careers or lives take. And so, expect the unexpected, and stay heads up for an unanticipated opportunity should it present itself."
Bringing the discussion back to COVID-19, Fauci pointed out how the pandemic shined a light on health equity issues in the United States, noting that minorities had an increased risk of getting the COVID-19 virus and that those who became infected were more likely to develop severe consequences because of their elevated rates of underlying conditions.
"Let us promise ourselves that our 'corporate memory' of the tragic reality of the inequities experienced with COVID-19 does not fade after we return to our new normal," Fauci said. "It will take a decades-long commitment for society to address these disparities. I strongly urge you to be part of that commitment.
"Together we must find the strength, wisdom, ingenuity, and empathy to address these entrenched elements of injustice, manifested in so many subtle and overt ways, and work with all our might to remedy the cultural disease of racism, just as we fight the viral disease of COVID-19."
Lastly, Fauci touched on the pandemic again, lamenting how political polarization and the dissemination of misinformation had reared their ugly heads during the crisis over the past two years and telling the audience to reject the "distortion of facts and outright lies."
"I implore you to apply your abilities to analyze and examine, which you have honed here at the University of Maryland, Baltimore; to discern and challenge weak assertions; and to reject pronouncements built on untruths. As our future leaders, we are depending on you for this," Fauci said.
In closing, he said, "Putting this serious business aside for a moment, I want to remind you about the joys that life can bring and what a bright future you have. Allow yourselves to cultivate what brings you joy as much as you do your professional accomplishments."
(Read more about Fauci and all of the honorees at UMB's commencement website.)