Outside it was raining but inside Royal Farms Arena sunny smiles were in abundance as students of the Class of 2018 at the University of Maryland, Baltimore (UMB) received their degrees at commencement ceremonies.
The class of 2,250 students from UMB's six professional schools and interdisciplinary Graduate School were treated to life lessons from a number of speakers, headlined by Peace Corps Director Jody Olsen, PhD, MSW, an alumna and former faculty member of the University of Maryland School of Social Work.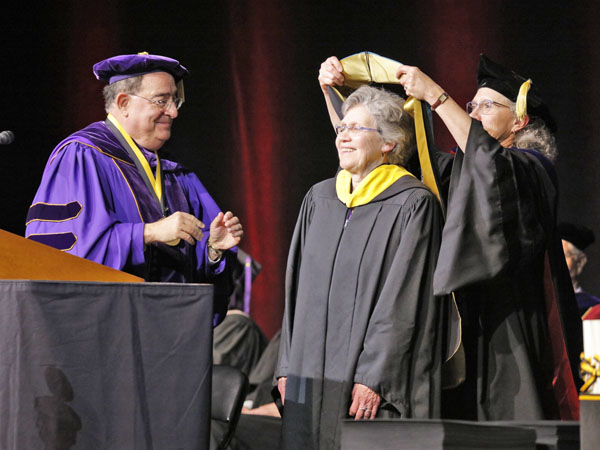 Sworn in as Peace Corps director in March, a "humbled" Olsen told the graduates to utilize the wide-ranging hands-on lessons they've learned at UMB, which confers the majority of health care, human services, and law professional degrees in Maryland each year.
"We prepare briefs for the state legislature and research new, life-sustaining drugs," Olsen said. "We conduct surgeries and perform root canals; we measure diabetes indicators, counsel drug offenders, and exercise torn muscles. We learn how to manage health bureaucracies and time pressures.
"That's a lot of doing to help improve people's lives."
Olsen has spent decades helping improve people's lives through the Peace Corps, the country's pre-eminent international service agency, serving as acting director in 2009, deputy director from 2002 to 2009, chief of staff from 1989 to 1992, regional director of North Africa Near East, Asia, Pacific from 1981 to 1984, and country director in Togo from 1979 to 1981.
"Fortunately for us," UMB President Jay A. Perman, MD, said in his introduction, "this lifetime of service came with a few hiatuses, and Dr. Olsen spent one of them — an eight-year stint — right here at UMB.
"As director of our Center for Global Education Initiatives, Dr. Olsen came to shape how UMB approaches interprofessional global projects, and how we use the lessons learned overseas to effect change in our own home communities."
Olsen recalled serving as a Peace Corps volunteer at a maternity clinic in Tunisia when she was 22. "I was focused, innocent, and naive," she said. "I was charged by the ministry of health with counseling soon-to-be and new mothers with how to care for their children, while having not yet become a mother myself."
Olsen said she learned a lot from the women, many of whom were raising their families in dwellings with no water, electricity, or sanitation. Those lessons provided a foundation as Olsen traveled to more than 100 countries in the Peace Corps. She used them during her UMB stay as well.
"Do I listen, focusing on each word? Do I take in what is said and not said, and create safety to disengage from fear?" Olsen told the graduates of the lessons she learned. "Do I understand what they are not saying but wish they could? Do I share enough of my own vulnerabilities to demonstrate that I trust them and that they can trust me? Do I ask, pause, and listen for their stories? Do I tell them mine?
"Often our patients or clients come to us afraid, vulnerable, uncertain, and with words and questions that do not make sense to us. Many times, by the point they access the health care system, they are not in comfort, they are in stress. How do we see them as whole people even as we treat a specific problem?"
Such questions apply to all of us, in all our professions, in Baltimore, throughout the United States, and the world, said Olsen, who also related stories from the summer research trips she led UMB students on to Malawi, Central America, and South Asia, stressing interprofessional teamwork among the medical, law, dental, pharmacy, nursing, and social work students.
She urged the graduates to go forth and see the person, not just the problem.
"My hope is that, when your clients and patients are sitting across the desk from you, on the exam table, in the counseling room, in the courtroom beside you, that you'll see and know the person," Olsen said. "You'll know them by name, not by case number. You'll know them by story, not by diagnosis. You'll know them not just as they are, but as who they hope to be.
"We are eager to see what you will do, who you will be, and how you will change your community and your world."
Before Olsen's encouraging words, James Fielder Jr., PhD, secretary of higher education, and Gary Attman, JD, system treasurer, brought greetings from the governor and the University System of Maryland, respectively. Then Aarti Sidhu, who was graduating from the Carey School of Law, joined the celebration as the student remarker.
"When my parents moved to this country from India almost 40 years ago, they did so to provide better opportunities for me and my siblings," she told the crowd. "I am so proud to be here surrounded by all of you, from different countries, different racial and cultural backgrounds, and with different gender identities. Despite being told time and time again that we can't do something because of who we are or what we look like — we did it."
Sidhu wasn't the only member of the Class of 2018 featured. The national anthem was sung by the Hippocratic Notes, four graduates of the School of Medicine (Brendan Bui, Joshua Olexa, Grace Lee, and Jennifer Reid), and a video by Courtney Miyamoto, a third-generation graduate of the School of Dentistry, was shown.
The procession into the arena was led by marshals Mary M. Rodgers, PT, PhD, FAPTA, FASB, FISB, and Jill Whitall, PhD, both of the School of Medicine's Department of Physical Therapy and Rehabilitation Science, and Karen Kauffman, PhD, CRNP, RN, FAAN, retired chair of the Department of Family and Community Health at the School of Nursing.
Four familiar figures at the University received honorary degrees of public service.
Carolyn Frenkil is a community activist, businesswoman, benefactor, and longtime friend of the School of Medicine. Her late husband, James Frenkil, MD, introduced her to the school, which she has supported with a number of innovative endeavors including a course in pharmacogenomics and collaborative research in the school's Program on Aging, Trauma, and Emergency Care.
Mary Catherine Bunting, MS '72, CRNP, is an alumna of the School of Nursing who became a nun and nurse practitioner for 34 years and practiced at Mercy Southern Health Center. Granddaughter of the pharmacist who invented Noxzema, she has endowed scholarship support at the school and elsewhere, including Mercy Medical Center.
Fred G. Smith, DDS '78, MS, and Venice K. Paterakis, DDS '81, both graduates of the School of Dentistry, have been heavily involved in charitable efforts at UMB, in the city of Baltimore, and beyond. In 2015, the couple established the first endowed professorship at the dental school.
(Read more about members of the platform party.)
But in the end, the ceremony was about the graduates, who braved rain that drove their Party in the Park (link) indoors for the first time in its four-year history.
After the diplomas had been distributed, Perman sent the graduates off with a few parting words of advice.
"I wish you hard work and good luck — always — and I ask that you remember your alma mater as you make your mark on the world," he said. "We'll look forward to your help. And we're all so very proud of you."

Visit the commencement website for pictures, video, and more information.