In remarks at the Sorbonne in 1910, Theodore Roosevelt uttered words that continue to resonate throughout history in what came to be known as the "Man in the Arena" speech. "It is not the critic who counts," the former president famously said. "The credit belongs to the man who is actually in the arena, who at the best knows in the end the triumph of high achievement, and who at the worst, if he fails, at least fails while daring greatly."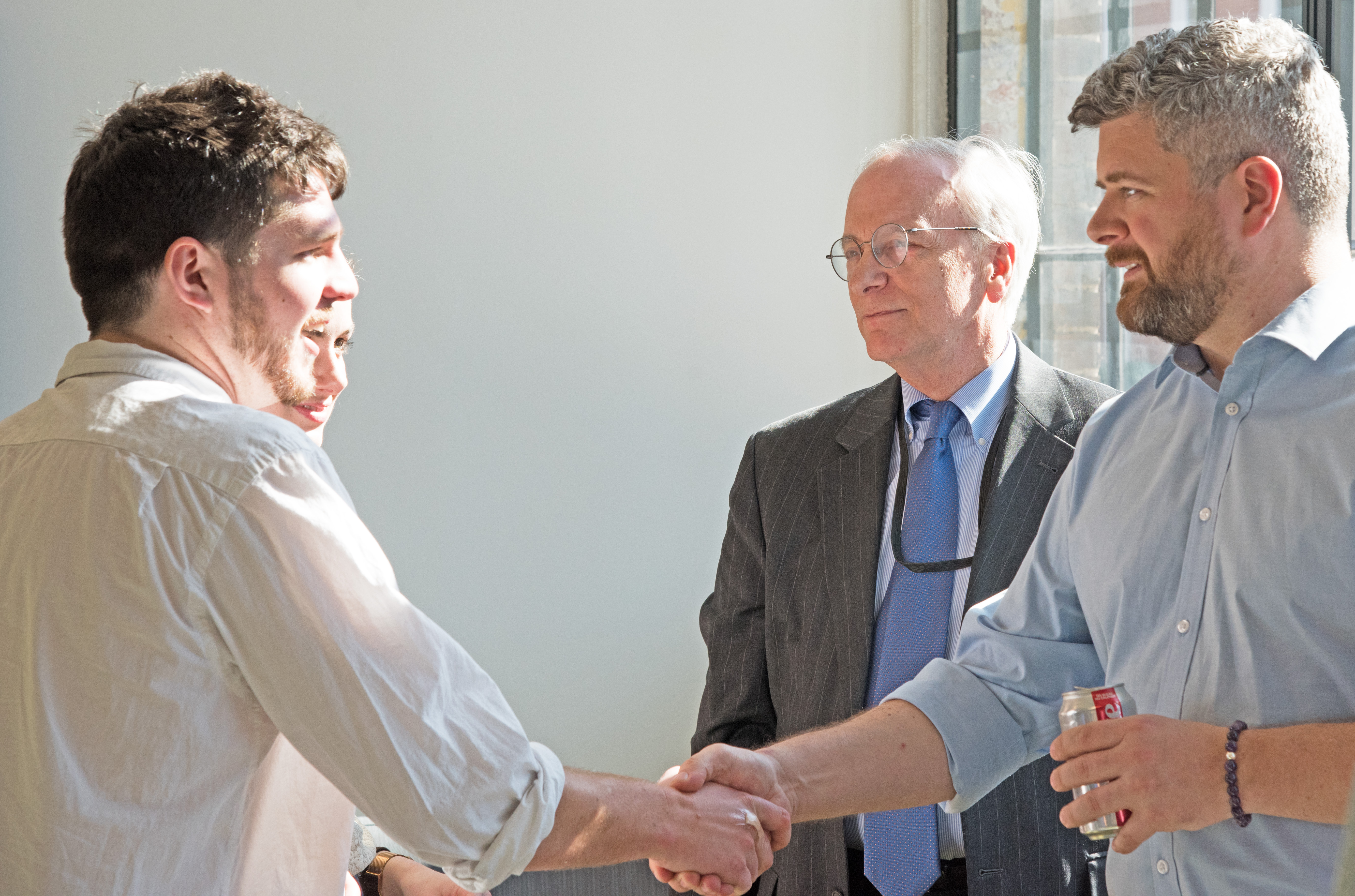 On May 1, 2018, six interprofessional teams made up of University of Maryland, Baltimore students entered the business arena to put their entrepreneurial acumen to the test at the Grid Pitch, a celebration of ideas and entrepreneurship.
"Pitching is not easy, and these students are really brave," said Jenny Owens, ScD, MS, faculty executive director of the Grid, addressing the audience that packed into the Lion Brothers Building in West Baltimore to support the accomplishments of the aspiring student entrepreneurs. "These students through their work are finding ways they can make the world a little bit better for others and have the tenacity to pursue those ideas. I really respect that effort."
The teams were selected after an application process that required a proposed product in the biotech, life science, health tech, public health, or social entrepreneurship fields. After selection in March, each team worked with business innovator David W. Wise, MALD, director of the Maryland Momentum Fund, a $25 million fund to support startups formed within the University System of Maryland's 12 institutions and its incubators.
Wise mentored each team for four weeks and helped them prepare a three- to five-minute pitch of their products, which ranged from a diagnostic test for bladder cancer to toxin-free algae dietary supplements. Each team received a $1,000 stipend to be used for professional development.
Wise said he enjoyed the opportunity to work with bright, enthusiastic students ready to put their ideas on the line for public scrutiny.
"Theodore Roosevelt's 'Man in the Arena' quote is one of my favorites, and it says a lot about what people have to do when they're starting a business," he said in remarks before the presentations. "You have to be ready to fail, and in fact, sometimes until you fail, you can't come up with your true success. The courage to come up and throw out an idea and expose yourself is critical to the entire process of starting a new company."
"David is very helpful and very honest, which I really appreciate," said University of Maryland School of Pharmacy student My Ngo, whose Cystech team is working to develop a noninvasive method to detect bladder cancer. "He really put into perspective what people care about. He helped us think about: How is this useful? Why do we care? How's it going to work?"
Chuka Udeze, a fourth-year pharmacy student, is working to create improved treatments for colorectal and pancreatic cancer with his team. He said receiving coaching from Wise was extremely valuable and helped him expand his aspirations beyond the lab and into the business world. "It's cool to have an idea, but how do you get to do it?" he said. "The Grid Pitch gives you the opportunity to really learn and dive in."
The Teams:
CYSTECH

Cystech wants to provide reliable, noninvasive methods to detect and monitor the progression of bladder cancer using urine biomarkers. Cystech's long-term goal is to develop biomarkers that eventually will be used as potential drug targets or in diagnostic technologies. Cystech is led by pharmacy student My Ngo.
DAPKEN
Dapken aims to develop solutions that provide personalized medicine. BevaDx is a blood-based test that enables doctors to determine whether cancer patients will benefit from Bevacizumab treatment using a patented biomarker. With BevaDx, we envision a treatment paradigm in which only the right patient receives Bevacizumab at the right time. Dapken's team members include pharmacy students Fahim Faruque, Chuka Udeze, Kevin Loh, and Natalie Park.
INDUCENT THERAPEUTICS
Therapy X is a drug platform for chronic illnesses that allows for the indefinite production of a biological therapeutic in appropriate quantities and at appropriate times after a small number of administrations. This would eliminate the patients' need to take their medicine daily or weekly. Inducent Therapeutics is led by graduate student Christian Kinney.
STOCK-IT POCKET
Stock-it Pocket's goal is to ensure that health care providers have the right equipment at the right time, reducing errors and stress while increasing time for direct patient care. Stock-it Pocket's team members include nursing students Katherine Tuttle, Aaron Callahan, Lindsay McMahon, and Julia Baca; medical student Kevin Fan; mechanical design engineer Miranda Marks, and marketing specialist Evan Heim.
THERASOL
TheraSol wants to treat cancer metastasis in triple-negative breast cancer (TNBC) patients using plant-derived proteins. Its first product would comprise a therapeutic as an IV bolus and oral dosage form that employs an isolated compound found in taro extract as the active pharmaceutical ingredient. TheraSol's team members include graduate student Raqeeb Jamil; pharmacy students Sebastian Bilitza and Teddy Dunning; medical student Aurasch Moaven; and lawyer Viqar Hussain.
URBAN ALGAE
Urban Algae is a biotech company focused on providing the public with toxin-free dietary algal supplements while revitalizing city spaces by fitting them with microalgal green roofs. Based in Baltimore, Urban Algae works closely with the Institute for Marine and Environmental Technology, a hub for biotechnology in the Mid-Atlantic states. Urban Algae's team members include marine estuarine environmental science students Kelsey Abernathy and Dan Fucich.