The University of Maryland, Baltimore's (UMB) second annual Three Minute Thesis (3MT) competition on May 9 brought together PhD candidates from five Maryland universities to share their research with lightning speed.
As the name implies, each scholar could use just three minutes, along with one information slide, to explain his or her research in a manner understandable to an audience with no background in the research area. The goal is to promote students' research as well as to develop their presentation, academic, and research communication skills.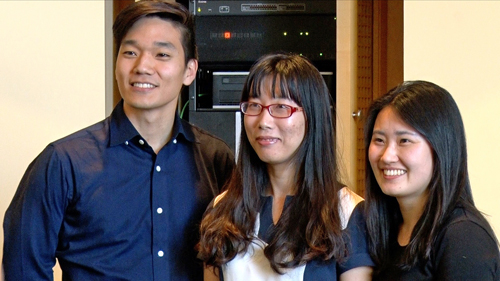 Three Minute Thesis got its start at the University of Queensland in Australia in 2008. Now, some 200 universities around the world participate in some sort of 3MT competition. UMB's competition was limited to universities in Maryland, and included students from UMB, Johns Hopkins University (JHU), the University of Maryland, College Park (UMCP), the University of Maryland, Baltimore County (UMBC), and the University of Maryland, Eastern Shore (UMES).
Each presentation was judged immediately by a four-person panel, including Dean Patricia Davidson, PhD, MEd, RN, FAAN, of the JHU School of Nursing, Roger J. Ward, EdD, JD, MPA, vice president of operations and planning and vice dean of UMB's Graduate School, Laura A. Kozak, MA, associate vice president of the UMB Office of Communications and Public Affairs, and David J. Kohn, MA, director of medical and science media relations at the University of Maryland School of Medicine.
First place was awarded to Joseph Shin of JHU for Scleroderma: An Opportunity for New Therapy and New Perspectives in Biology. Second place was awarded to Hyejeong Hong of JHU for Predicting TB Treatment-related Hearing Loss. And third place was awarded to Kerry Li Fang of UMCP for Protect Baby Firms from Market Competition for Economic Vibrancy.
Other presentations included:
Kelli DePriest (JHU), The Power of Greenspace
Isis Jemiyotan Amaye (UMES), A Fight Against Drug Resistant Epilepsy: Can WE Win?
Jarrett Smith (JHU), Oil and Water: Separating the Cell
Janae Baptiste (UMBC), The NMR Structure of the Feline Immunodeficiency Virus Matrix Protein
Brian Johnson (UMB), Sensorimotor Memory Consolidation
Denise N. Williams (UMBC), Environmental Impact Studies of CdSe and ZnSe Quantum Dots
Sarah Hirsh (UMCP), Keeping Nitrogen on the Farm and Out of Our Water Using Radish and Rye
Amanda Labuza (UMB), Calcium: Not Just for Bones