Two University of Maryland School of Pharmacy (UMSOP) faculty members have received a nearly $2.5 million grant from the National Institute of Allergy and Infectious Diseases (NIAID) to study how infections caused by the bacteria Pseudomonas aeruginosa develop multidrug resistance.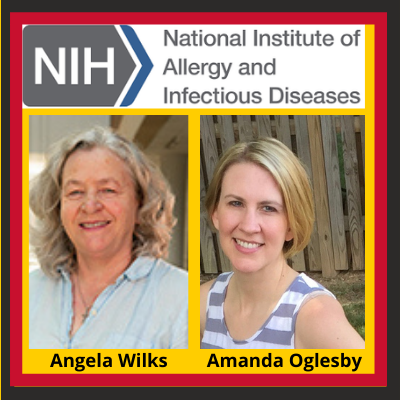 The award received by Angela Wilks, PhD, the Isaac E. Emerson Chair of Pharmaceutical Sciences, and Mandy Oglesby, PhD, associate professor, Department of Pharmaceutical Sciences (PSC), spans five years to support their interdisciplinary work in biochemistry and microbiology that will research iron homeostasis and virulence in the bacteria, which often leads to chronic and untreatable conditions.
"The goal of our project is to understand how chronic Pseudomonas infections in biofilms utilize heme as an iron source," Wilks said. "If we can understand the systems that are important for establishing and sustaining chronic infections, we can then understand how to target these systems as potential mechanisms to disrupt biofilms and treat them."
Bacterial biofilms are slimy layers of sticky cells that form on living or nonliving surfaces during chronic infections, which contributes to antimicrobial resistance.
All bacterial pathogens, which can take the form of biofilms, require the micronutrient iron for survival and infection. A major source of iron in infection is heme, a precursor to hemoglobin, which is prevalent in the body. The ability of bacterial pathogens to use heme as an iron source is essential for infection and virulence.
"The award from NIAID reflects the many years of strong collaboration between Drs. Wilks and Oglesby and a great example of the cross-disciplinary research in the PSC department," said Peter Swaan, PhD, professor and chair of PSC and UMSOP's associate dean for research and advanced graduate studies.
The Centers for Disease Control and Prevention has prioritized Pseudomonas aeruginosa as a critical pathogen for the development of new antibiotics. Wilks' research group has studied its heme uptake pathway to identify novel therapeutic strategies. Oglesby's research group has been instrumental in characterizing the regulatory networks of small RNA (sRNA) in P. aeruginosa, showing that these sRNAs are essential for the survival and virulence of the pathogen.
The current NIAID award brings together the expertise of both groups to understand how heme utilization is integrated into the sRNA regulatory network. The project will provide a platform for future identification of novel antibacterial strategies at the interface of iron homeostasis and virulence in P. aeruginosa.
"My role in this project is understanding how some small RNAs that we've been working on in our lab for a long time contribute to the regulation of heme uptake by different bacterial pathogens, including Pseudomonas aeruginosa, which is a really important and notorious antimicrobial resistant pathogen," Oglesby said.
"Studying the basic science underlying how Pseudomonas aeruginosa adapts its micronutrient strategies to infect a human host will allow us to better understand how to develop new therapies to treat this notorious bacterial pathogen."