Sometimes bigger is better. Take the case of Health Sciences Research Facility (HSRF) III, which was dedicated in October. Not only is it the biggest building in the University System of Maryland, but its workmanship and high sustainability standards recently earned a coveted Gold LEED Award from the U.S. Green Building Council.
The council noted LEED (Leadership in Energy and Environmental Design) elements such as the 439,000-square-foot School of Medicine (SOM) structure's green roof and sustainable features including a cistern water collection system, recycled content, indoor environmental quality, and energy recovery systems.
Unlike any other building at the University of Maryland, Baltimore (UMB), HSRF III boasts chilled beam technology, significantly reducing the amount of air changes per hour, plus the collection and storage of rainwater for use as make-up water for the rooftop cooling towers, which reduces the use of domestic water.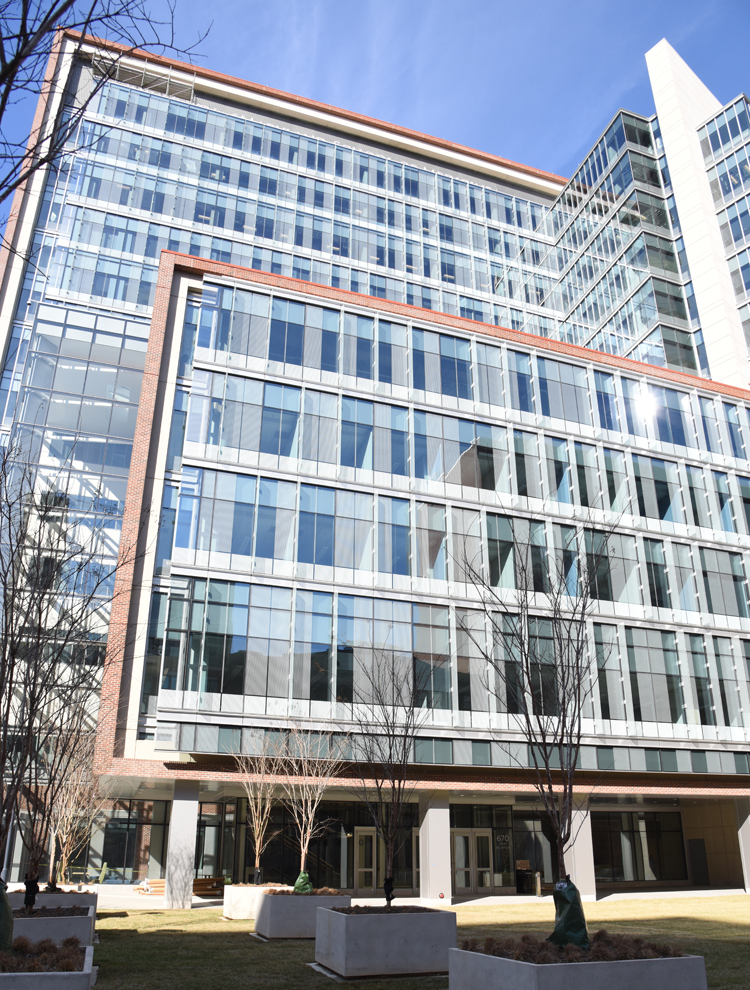 Mother Nature provides the best sustainability there is, so HSRF III has viewing corridors that allow daylight to penetrate the building through both its 10-story wet lab tower and its five-story dry lab tower — spaces where more than 400 personnel will be housed and generate an additional $107 million in annual research funding.
Once upon a time, natural light was considered a detriment to laboratory spaces, recalls Ron Brown, PE, LEED AP, director of capital projects at UMB. "The thinking in the older buildings was that windows took up wall space that could be used for shelves," Brown recalls. But then Health Sciences Research Facility I and MBI (currently the SOM's Institute of Human Virology), two buildings built in the early 1990s, "brought in natural light and are, in my opinion, much more inviting spaces," Brown says.
The new School of Dentistry, which opened in 2006, boasts "rooftop light reflectors designed to bring light into the central atrium on the upper floors," Brown says, and UMB's first LEED Gold Building, the Pharmacy Hall Addition in the School of Pharmacy, took it one step further when it opened in 2010, offering an inverted skylight and extensive exterior windows to fill three stories with sunlight.
"HSRF III was more of a challenge for LEED Gold than the School of Pharmacy," Brown says. "While half of SOP is academic/classroom-type space, HSRF III is dedicated to research. That presents challenges in achieving energy reductions while maintaining safe levels of air changes per hour in the labs.
"One strategy taken from SOP was the use of low-flow fume hoods, which more effectively vent the research, reducing the amount of air required. Design & Construction, Environmental Health Safety, Operations and Maintenance, and the School of Medicine took it a step further, and cooperatively looked at what was state-of-the-art in lab safety, and through use of the new fume hoods and chilled beam technology significantly reduced the amount of air changes per hour in both occupied and unoccupied modes."
In addition, HSRF III's proximity to garages, public transportation, and other schools makes it carbon-friendly, as do 47 secure bike storage spaces as well as shower facilities, for those who like to pedal to work. The building also offers 23,621 square feet of vegetated open space, and the planting of native and adaptive plants that can grow without additional irrigation allows for 100 percent reduction in water use.
The aforementioned green roof utilizes a combination of reflective materials and vegetated surfaces to ensure the building does not contribute to the heat island effect found in large areas of dark-colored hardscape and rooftops in many urban areas. The vegetated roof areas also absorb stormwater and control runoff.
The changes weren't all to the exterior. HSRF III achieved a 22 percent energy cost reduction and a 32 percent water reduction thanks to things like high-performance glazing on the south façade, natural ventilation, high-efficiency flush fixtures, and low-flow sinks. Twenty percent of the project materials were extracted and manufactured within 500 miles of site, supporting local industry and reducing carbon emissions from transport. And 100 percent of low-VOC (volatile organic compound) adhesives, paints, flooring, and composite wood were used to limit occupant exposure to concentrated carcinogens.
H. Jorge Scotti, AIA, LEED BD+C, senior architectural and engineering project manager at UMB, was part of the project from the beginning, sitting in on HSRF III's initial planning session in June 2012. He says various sustainable elements in HSRF III stand out to him. Among them: low operating cost, focus on user experience ("mechanical system designed to achieve thermal comfort"), and site design ("substantial open space for student and faculty use"). Daylight was a high priority. Every lab and office space intended for continuous occupancy, except for a few spaces where the user requested otherwise, was designed with window access to daylight, either to the exterior or to the atrium and its skylights.
Still, despite all this, Scotti says HSRF III was sitting on 59 LEED certification points, one short of Gold status, in October 2018. " The design consultants and I revisited a few credits left behind," says Scotti. "The U.S. Green Building Council accepted, so we finally reached the Gold level. The struggle at the end paid off and I felt a great joy and sense of accomplishment."
Brown credits the group effort, citing his team members Scotti, Drew Moore, Jeff Crabtree, Rob Cook, Jody Latimer, the design team, HOK and its consultants, including Affiliated Engineers, Inc., and the construction manager, Barton Malow Co. Plus contributors from all across UMB.
"It can be challenging to get buy-in from an entire cross-section of the University for new technologies and standards on such a large and important facility," Brown says. "The risk-free approach would be to do what we have done before, but everyone worked together to achieve the goal of reducing energy use and so much more."
At the virtual ribbon-cutting of HSRF III on Oct. 29, SOM Dean and UMB Executive Vice President E. Albert Reece, MD, PhD, MBA, said, "Our entire academic community rose to the occasion. They imagined the unimaginable and worked relentlessly to bring this project to fruition."
And now with the LEED Gold Award, the biggest building in the University System of Maryland has risen to even greater heights.