After years of hard work, determination, and personal sacrifice, University of Maryland School of Medicine (UMSOM) medical students' dreams finally came to fruition at the Match Day ceremony on March 15. At exactly noon, medical students at UMSOM and around the country, some 30,000 students across the United States, received an envelope telling them where they will do their residency training. It was truly a day filled with excitement and anticipation for UMSOM's Class of 2019 at Baltimore's famed Hippodrome Theatre.
During the Match Day celebration, students selected their own soundtrack that played as they walked onto the stage. Many students danced their way up to applause. This year, 162 UMSOM students matched at 73 different hospitals in 29 states. Fifty-seven members of the Class of 2019 will stay in Maryland for their residency training.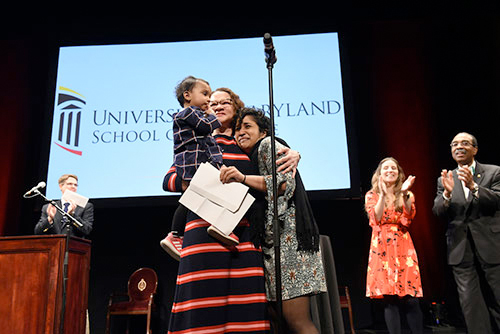 According to the National Residency Matching Program, this year's Main Residency Match was the largest in history, exceeding the more than 43,000 applicants who registered for the 2018 Match and the more than 33,000 positions offered last year.
Among these students are David Hurwitz. He arrived at UMSOM after leaving a decade-long private business sector career in biotechnology. For years, he worked side-by-side with primary care physicians and felt an insistent call to join the front line of community care. He hopes to combine his medical training with his expertise in business for a career in geriatrics. "Being the 'old man' of my class with two school-aged children comes with some challenges, but also several unique advantages. I always have a willing volunteer to play the part of the standardized patient!" he said. He hopes that he has inspired others to appreciate that you are never too old to pursue your dreams. Hurwitz, who is set to earn his medical degree in May, matched at Johns Hopkins Bayview in internal medicine.
Deepanjali Jain shares a similar journey. She spent a few years working in global health policy helping to push legislature for health workforce development in low-and middle-income countries. While she did find her work in health policy rewarding, Deepanjali missed making personal connections. "Medicine gave me the opportunity to connect on an individual level and celebrate how their health improvements improved their lives and the lives of their families," she said. Throughout the course of her studies, she was involved in many student-based groups and discussions that shed light on the importance of diversity and inclusion in medicine. Jain has decided to specialize in internal medicine and plans to continue to provide care for underserved populations. She matched at Temple University Hospital in internal medicine.
Kayle Miller and Michael Miller loved math and science from a very young age. The brother and sister, two members of a set of triplets, grew up in Frederick County, Md. Their early exposure to science and mathematics sparked the fire in their aspirations that ultimately burned a path all the way to medical school. Michael Miller is interested in sepsis and the role of palliative care in critical care-level settings, while Kayle Miller is interested in HIV and substance abuse. Interestingly, their sister Claire — the third member of the trio — is in medical school in New York and also will be graduating this year. They were excited to find out that they both matched in internal medicine at the University of Pittsburgh Medical Center.
Milton Gholston's acceptance to the University of Maryland School of Medicine came at the time of civil unrest in Baltimore. Like the Millers, his affinity for science and service began at an early age. Fast-forward to his college years, and it became clearer to him that a systematic approach was the ultimate solution to address the suffering in his immediate community and communities alike. Gholson is glad that he stayed in Baltimore to be a part of the healing process and the pivotal discussions for change. He says the recognition and attention of health disparities is critical to improving health outcomes for populations that have been customarily underserved in health care. He matched with Tufts Medical Center in family medicine.
Some members of the class traveled far and wide to follow their dreams. Elise Ma moved from her hometown of Los Angeles to Baltimore to pursue an MD and PhD in neuroscience. She completed a few pre-med courses while pursuing her bachelor's degree in psychology at UCLA, but it wasn't until she began working in a research laboratory that she envisioned a career in medicine. She will be returning to UCLA, where she was matched with a competitive program in ophthalmology. She hopes to use her background in neurotrauma toward a career that includes both scientific and clinical investigations in neuro-ophthalmology.
Shawnecca Burke, a native of Silver Spring, Md., spent much of her young-adult years participating in service trips in the U.S and Latin America. She says that although she grew up near major cities for most of her life, she's always had an interest in rural communities. This continued to be a major theme while in medical school — rotating at two different Native American reservations in Zuni, N.M., and Chinle, Ariz. She hopes to pursue a career in family medicine and serve patients in rural native communities. She matched with the University of Colorado Hospital in family medicine.
Max Coale came to UMSOM from Princeton University, where he played football and helped Princeton break Ivy League records in scoring and total offense. His interest in medicine was inspired after he suffered an ankle injury in a football game when he was in seventh grade. Several years later, he spent a summer shadowing an orthopaedic traumatologist at the R Adams Cowley Shock Trauma Center, and that's when he says his passion for medicine ignited. He has chosen to specialize in orthopaedics and credits the unwavering support of family, friends, and mentors for his success. He matched with the University of Washington Medical Center in orthopaedic surgery.
Daniel Lee's activism began in college — engaging in several community-based initiatives throughout Baltimore. Through these experiences, he began to understand the intersections among housing, health, and gender. During his studies at UMSOM, he served on several student councils and groups and he traveled to Nigeria to work on a prevention of mother-to-infant HIV transmission project. While 82 percent of doctors matching into obstetrics and gynecology (OBGYN) in the U.S. are women, Lee has decided to follow the same path. "A career in OBGYN will offer me unique opportunities to address gender issues both here in the U.S. and abroad," he said. He matched with UCLA in obstetrics and gynecology.