In a grown-up version of show and tell, Annapolis lawmakers were able to see firsthand the results of a strategic partnership between the University of Maryland, Baltimore (UMB) and the University of Maryland, College Park (UMCP), as more than 20 joint initiatives were featured at MPowering the State Advocacy Day on Feb. 28 in Annapolis.
The event is an annual celebration of the University of Maryland Strategic Partnership: MPowering the State. The collaboration between UMB and UMCP began in 2012 and was formalized by law in 2016. In seven years, it has propelled innovation and impact through collaboration, generating 513 joint research proposals and $164 million in joint funding.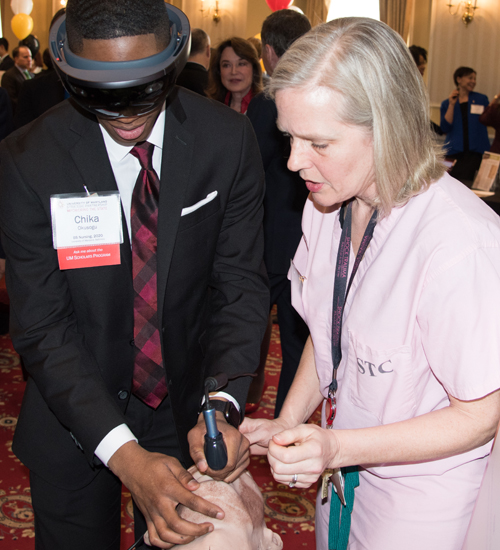 "It's hard for me to describe to you the pride that we take in understanding your projects, listening to the speakers," UMB President Jay A. Perman, MD, said. "It leaves me, frankly, without words, and that's not usually a problem of mine."
He noted that earlier in the day he and UMCP President Wallace D. Loh, PhD, JD, were recognized on the floor of each legislative chamber for MPower's contributions to the state.
"I can tell you, all of you in this room, students, faculty, staff, we accepted it on your behalf," Perman said. "We did hardly anything. You've made it real, so congratulations."
The partnership aims to combine both universities' resources to complete projects beyond what either could alone or, as Loh told visitors to the two-hour expo, "As I've always said, one plus one does not equal two, it equals three or four. You can go much further when you go together than compared to when you go alone."
The event provided an opportunity for legislators and staff to talk to UMB and UMCP students, faculty, and staff as they discussed and demonstrated their work, particularly in research, economic development, academics, and service to Maryland residents.
"It's always important to make sure that everybody knows how well this collaboration is working and what it is generating in terms of outcomes, which is truly remarkable here," said Del. Jon S. Cardin, JD '01, MA, MPS, as he perused display tables and easels representing MPower initiatives. More than 100 faculty, staff, and students were on hand to represent their programs.
"Collaboration creates energy and innovation and helps find the strength in the different institutions and brings them together to create a greater good, to improve the human condition, which is what the University System mission is in the first place," said Cardin, a graduate of the University of Maryland Francis King Carey Law School.
Take, for example, the Center for Sports Medicine, Health and Human Performance at Cole Field House, Cardin said. Its mission is to advance the study of nervous system injury and the neuroscience of sports-related conditions, specifically prevention, response, and recovery from traumatic brain injury.
"You have physical therapy at the University of Maryland, Baltimore, and you've got athletes as well as undergrads and other faculty who are very interested in coming up with best practices to make sure that we are creating healthy environments and healthy people to be able to perform at their absolute maximum capacity," Cardin said. "What better way to find out if that is happening than to collaborate in all of the schools so they can work together to improve at the center? It just makes sense. It's not rocket science. It's not that complicated."
Demonstrations included research projects focused on improving emergency medical care with augmented reality and on using virtual reality for pain management.
Nine UMB and UMCP students offered short presentations on their experiences in MPower-funded programs such as MLAW: Undergraduate Programs in Law; Master of Science in Law; UM Scholars; Bioengineering Capstone Design Course; and Agriculture Law Education Initiative.
Other MPower programs featured throughout the expo included the Maryland Cochlear Implant Center of Excellence; the Center for Sports Medicine, Health and Human Performance; the Center for Health-Related Informatics and Bioimaging; the Institute for Bioscience and Biotechnology Research; the Maryland Blended Reality Center; the Opioid Use Disorders Research Collaboration; the SAFE Center for Human Trafficking Survivors; the University of Maryland Center for Economic and Entrepreneurship Development; UM Ventures/Center for Maryland Advanced Ventures; the Policing Partnership; school-based Interventions to Mitigate Toxic Stress; the Health Informatics and Data Science Specialty for Undergraduates; the Maryland Center for Advanced Molecular Analysis; and the Robert E. Fischell Institute for Biomedical Devices.
"It's great to see other colleagues," said D'Lisa Worthy, MEd, co-director of the Center of Excellence Program in Infant and Early Childhood Mental Health at the University of Maryland School of Medicine (UMSOM). She is working with UMCP associate professor Donald Bolger, PhD, and UMCP professor Brenda Jones Harden, PhD, MSW, on the Interventions to Mitigate Toxic Stress initiative, studying school-based interventions to improve learning outcomes for children exposed to abuse, poverty, violence, or neglect.
"A lot of times we are working in a small bubble," Worthy said. "We are meeting with colleagues and getting together, but being in the context of a larger venue here I think is really helpful and it is really helpful to let legislators understand what is happening on the ground, where there is an impact on actual families of Maryland, children of Maryland."
Working on an MPower initiative "brings us to the same table," Bolger added. "As colleagues, we come together to share ideas and to collaborate on something that means a lot to all of us. It really does promote human-to-human contact and relationships being built collaboratively."
Steven Ragsdale, MSL '17, was in the inaugural class of the Master of Science in Law, another MPower program. Targeted toward working professionals, the program is taught at College Park and online to meet high-level workforce needs, explained Adrianne Arthur, director, operations and communications, University of Maryland Strategic Partnership: MPowering the State.
In a brief presentation to attendees, Ragsdale described himself as a recovering hospital administrator who enrolled in the program because he wanted to gain a better understanding of health disparities. The average age of the class? 44.
"We were a pain in the butt to our professors because all we had were questions. Loads and loads of questions," he said.
University of Maryland School of Nursing student Chika Okusogu, a UM Scholar, shared with expo visitors his excitement about working with associate professor Luana Colloca, MD, PhD, MS, in what's become known as the "Colloca Lab," as she explores the role of placebos in pain management.
"While we may have this perception that it (opioid addiction) is an issue of morals or character, it really is an issue of we don't understand how pain works as well as we should," Okusogu said. "Pain is a universal experience that is incredibly subjective. For some reason, even though each and every one of us in this room will feel pain at some point in our lives, we tolerate it differently.
"I feel like the work I've done in the Colloca Lab, whether it is through using virtual reality to help modulate pain or using placebo effect to also treat pain, that is also not only cost-effective, but also doesn't have major side effects or potential toxicities, are all attempts to help make a universal common issue more approachable and manageable for each and every one of us in this room."
Daphine Kwesiga, another UM Scholar and a second-year UMSOM student, spent last summer learning about what it takes to bring a drug to market as she collaborated with a team from UMCP that is developing new drugs to treat ovarian cancer.
"Having to repeat my experiment over and over again so I would get reputable data was definitely an experience," she said. "Just learning about the whole experience was eye-opening to the time, the resources, the knowledge and, I honestly think, a lot of passion, too, that has to go into drug design. As a rising physician, it challenged me to think about how do we go around still motivating research, still motivating drug development but at the same time realizing that the drugs we create have to be affordable to our patients. This is a question that I intend to pursue moving forward in my career."