For the first time in 22 years, the University of Maryland, Baltimore (UMB) will have a student on the University System of Maryland Board of Regents thanks to Drew Needham.
Needham, a first-year student at the Carey School of Law and a member of the University Student Government Association, was nominated by UMB, interviewed with the University System of Maryland (USM) Student Council, met one-on-one with USM Chancellor Robert L. Caret, PhD, was appointed by Gov. Larry Hogan, and was confirmed by the Maryland State Senate.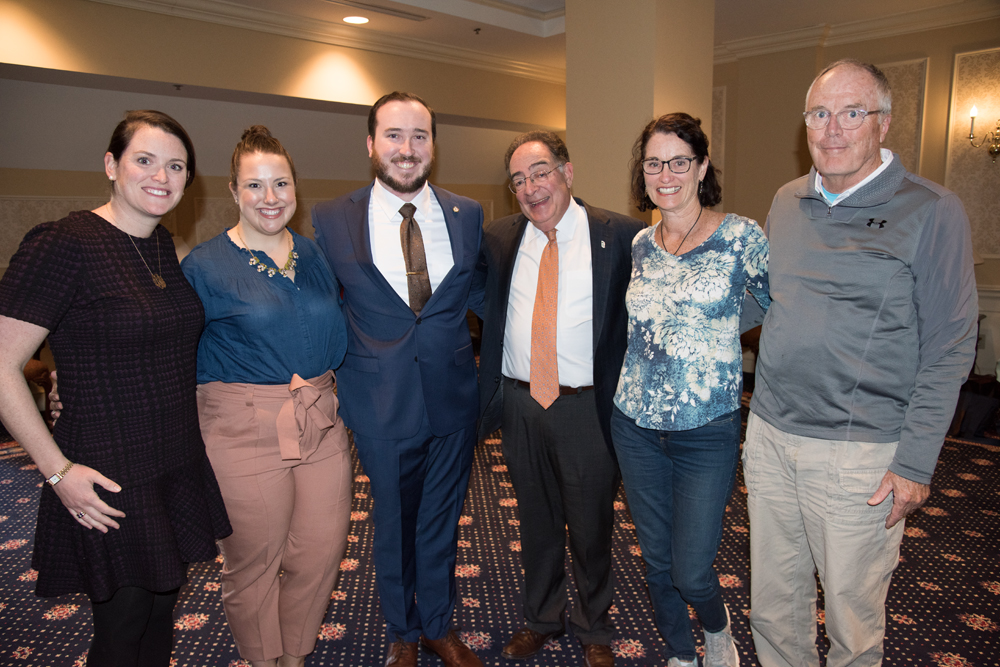 "It was quite a process," said Needham, 28, who was matched against students from 11 other USM institutions. "I am overjoyed and incredibly proud to have this opportunity to represent UMB as well as all students and institutions of the University System of Maryland."
Since the student regent program began in 1988, UMB has had three representatives: Rajiv Goel (1997), Mark Israel (1994), and Margaret Woodhull (1992). The fact that Goel and Israel also were Carey Law students didn't surprise Needham, who is slated to earn his JD in 2021.
"There's a certain type of person who will pursue a legal education, and that is a person who by nature will want to be an advocate for others," Needham said. "At the Francis King Carey School of Law, we want individuals who are active in their community. We have a very strong initiative to have our students not just be locked away in the library. To really get out there and utilize our legal education to be the surrogate voice for individuals in need of representation. I think that's why we have one of the top 10 clinical law programs in the country."
Needham, whose term begins July 1, will "get out there" as USM student regent. Duties will include monthly board meetings, serving on subcommittees like Education and Student Affairs, contributing to work groups, and advocating for issues he feels strongly about — things like student safety on and off campus, adequate protections of student-athletes, and access to mental health resources. "I also want to make sure we're preparing students for not just securing their first job but that they are set up with a strong educational foundation so they can enjoy the next 30 or 40 years in their career."
To prepare for his Board of Regents duties, Needham is adjusting his future classes, leaving Fridays free for board meetings. Born in Annapolis and raised in a small town outside of Philadelphia, Needham has another big event coming up before he starts his term: He's getting married to School of Pharmacy alumna Arielle Pietron, PharmD '18, on Memorial Day Weekend just outside Detroit.
Jokingly asked which was more important, Needham smiled and said, "The wedding, because it's hopefully longer than a one-year term."
A biology buff who worked five years as a University of Maryland, College Park researcher and lab manager in the laboratory of professor Kennedy Paynter, PhD, studying oyster restoration in the Chesapeake Bay after earning his undergraduate degree, Needham isn't one to shy away from the big stage. While a student at College Park, he ran around at Terps sports events as Testudo, UMCP's official mascot.
"That was my first real foray into representing the student body," Needham recalled. "You couldn't really say I was a voice for the students then because I wasn't allowed to talk. But I was still able to represent my fellow students."
He hopes to follow in the footsteps of his State Senator Sarah Elfreth, from Annapolis. "She was the student regent when she was a senior at Towson University 10 years ago," Needham said, "and now I believe she's the youngest female state senator in Maryland history."
Being the system's student regent, representing 176,000 students, obviously will look great on his résumé.
"I definitely have an interest after law school in getting into the public service/public policy sphere, whether that be advocating for policy changes or working with a governmental body or an elected official's office," Needham said. "So I think this will be a great way to get experience representing a large constituency of my peers."