The University of Maryland, Baltimore (UMB) transported five busloads of students, staff, faculty members, and their friends and families to advocate against gun violence at the #MarchForOurLives in Washington, D.C., on March 24, 2018.
View a photo gallery on Facebook or a photo gallery on Flickr and see a video below.
Many appeared in support of Marjory Stoneman Douglas High School graduate Allison Cowett, a third-year student at the University of Maryland School of Pharmacy (UMSOP). She has rallied fellow pharmacy students and faculty members to show solidarity for the 17 people killed at the Parkland, Fla., high school on Feb. 14. They brought the banner from a #WhiteCoatsAgainstGunViolence event held Feb. 28 at the UMSOP. Their message: "Gun Violence is a Public Health Issue."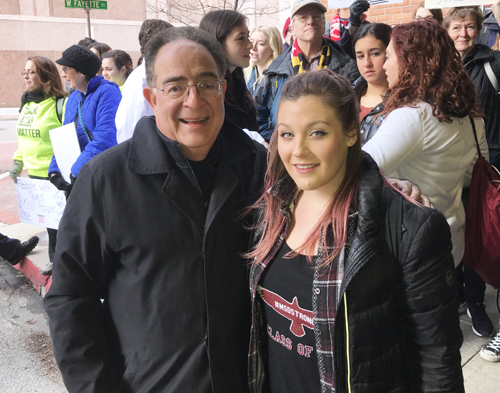 On March 24, a group of students from the University of Maryland School of Medicine wore their white coats to participate in the #MarchForOurLives and carried a sign: "Future Pediatricians Marching for Patients."
UMB President Jay A. Perman, MD, greeted Cowett and gave the UMB marchers a sendoff as 176 people gathered at the Pearl Street Garage in preparation for a day of action in the nation's capital. The group included UMSOP professors Linda Simoni-Wastila, BSPharm, MSPH, PhD, and Nicole Brandt, PharmD, MBA, BCPP, CGP, FASCP, and their 15-year-old daughters. Later, Perman joined his son and daughter in downtown Baltimore as they participated in the city's march.
The multigenerational aspects of the advocacy were apparent. Michael Reisch, PhD, MSW, MA, the Daniel Thursz Distinguished Professor of Social Justice at the University of Maryland School of Social Work (SSW), noted that the national protest was being led by high school students who have been impacted by gun violence. He said young people are the "organizers, the motivators and the inspiration" for people of all ages.
SSW Assistant Dean of Instructional Design and Technology Clark Shah-Nelson, MA, was accompanied by his wife, Seema, and their sons, Rishi, 10, and Amaal, 8, who together climbed on a bus to represent students as young as elementary school age.
UMB Campus Life Services provided the transportation, and the departure took place without a hitch with the help of UMB Assistant Vice President for Student Affairs Patty Alvarez, PhD; Campus Life Operations Executive Director William "Bill" Crockett, MS, RCRSP; Student Development and Leadership Director Cyndi Rice; Postdoctoral Fellow TaShara Bailey, PhD; and Senior Program Specialist in the Office of Academic Affairs Meghan Bruce-Bojo, MSW.
At UMB, Perman sent an open letter to the university on Feb. 19 proposing an economic incentive for gun control and welcoming ideas "on how we might focus our research and teaching here at UMB to take up this fight against gun violence."