Lauren Kareem, MEd, isn't going back to her previous job as a middle school teacher anytime soon. That is good news to the University of Maryland, Baltimore (UMB), which March 14 named Kareem its 2018 Employee of the Year.
Kareem is assistant director and curriculum coordinator for the UMB CURE Scholars Program, a pipeline program that is preparing 80 West Baltimore middle schoolers for health and research careers.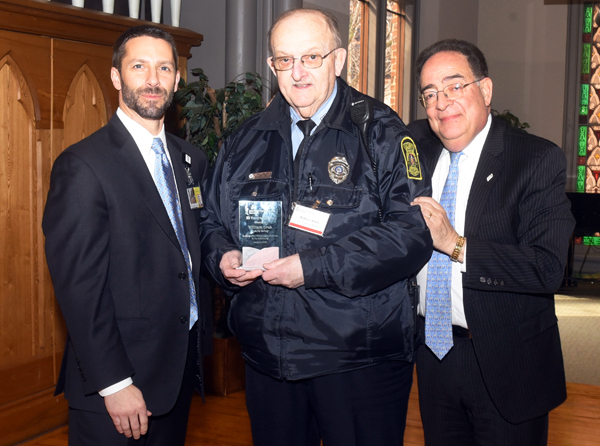 One of 12 UMB Employees of the Month eligible for the annual award, Kareem was honored at the UMB Employee Recognition Luncheon. The crowd of 190 cheered as she accepted the $1,500 grand prize.
Matt Lasecki, SPHR, chief Human Resources officer and host of the luncheon, said, "Ms. Kareem is deeply committed to the excellence of the CURE Scholars Program, as is evident by her indefatigable energy and enthusiasm despite the very long hours she works. Often, as other employees are leaving work for the day, she is managing the innumerable details inherent in coordinating the day-to-day tutoring, experiments, field trips, and academic enrichment activities for three cohorts of students."
Kareem later said she is the lucky one. "Teachers here in Baltimore and across the country work incredibly hard and some are never rewarded for their efforts. I'm grateful that the UMB community places such a high value on the work that the CURE team does."
So you're not going back to the classroom? "That's a resounding no," she said with a smile, "and that's because of the latitude and the freedom I have here. I have the full support of Dr. Perman and the senior leadership. That's just incredibly rewarding. As a public school teacher, it was very difficult to get the supplies I needed for science and engineering activities. Now, the sky is the limit. I also have Robin's [CURE Scholars executive director Robin Saunders, EdD, MS] great example. She puts every last drop of blood, sweat, and tears into the program. She creates a culture within the CURE team of genuine passion and commitment. The opportunity I've been given is truly an honor." (To read more about Kareem's work, click here.)
Employee of the Year was the highlight of an event where 87 UMB workers representing 2,275 years of service were honored. University President Jay A. Perman, MD, thanked the 20- to 45-year employees.
"Almost every day, someone comes up to me and says, 'Thank you — thank you for the work UMB is doing,'" he said. "That gratitude is conveyed to me as UMB's leader, but it's actually about you. This University's reputation — our good name and our good works — believe me, they say a lot more about all of you than they do about me."
The senior member of those being honored was Officer William Groh of the Public Safety team, who came to UMB in 1964. How long ago was that? The Beatles were on the Ed Sullivan Show. And the Cleveland Browns — yes the Cleveland Browns! — were NFL champions, before there even was a Super Bowl.
"I remember when this was a church, being used by the Presbyterians," Groh said earlier upon arriving at Westminster Hall, where the event was held. Asked what being saluted for his 53 years meant to him, he said, "It means a lot. It means that somebody cares as much as I care. I love this job. I love the University. It's been very good to me and my late wife [who worked at the medical center]."
Also among the honorees were 45-year employees Perry Comegys, Deborah Perrella, and Rosalind Robinson of the School of Medicine, Janice Dixon of the Carey School of Law, and Maurie Gray of Administration and Finance.
What is it about the School of Medicine that makes employees want to stay?
Comegys credits his early supervisors, Bob Pendergrass and Seung Chang. "They just encouraged me to learn as much as I could," he said. "We did different things in the lab. I started in Pathology, then I worked in the Histology lab, then the Microscopy lab."
Comegys, who eventually graduated from Morgan State, started at UMB as a high school student who benefited from a city summer program at the time to keep kids in school. "I came as a youngster and I'll leave here as an old man," he said with a laugh.
Thomas Jemski, a 30-year honoree and part of the medical school's photo/videography team with Mark Teske (33 years), said at the school "you get to meet people from every country, every nationality. It's amazing to meet these people and get to know them. I really love that aspect of it."
After lunch, Lasecki and Perman handed out awards.
Saritha Jones, an executive administrative assistant in the Carey School of Law, won the $2,000 James T. Hill Scholarship, which was established to support the University's commitment to staff development in recognition of the longtime vice president.
Lasecki quoted Jones' supervisor, who said, "Despite the fast-paced nature of our office, Ms. Jones has always been willing to take opportunities to learn new skills, embraced training opportunities, and expanded her responsibilities to adjust to the ever-changing needs of our office. As a result, she has been promoted twice in the last four years."
Jones earned a Human Resources Certificate in 2015 from University of Maryland University College. Now the award can help her pursue a bachelor's degree in Human Resources Management.
Robertha Simpson, director of continuing medical education and conflict of interest at the medical school, won UMB's Community Service Award.
Among her outreach efforts are serving as a UMB CURE mentor and serving food at Project Feast, a community event in West Baltimore that provides free Thanksgiving meals, clothing, and health resources to those in need.
Simpson is such a supporter of Project Feast, dating back at least 10 years, that she has recruited her daughter, Moriah, as a volunteer as she did members of the Baltimore City grand jury she was on in 2013. "I feel it's very important to give back to the community," she said in an understatement.
Simpson was surprised by the award. "I was elated when my name was announced, because what I do for the community and the UMB CURE Scholars is from my heart," she said. "I did not expect to be recognized for these acts of kindness."
But that's what sets UMB apart, Employee of the Year Kareem said.
"I'm just grateful to work at a place that celebrates people," she said.
On March 14 at the Employee Recognition Luncheon, UMB certainly did that.