Some of the most innovative ideas in health care lined the walls at the Health Sciences and Human Services Library (HS/HSL) Maker Expo on March 6 at the University of Maryland, Baltimore's (UMB) SMC Campus Center.
On display were 3-D printers, virtual and augmented reality systems, bio printers, therapeutic robots, and more. About 100 people from UMB and beyond attended the event, and they were not disappointed, according to Brian Zelip, MSLIS, MA, emerging technologies librarian at UMB.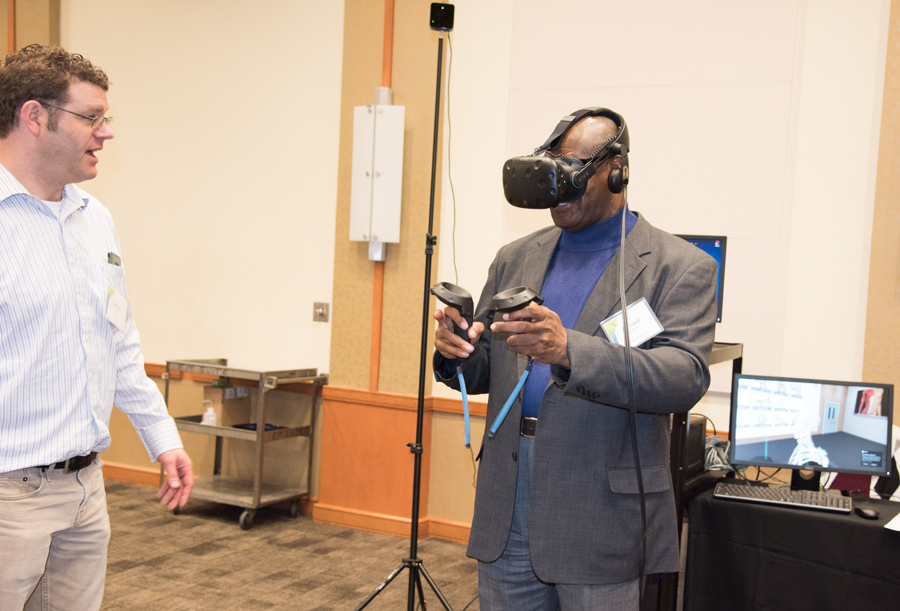 "We partnered with cutting-edge organizations to show off their technologies and services, and we got inspiration and insight from academic and industry experts," Zelip said.
Halfway through the event, Matthew Treskon, technology librarian at the nonprofit Loyola Notre Dame Library (which serves both universities), said he had seen more than enough to help him expand his library's makerspace.
"There is so much technology, and this allows us to see how it's used," he said. "It's great. We are making connections very quickly."
Treskon had just spoken to Brad Hennessie, co-founder of NextStep Robotics, who demonstrated his assistive therapeutic robot that has been proven to help stroke victims and others with peroneal nerve injury, or foot drop, improve to the point that they can walk without crutches. Hennessie is commercializing the device that he helped develop as a clinical research specialist at the University of Maryland School of Medicine.
Patrick Waugh, MLS, a library services specialist at the HS/HSL, was particularly interested in the 3-D bio printer displayed by Allevi, a company founded four years ago by a student at the University of Pennsylvania. CEO Ricky Solorzano was working in a lab with a large, expensive machine and thought that bio printers should be more accessible and affordable, so he created one in his dorm room.
"Now, four years later, it is in 141 labs worldwide and in 18 research publications," explained Gardner Butterworth, Allevi's director of sales.
Examples of the organs, bones, and tubules that Allevi's bio printer can make were set out on the table, including rat femurs, an ear, and a nose. Currently, the bio printer can create lifelike organs that can sustain living cells.
"Trying to get the same mechanical, physical, and biological properties of tissues is really difficult, but because of the precision the bio printer can achieve, it helps bridge the gap and reach that level where one day we will be able to print a kidney," said Taciana Pereira, a bioengineer with Allevi. "One day, we will get there."
A current Allevi client is using a 3-D bio printer to duplicate cancerous tumor models to test different therapies, explained Madeline Winter, chief operating officer at Allevi. "They are able to see how drugs interact in the tumor before being used in the body," she said. "That is so important."
Waugh walked away from the Allevi table enthralled and a little disturbed.
"It's scary, but amazing," he said. "It reminds me of the Woody Allen movie Sleeper, where they make a whole person out of a nose. … It's pretty amazing how far we have come."
The displays of virtual reality systems from Balti Virtual and the National Institutes of Health also drew interest from the group. Programs took viewers into the world of animal cells and the human skeleton.
"As the kids say, it was really cool," said Richard Bradberry, director of library services at Morgan State University. "We could relate this to our nursing program and other health disciplines."
The Maker Expo also included keynote speaker Anna Young, MakerHealth CEO and former TEDMED speaker, who talked about bringing makerspaces and prototyping tools into hospital settings. In the afternoon, a panel included Jeffrey Hirsch, MD, from the University of Maryland School of Medicine, who is using the latest technology to print small ear prostheses; Hennessie, from NextStep Robotics; Amy Hurst, University of Maryland, Baltimore County associate professor, who is collaborating with faculty and students at UMB to design and 3-D print custom assistive devices for rehabilitation patients; and Jeff Quinn, co-president of Engineered Medical Systems, which helped to create The Factory and The LaunchPort in Port Covington, a medical device manufacturing infrastructure and medical device startup accelerator.
The HS/HSL at UMB has its own Innovation Space for UMB faculty, students, and researchers. Last year, it was named one of the most innovative spaces at UMB by the President's Scholars, according to MJ Tooey, MLS, AHIP, FMLA, associate vice president of Academic Affairs at UMB and executive director of the HS/HSL. The space has 3-D printers, 3-D scanners, a plotter for poster printing, a large DNA model, two molecule kits, a button maker, and more. For details, visit the Innovation Space website.