Goldie Blumenstyk, MS, one of the nation's most respected higher education journalists, didn't pull any punches as the latest speaker at the President's Panel on Politics and Policy at UMB.
After giving an overview of what she would discuss concerning the current state of higher education and how it will be affected by the Trump administration, Blumenstyk smiled and said, "I told a friend what I would be doing today and she said 'and then what will you be doing to cheer people up?'" getting a laugh from the 75-plus at the Southern Management Corporation Campus Center on March 21.
(View a photo gallery.)

Since 1988, Blumenstyk has been a reporter and an editor at The Chronicle of Higher Education, which UMB President Jay A. Perman, MD, called "the newspaper of record for those of us in academia." She has traveled the world for The Chronicle and in 2015 she wrote the book, American Higher Education in Crisis? What Everyone Needs to Know.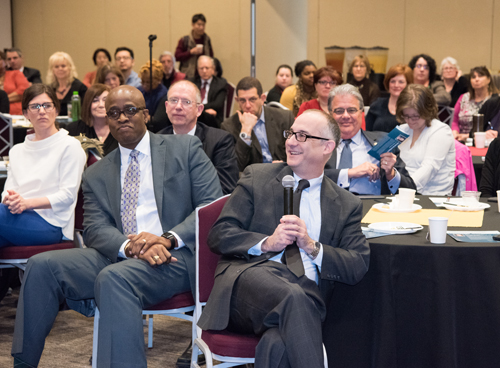 She said the question mark in the title was important to her, to indicate that she didn't know it all. "There was a lot of hype and silliness out there and I didn't want to buy into it," she said. But when the publisher said it was a chance for her to step back and say what's changed in higher education in the past 25 years, she found it was "an irresistible time to take on this project."
She read the following excerpt to the UMB crowd.
Over the past three years, the price of college has gone up faster than the price of all other goods and services. Student debt is at an all-time high at $1.2 trillion. Doubts about the value of a college degree are on the rise. State support for the public college sector, which educates seven of 10 students, has yet to find and may never find the return to the generous levels of financial support it had in the early 2000s. The financial model underlying many private colleges is becoming more and more fragile.
Collectively, colleges reflect and some say even amplify, the racial and economic income inequalities found in the nation's neighborhoods and its elementary and secondary schools. The demand for career trades is growing even as experts agree the skills of a liberal arts education are becoming increasingly important. And the restless reform movement inspired by the promise of new technology and backed by powerful and political and financial might is growing more and more insistent that the enterprise spend less, show better results, and become more open to new kinds of education providers.
"I wrote that 2 ½ years ago and I think it holds up pretty well," Blumenstyk said. "And that's a problem for all of us here."
She pointed out that college has never been more important, saying that by 2020, two-thirds of U.S. jobs will require education besides high school — a jump from 28 percent when she was in college in the 1970s.
But the education landscape is changing, something The Chronicle of Higher Education is focusing on with its Re:Learning project. Blumenstyk spoke about badging systems some universities are using to credit students for skills they've mastered. Credentialing in addition to degrees. Colleges' closer connections with "embedded for-profit" company advisors. Electronic mentoring systems that give students alerts when their grades are falling. Open education resources, which provide well-vetted, free information to replace the high price of textbooks, providing professors more flexibility in the process.
She said such changes are needed because today's college students often don't have the support systems of generations past. "One-third of all college students are older than 25," Blumenstyk said. "Thirty-seven percent attend part time and at community colleges that's 60 percent. One out of four is a parent. One out of eight is a single parent. They're all working, many because they have to. The country's population is getting browner and more economically stratified and so are our colleges."
Despite billions of dollars in financial aid, lower income and minority students are still far more prevalent at two-year colleges than four-year. "That matters a lot," she said, pointing out that community colleges are the least funded and have the poorest success rates. "Eight out of 10 students enter community college expecting to get a BA. Only 17 percent ultimately do."
Debt without degree is a particular problem, she said, and the wealthy still are nine times more likely to earn a college degree by age 24 than others.
Blumenstyk was the third speaker in UMB's President's Panel on Politics and Policy, which examines issues important to the University community likely to be affected by the new president and Congress. She expressed some reservations about the Trump administration, pointing out a national science advisor had yet to be named, fears about government databases, the cultural divide between blue America and red America.
She pointed out the travel ban is affecting college admissions, with enrollment numbers down 40 percent from the targeted countries with Canada gearing up to accept the applicants. "That's how it's looking," she concluded. "Was there something in there a little bit cheery?"
Then she opened the floor to questions with Perman giving the first to "our educator-in-chief" University System of Maryland Chancellor Robert L. Caret, PhD. Caret disagreed with Blumenstyk's assertion that higher education wasn't working, citing a growing demand for college services and rising retention and graduation rates in Maryland, though he acknowledged growing national impediments to maximum growth.
Blumenstyk agreed that Maryland has put more money into financial aid and its institutions than a lot of states.
Added Caret: "In Massachusetts, students pay 70 percent of the cost, here they pay 50 percent of the cost. We'd like to see them pay 30 percent."
Read more about the President's Panel on Politics and Policy at UMB.