On June 2, the inaugural recipients of the University of Maryland, Baltimore's (UMB) President's Global Impact Fund (PGIF) gathered virtually to provide an update on their projects.
PGIF is a $250,000 initiative providing support for 11 projects that aim to develop cross-campus and international collaborations to enhance UMB's global engagement and reach (see list of projects below). The fund was launched after the 2019 UMB Global Health Summit, which brought researchers, practitioners, and interprofessional teams to campus to highlight the University's commitment to improving the human condition through collaborative health and human services.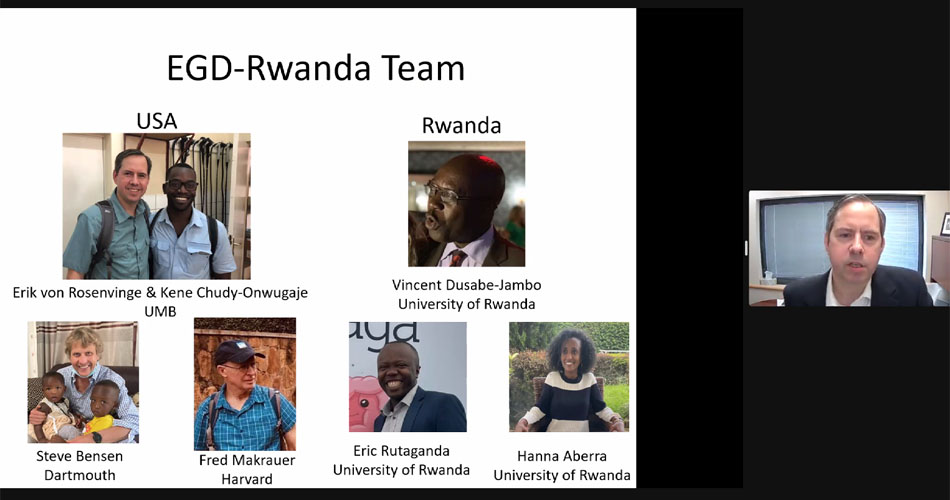 Each group gave a presentation on the progress of their projects, which are now two years in the making. Virginia Rowthorn, JD, LLM, UMB assistant vice president for global engagement, reflected on the day the grants were given out.
"The award letters for this program went out to these grantees on April 29, 2020," she said. "Everyone knows what that date means. It was just at the start of COVID. What you'll hear today is how so many of these groups have had to pivot what they planned to do and have achieved some amazing results already."
Recipients working on the project "Energizing Gastroenterology Development in Rwanda (EGD-Rwanda)" explained how they were able to adapt quickly to the pandemic and still achieve their overall goal. EGD-Rwanda worked to help areas of Rwanda with a high number of gastric illnesses but few resources for treating them. This was done through a fellowship program that transfers specific skills to gastroenterology (GI) specialists in Rwanda through travel opportunities to international training sites and conferences for research mentorship and pilot award opportunities.
"The goal was to try to get them excited about gastroenterology and try to build up an educational pipeline," said Erik von Rosenvinge, MD, an associate professor at the University of Maryland School of Medicine (UMSOM). "COVID made it unable for us to travel, so we ended up shifting our funds to support remote learning, but I am thrilled to say that the fellowship we have been working so hard to put together will begin in July this year."
During its research, von Rosenvinge's team discovered that a lack of proper gastroenterology equipment would be a major obstacle for its PGIF project. The team found that in six months Rwanda's main hospital had not been able to perform a single endoscopy, which is a standard GI procedure performed in Baltimore every day.
To help lay the groundwork for this fellowship, von Rosenvinge's team invested a lot of time in securing additional partnerships and collaborations to help supply Rwandan hospitals with the necessary equipment. This proved to be much more difficult than first conceived due to the state and location of the medical facilities in Rwanda.
"We had to jury-rig a lot of our equipment, and we even had to learn how to change lightbulbs the correct way, which we discovered is actually harder than you might think," von Rosenvinge explained. "But we were able to get everything up and running at the main hospital, which serves a population of 3.5 million people. The equipment was definitely an issue, and with these new installations, we have created something that is more durable for the hospital to use."
The range of projects created through PGIF is remarkable and includes many focuses, including youth-based mental health programs in Kenya, collaborative malaria research in Angola, long-term care for older adults in Brazil, and many more.
"It's an exciting thing to hear about the big grants that are resulting from the seed grants and to see that this partnership is building again," said Bonnie Bissonette, EdD, MA, senior director of international partnerships for the UMB Center for Global Engagement. "I am so happy that we have the capacity to create and continue to facilitate these kinds of fantastic programs."
UMB President's Global Impact Fund Recipients
Nigeria – From Post-Graduate to PI: Developing Independent Scholars of Implementation Science in West and Central Africa
Nadia A. Sam-Agudu, MD, CTropMed, associate professor, UMSOM
Alash'le G. Abimiku, PhD, MS, professor, UMSOM
Kenya – REACH (Reaching, Engaging Adolescents and Young Adults for Care Continuum in Health) Mental Health
Peter Memiah, DrPH, MSc, associate professor, epidemiology, Center for International Health, Education, and Biosecurity (Ciheb)
Fernando Wagner, MPH, DS, professor, University of Maryland School of Social Work
Angola – Consortium for Malaria Research in Angola (C-MalAng)
Joana Carneiro Da Silva, PhD, professor, UMSOM
Miriam Laufer, MD, professor, UMSOM
Shannon Takala-Harrison, PhD, associate professor, UMSOM
Point Prevalence Study in Acute Pediatric Critical Illness in Low-Resource Countries
Adrian Holloway, MD, assistant professor, UMSOM
Adnan Bhutta, MBBS, professor, UMSOM
Brazil – Developing Capacity for Long-Term Care of Older Adults Living with Dementia
Michael Lepore, PhD, professor, University of Maryland School of Nursing (UMSON)
Ester Villalonga Olives, PhD, MSc, assistant professor, University of Maryland School of Pharmacy (UMSOP)
Malawi – Environmental Justice, Human Rights and Public Health Legal Theory and Practice Seminar
Diane Hoffmann, JD, MS, director, Law and Health Care Program, University of Maryland Francis King Carey School of Law
Peter Danchin, JSD, LLM, LLB, professor, Maryland Carey Law
Robert Percival, JD, MA, professor, Maryland Carey Law
William Piermattai, JD '99, managing director, Environmental Law Program, Maryland Carey Law
Rebecca Hall, JD '13, managing director, Law and Health Care Program, Maryland Carey Law
Rwanda - Energizing Gastroenterology Development in Rwanda (EGD-Rwanda)
Erik von Rosenvinge, MD, associate professor, UMSOM
Kenechukwu Chudy-Onwugaje, MBBS, MPH, GI Fellow, UMSOM
The Gambia – UMB and Its Duty of Care: Building Resilient Health Systems with Host Country Partners
Melissa McDiarmid, MD, MPH, DABT, professor, UMSOM
Joanna Gaitens, PhD, MSN/MPH, assistant professor, UMSOM
The Gambia – Strengthening Capacity in Health Research Ethics and Research Methodology
Veronica Njie-Carr, PhD, RN, ACNS-BC, FWACN, associate professor, UMSON
Henry Silverman, MD, MA, professor, UMSOM
Zambia – Global Health Rotations
Cassidy Claassen, MD, MPH, assistant professor, UMSOM
Lottie Hachaambwa, MB, ChB, assistant professor, UMSOM