For the past four years, Professional Development Day has given University of Maryland, Baltimore (UMB) staff members an opportunity to build skills and network. On June 9, nearly 300 participants received the same benefit, albeit from a distance, making it the largest turnout in the event's history.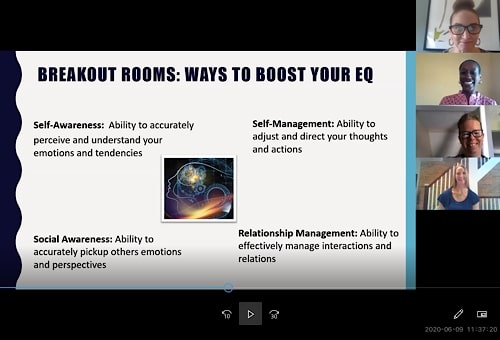 Professional Development Day was held virtually for the first time to keep in line with safety measures instituted due to the coronavirus pandemic preventing large gatherings. With so many of UMB's employees teleworking since mid-March, it attracted a large, remote audience.
"This will be, of course, our first year that we're doing it virtually," said Mark A. Emmel, MAS, SPHR, director, organization and employee development, opening this year's program on the Webex virtual conferencing platform. "I may just sort of ask your patience a little bit as we work through the technology. It's really new for all of us and there might be some bumps along the way but that's OK."
Matt Lasecki, SPHR, associate vice president and chief human resources officer, said the large attendance "says a lot about the resilience and the ability of people at UMB to adapt to change and thrive in challenging environments."
This year's theme, "Living the Core Values," centered on UMB's seven core values: accountability, civility, collaboration, diversity, excellence, knowledge, and leadership. The program is co-sponsored by Human Resource Services and the UMB Staff Senate.
The day began with welcoming remarks by UMB Interim President Bruce E. Jarrell, MD, FACS.
"Thanks for being here, and thanks for being on our first-ever virtual Professional Development Day," Jarrell said. "Obviously, it shows you have a strong appetite for learning, to get new skills and make new connections. If there's anything I've learned, it's that learning new skills and making new connections go a long way in getting you to where you want to end up in life. I wish I could be there with you all in person. I'm glad that we can do it safely this way."
The program's focus on remote working along with the theme of living UMB's core values was fitting for the times as individuals face the challenges of living during a pandemic combined with recent outrage over the death of George Floyd, a 46-year-old black man who died last month in Minneapolis after a white police officer knelt on his neck for nearly nine minutes.
"In the time of COVID and more recently the death of George Floyd, if there is anything I've learned, it's that our core values will carry us through and make us even better than we are now," Jarrell said. "I know these crises have been a test for all of us, yet I view it as an opportunity to show just what our mettle is and to make sure we institute these core values in everything we do moving forward."
The virtual gathering was all the more important, given the country's current climate of racial and social injustice, said Staff Senate President Kristy Novak, MS, associate director of student placements at the University of Maryland School of Nursing.
"It gives UMB the opportunity to really evaluate our core values in how we define ourselves as an academic institution. But as individuals it gives us the opportunity to gauge how we align our actions and our behaviors with those core values," she said. "And not just in how we carry out our daily roles but in our interactions with our colleagues, with our supervisors, with our students, and with our Baltimore community as a whole."
Lasecki introduced the day's keynote speaker, as a familiar face appeared on participants' devices: University System of Maryland (USM) Chancellor and former UMB President Jay A. Perman, MD, who introduced UMB to the seven core values during his inaugural address in 2010.
"This is a homecoming of sorts, and of course, I wish I could be with you in person," Perman said.
Speaking on the topic of UMB's core values, Perman said, "Frankly, I consider the core values one of the best things we did together when I was here with you. And I think the crises we're facing right now make it the perfect time to talk about why our values matter."
His keynote address focused specifically on the core values of collaboration, leadership, and accountability.
Collaboration has been a crucial part guiding and supporting USM institutions while navigating a pandemic, said Perman.
"As the scope of the COVID crisis began revealing itself in January and February, we all began to realize this was something unprecedented — that the universities needed guidance and support, they needed to talk through actions and implications," he said. "So we hosted briefings, preparedness training, tabletop exercises, and we issued guidance. We all knew instinctively that we needed to face this global challenge together."
USM leaders began meeting three times a week instead of once a month, with some calls exceeding more than 100 participants. They discussed common approaches, transitioning to remote learning, mandating telework, recalling study-abroad students, canceling events and commencements — "all the stuff you've done," Perman said.
Like institutions across the country, senior leadership had to decide whether to refund a portion of students' room, board, and mandatory fees for the spring semester. For an institution like UMB, whose students largely live off campus, or for the University of Maryland Global Campus, whose courses are online, the decision meant little, Perman said. But to an institution like the University of Maryland, College Park, with many of its 41,000 students living on campus, "the decision could have impacts lasting years," he said.
Ultimately, the decision was made to refund room and board and mandatory fees for the spring semester.
"It wasn't an easy decision for those universities with large residential populations, but it did earn us the goodwill of students who knew we were trying to help. And a little goodwill is actually no little thing," Perman said.
Collaboration remains at the forefront as system leaders make decisions about the way in which students, faculty, and staff return while being mindful of safety and public health, he said. "That value of collaboration is a process and it's renewed with every decision that we make, even when they cost money. And I think that is the truest test of any value," he said.
On the value of leadership, Perman said when he accepted the job as chancellor it was in part to fulfill one of his life's missions: to ensure that every person who wants a college education can get one. The sense of obligation comes from his own history, when a woman he never met offered him a scholarship to attend medical school.
"That one act of generosity seeded in me the desire to open the same doors to education that had been opened to me. And I truly don't think there's a better opportunity to do that than as chancellor of this system," Perman said. "And I started seeing as a test of my own leadership my success in helping others become leaders, because there is no monopoly on leaders. Higher education is all about building leadership capacity, diffusing it, opening our hearts and minds to new ways of doing things."
Moving on to the value of accountability, Perman turned his attention toward the brutal death of Floyd at the hands of Minneapolis police officers.
"You don't need any reminder that the last several weeks have been difficult for all of us," he said. "We all saw the brutality of George Floyd's murder. And I think a lot of us knew and know that if we hadn't actually seen it, hadn't seen the video of it, then the officers who killed him would never have faced consequences — certainly not consequences befitting the horrible act."
Perman, Jarrell, and other USM leaders signed a letter acknowledging in a unified voice the structural racism taking place in the country.
"Yes, it's high time that we look at where our work and our lives intersect and consider what we can reasonably be held accountable for — as professionals, yes, but as human beings, as well," Perman said. "It's a big ask. I know it is. Undoing centuries of injustice and inhumanity is difficult. But at some point, we have to say, 'Even though we didn't build it … we're accountable for dismantling it.' "
The day included breakout sessions via "rooms" on Zoom on topics such as "Effective Communication" and "Principle-Centered Leadership." Others, such as "Engaging Emotional Intelligence to Enhance Virtual Workplace Performance," "Enhance Telework with Teams," and "Collaborate with SharePoint" reflected these teleworking times.
Senior marketing specialist Hope Wallace said she has heard a lot about "emotional EQ" lately, so when she saw a session about it offered on Professional Development Day, she registered right away. Emotional intelligence (also known as emotional quotient or EQ) is the ability to understand, use, and manage one's emotions in positive ways to relieve stress, communicate effectively, empathize with others, overcome challenges, and defuse conflict.
"The course was very informative, and I walked away with real-world practices to put into place," Wallace said.