A new rural residency program made possible through a grant from the Health Resources and Services Administration (HRSA) will address a growing shortage of primary care providers on Maryland's Eastern Shore.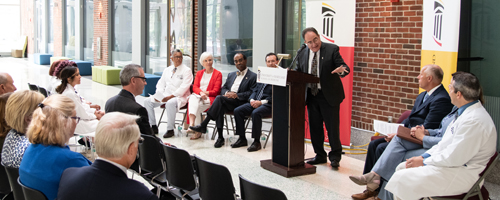 HRSA administrator George Sigounas, MS, PhD, announced the $750,000 grant award at a July 18 news conference at the University of Maryland School of Medicine's (UMSOM) Health Sciences Research Facility III, joined by University of Maryland, Baltimore (UMB) President Jay A. Perman, MD; UMSOM Dean E. Albert Reece, MD, PhD, MBA, executive vice president for medical affairs at UMB and the John Z. and Akiko K. Bowers Distinguished Professor; David Stewart, MD, associate professor and chair of the Department of Family and Community Medicine, and other University and state health officials.
The grant is part of a larger multi-year, $20 million initiative by HRSA to expand the physician workforce in rural areas by developing new, sustainable residency programs in family medicine, internal medicine, and psychiatry. Recipients of the awards include rural hospitals, community health centers, health centers operated by the Indian Health Service, Indian tribes, or tribal organizations, and schools of medicine.
"When I say that UMB takes care of Maryland, I do mean all of Maryland — those of us Marylanders who live in our cities, in our suburbs, and, yes, in our rural communities," Perman said. He cited a recent news article about the looming primary care shortage, noting this past spring a record number of primary care residencies were offered to medical school graduates and yet the number of graduates who chose a primary care position reached an all-time low.
"This disconnect between supply and demand is exacerbated in rural America," Perman said. "One in four people living in rural communities say they've had a recent incident in which they couldn't get the health care they needed, and the second biggest reason for that, behind cost, was that it was too far, too difficult to get themselves to a doctor. That's not how health care should work. In fact, that's exactly how health care isn't working in rural America."
The goal of the UMSOM program is to develop a sustainable, accredited rural training track in Caroline, Dorchester, Kent, Queen Anne's, and Talbot counties on Maryland's Eastern Shore, and to ultimately expand the area's rural primary care workforce. Residents in the rural track program will complete their first year of training in Baltimore and their final two years in medical practices and other clinical settings offered by these two health care organizations.
Residency programs like the one offered through the HRSA grant are important because they coax providers into rural communities, where they become part of the community while carrying out the hard but rewarding work of rural health care, Perman said.
Furthermore, once physicians have made the decision to stay and work in rural areas, there's a ripple effect, he noted, as the physicians open up practices, hire staff, pay taxes, and dramatically boost the region's economic output.
"Rural physicians have an enormous impact, not only on the health of individuals but on the health of entire communities," Perman said. "They are critical to rural vibrancy and sustainability."
Reece noted that many rural communities across the country rely on temporary medical clinics operated by volunteers for receiving care for their health needs, Reece said.
"Our rural neighbors simply do not have access to the same resources and the same conveniences that many of us are so privileged to have," he said.
UMSOM's Department of Family and Community Medicine, through the state's Area Health Education Center (AHEC), has been working on addressing the gaps in health care service providers in rural areas, Reece said.
In the 2017-18 academic year, the initiative placed 171 health professions students in rural and underserved locations for clinical training; 47 of UMSOM's training sites are located in medically underserved communities; 35 training sites are located in rural areas; and the Maryland AHEC program employed 32 percent of its participants in medically underserved communities.
"We believe by expanding the physician workforce in underserved areas with the support of the grant from HRSA, we will have a greater opportunity to address the quality of life and well-being of families in these rural areas who may not have access to the advanced health care that they need," Reece said.
Jason Ramirez, MD, assistant professor in the Department of Family and Community Medicine, serves as the principal investigator for the program.
"It's very exciting as a medical educator to be involved in something like this," he said. "We have a lot of work ahead of us. But I'm looking forward to getting it done and I'm looking forward to the challenges and opportunities that lie ahead as we develop this."
The HRSA funding will be used to help recruit and train dedicated teaching faculty for the program, to recruit a diverse pool of primary care residency applications that reflect a demonstrable interest and dedication to the practice of rural health, and to develop and secure a clear and viable plan to sustain the rural residency program. Over time, the program will include 12 residents, Ramirez said.
Also speaking at the news conference, Frances B. Phillips, RN, deputy secretary, public health services for the Maryland Department of Health; Kenneth Kozel, MBA, FACHE, president and CEO of UM Shore Regional Health; and Sara Rich, MPA, president and CEO of Choptank Community Health, each of whom emphasized the need for primary care physicians in rural areas.
"We've got some serious gaps in access to health care on the Eastern Shore," Phillips said. "The simple fact is that people with access to primary care do better. This rural residency program has the potential to reshape the future."