What was once a dull corner of concrete outside of Samuel Coleridge-Taylor Elementary School on West Preston Street is now brightened by pink and purple petunias and lush green hostas sprouting out of a formerly litter-strewn plot of dirt.
Children in the neighborhood "very rarely have an opportunity to know what it takes to plant a seed, what it takes to grow grass, what it takes to grow flowers and how it feels to get your hands dirty, but not by setting a dumpster on fire," said Elishabha Eaton, MSW, a Promise Corps social worker, who led a team of seven neighborhood children, from kindergarten to fifth grade, all in creating what is now known as "The Promise Garden."
It was one of two beautification projects in the Upton-Druid Heights neighborhood made possible through grants provided by B'more for Healthy Babies (BHB), one of several programs under the Promise Heights initiative of the University of Maryland School of Social Work. (See video below.)
"Our plan is to take the area and its cement benches and turn it into a nice spot," she said. "It's a nice shady spot, but it's a blighted spot. We decided to take a small patch of dirt – like a 'Raisin in the Sun' – and plant some flowers," she said. "Our goal was to give the children a chance to plant a seed and get their hands dirty."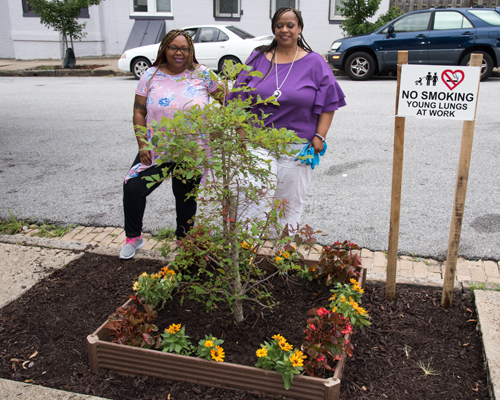 The garden stems from one of 26 "Community Conversations," neighborhood gatherings in barbershops, rec centers, beauty parlors, corner playgrounds, and elsewhere throughout the 208 blocks of Upton-Druid Heights, when BHB partnered with the Tamarack Institute to develop community engagement strategies. Participants included residents, business owners, parents, youths, and senior citizens.
BHB was launched in the Upton-Druid Heights and Patterson Park neighborhoods in 2010 following the news that Baltimore City's infant mortality rate was the fourth highest in the United States. BHB is led by the Office of the Mayor, with co-leadership from the Family League of Baltimore and the Baltimore City Health Department.
"The goal of the program was to ensure that every baby born in Baltimore is healthy and able to live in a thriving family," Stacey Stephens, LCSW-C, clinical instructor and director of BHB Upton-Druid Heights, said July 23 during a presentation at Samuel Coleridge-Taylor Elementary School on BHB's latest community efforts in which the two beautification projects were revealed.
Two to three years ago, a mandate was issued by the Baltimore City Health Department and by the Family League that BHB should deepen its community engagement, Stephens said.
"We had spent several years going out doing door-to-door outreach, having certain groups, providing hands-on service to moms and to families to support them so they can have a healthy baby, but they really wanted us to do more than just handing out materials and just educating folks," she said. "They really wanted us to get to know our community members and to hear what their concerns were and how it was that we could help them."
As a result, BHB partnered with Canada-based Tamarack Institute to assess the community's needs. Instead of looking at a community for what is going wrong and trying to fix it, officials conducted an assets-based assessment in which the community focuses on "what is going right and how to strengthen those things," said Gary Williams Jr., program manager for the Family League. In such a way, communities are reminded that they "have the strength, the skills, the knowledge, to be able to create transformational change in their neighborhood."
During the Community Conversations, residents were asked what their idea was of a healthy community. Three themes kept appearing over and over again, Stephens said.
Beautification.
A need to decrease social isolation.
And more opportunities for engagement for males ages 14 to 24.
BHB put out a request for community members to apply for small grants to receive funding to support these three areas. So far, two winners have been announced: Eaton's Promise Garden and another garden project by members of New Metropolitan Baptist Church.
"We have over the years, created some small green spaces around trees in front of our church and around the side," said New Metropolitan Rev. Angela Burden, who also is a nurse for BHB. "What I've noticed is that neighbors tend to stay to themselves. We are the ones who keep our property up, but it doesn't extend beyond that. What we did as a team is extend a little farther down Mosher Street and did two small plots where we could beautify that area. The plan is to continue down the street. We're not done.
"If they walk down to see the church as they are walking into the community, they can see that the church cared enough about the community that they wanted to plant," she continued. "And as people are walking by they say 'Oh that looks good.' Before we could plant, we had to clean, we had to sweep. It was interesting. Folks seeing us do that, I am hoping it will catch on."
More beautification projects as well as other projects addressing the two other themes of the Community Conversations will be announced in coming months, Stephens said.