Maryland's opioid addiction epidemic was a key focus of a daylong symposium on issues surrounding mental health and substance abuse presented by the University of Maryland Medical System (UMMS) and the University of Maryland, Baltimore. (UMB).
An estimated 450 people attended "Not All Wounds Are Visible: A Community Conversation About Mental Health and Substance Abuse," held June 27 at the Southern Management Corporation Campus Center.
"Really, we couldn't be picking a better time and place to be talking about this issue," Robert A. Chrencik, MBA, CPA, president and chief executive officer of UMMS, said in his welcoming remarks to the attendees.
Communities are challenged by drug and alcohol abuse like never before, Chrencik said. "All of these problems affect everyone virtually all across this nation. They do not discriminate. Whether you're young, whether you're old, whether you're working, whether you're not working, whether you're black, white, Hispanic or Asian, whether you're rich or poor, mental health and substance abuse impacts us all. They impact our families. They impact our communities. It's a tremendous issue."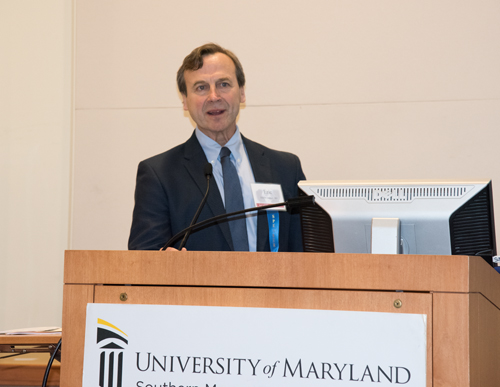 In 2016, 2,089 Marylanders lost their lives to alcohol or substance abuse, Chrencik said, a 66 percent increase over the prior year.
"Being in the middle of a large health care delivery system, we are focused on this but it is sobering to see those statistics," he added.
Eric Weintraub, MD, an associate professor of psychiatry at the University of Maryland School of Medicine (UMSOM), provided additional staggering statistics during a presentation on the opioid epidemic. Among them:
2.5 million Americans are addicted to pain medication
91 people die every day of overdose
Opioid overdose deaths have quadrupled since 1999
Deaths from opioid overdose now exceed those from both firearms and motor vehicle accidents
"We are in such a crisis," Weintraub said. "Lives are focused on obtaining opioids and it precludes them from living a meaningful life because they spend most of their day chasing drugs and using them."
The opioid epidemic is taking an enormous toll on society, resulting in lost productivity, a strain on the criminal justice system, and increased health care costs due to repeated hospitalizations.
"It's a significant burden to society if we cannot help these people get on track," said Weintraub, a board-certified addiction psychiatrist.
One cause of the problem: too many prescription medications. Most Western and European countries are seeing a decline in opioid use because they don't prescribe as much pain medication as in the United States, Weintraub said. "We're partly responsible, as physicians, for overprescribing."
He also attributed the problem to a significant increase in cheap heroin and an increase in the availability of high-potency synthetic opioids such as fentanyl.
"People don't even know what they are taking right now," he said, noting synthetic opioids are being made in labs around the world, and being imported into the U.S.
"Now people are overdosing even before the needle comes out of their arm."
In March 2017, Maryland Gov. Larry Hogan declared a state of emergency in response to the opioid addiction crisis.
"If you look at the numbers, it's just staggering," Weintraub said. "From 2011 to 2016, heroin-related deaths have gone up five times. It's just incredible how many people are dying."
The amount of substance abuse deaths is bound to take a toll on medical personnel in hospitals, Weintraub said.
"I think for those of us that work on the front lines, it's hitting home because we are seeing our patients die now. It's really been difficult for us to watch this," he said. "Opioid addiction used to be an urban problem. But it's become an everywhere problem."
The event also featured discussions and presentations on elderly mental health, domestic violence, principles of recovery, depression and anxiety, and suicide prevention.
Weintraub's presentation on addiction and substance abuse was part of a panel discussion featuring psychiatric nurse Grace Serafini, RN, MS, APRIN-B, director of nursing in the Department of Psychiatry at the University of Maryland St. Joseph Medical Center, presenting on mood disorders; Curtis N. Adams Jr., MD, assistant professor, Division of Community Psychiatry at UMSOM, presenting on psychosis; and Carnell Cooper, MD, associate professor at UMSOM, presenting on violence and trauma.
Attendees broke into small groups to share ideas over lunch with others who were interested in various facets of mental health.
"If you are in emergency medicine, and you are not learning everything you can about this crisis, you are doing yourself a disservice," said Andrea Smith, DNP, CRNP, director of urgent care and advanced practice emergency services at the University of Maryland Medical Center and a graduate of the University of Maryland School of Nursing. "We are all on the front lines now."