Patients' adherence to chronic obstructive pulmonary disease (COPD) medications decreased when they experienced new bouts of depression, according to a first-of-its-kind study published in the Annals of the American Thoracic Society by Linda Simoni-Wastila, BSPharm, MSPH, PhD, professor in the Department of Pharmaceutical Health Services Research (PHSR) at the University of Maryland School of Pharmacy.The research examined a sample of Medicare beneficiaries newly diagnosed with COPD.
"For many chronic conditions, medications are a mainstay of health — preventing disease progression, improving quality of life, and staving off mortality," says Simoni-Wastila. "Yet, there is limited research on how multiple chronic conditions, such as COPD and depression, influence each other, especially in regards to how patients and their caregivers manage treatments for those co-occurring illnesses."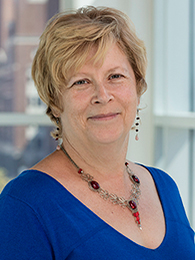 Titled "Adherence to Maintenance Medications Among Older Adults with Chronic Obstructive Pulmonary Disease: The Role of Depression," the study, which was funded by the National Institutes of Health, used Medicare administrative claims data to assess a 5 percent random sample of Medicare beneficiaries with an average age of 68 years from 2006 to 2012, focusing on beneficiaries with two years of continuous coverage for Medicare Parts A, B, and D, and at least two prescription fills for medications commonly used to treat COPD. Adherence was based on the number of prescriptions filled, while the presence of depression was characterized by at least one diagnosis code on at least one inpatient claim or two outpatient claims during the study period.
Of the more than 31,000 beneficiaries who met the criteria for this study, 20 percent were diagnosed with depression following their COPD diagnosis. Patients' average monthly adherence to their COPD maintenance medications was low, reaching only 57 percent in the month following their first prescription fill, and decreasing to 25 percent within six months.
Depression remains one of the most common, yet least recognized, comorbidities among patients with COPD, with 17 to 44 percent of COPD patients experiencing symptoms associated with the illness. "Our current health care system often treats illness and individuals living with illness as two separate, unrelated entities. Through this study, we aimed to help health care practitioners, policymakers, and patients and their caregivers think more holistically about health, and to consider how the presence of one medical condition can influence the progression and management of another condition," says Simoni-Wastila.
She adds, "More health care professionals should screen their older adult patients with COPD for depression. Early intervention is key to starting the conversation between providers and patients about other factors that might be impeding patients' adherence to their COPD medications, and to ensure that patients are receiving the best treatments to address all of their medical conditions."
Collaborators on this publication included Jennifer Albrecht, PhD, assistant professor in the Department of Epidemiology and Public Health at the University of Maryland School of Medicine; Yujin Park, former postdoctoral fellow in PHSR; Peter Hur, PharmD, postdoctoral fellow in PHSR; Ting-Ying Huang, a recent graduate of the PhD in PHSR program; Ilene Harris, PhD, principal research scientist at IMPAQ International, LLC; Giora Netzer, MD, associate professor in the Department of Epidemiology and Public Health at the School of Medicine; Susan Lehmann, MD, associate professor of psychiatry and behavioral sciences at the Johns Hopkins University School of Medicine; Patricia Langenberg, PhD, professor in the Department of Epidemiology and Public Health at the School of Medicine; Bilal Khokhar, graduate student in the PhD in PHSR program; Yu-Jung Wei, PhD, former PHSR graduate student and assistant professor of pharmaceutical outcomes and policy at the University of Florida College of Pharmacy; and Patience Moyo, graduate student in the PhD in PHSR program.
For more information about the study, please visit the ATSJournals website.