When someone looking for help with rent or utility assistance comes to Family Connections at Baltimore (FCB), staff are trained to present clients with options and not conditions.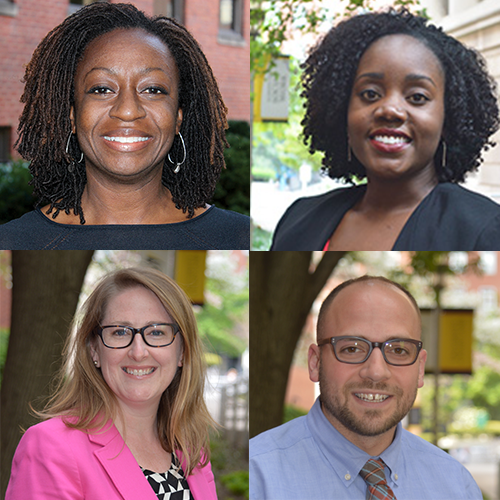 "There's no condition if we support you with financial assistance and that's what you came to us for," said Christopher S. Beegle, MSW, LCSW-C, clinical deputy director for FCB, an agency of the University of Maryland School of Social Work (UMSSW) Social Work Community Outreach Service (SWCOS). "If that's it, that's the end of your service."
Some human services agencies could require conditional support or mandates on how the assistance is used. At FCB, social workers can present to the family optional psychosocial assessments for trauma that could benefit them the most, getting to the root causes of their challenges.
"We have caregivers and families that are involved in multiple systems, so it's a high probability that a family can come to us and enroll into our services but have just completed a full evaluation two weeks ago at another mental health clinic or with another provider," Beegle said. "And so, we were thinking, why would we make it so that they have to do something similar with us? And for what reason?"
That approach is just one piece of a larger undertaking that FCB completed to change the way it is delivering services, especially for Black families in West Baltimore who experience system issues that impact their families.
It's an approach called the SHARP Framework, which was created by Wendy E. Shaia, EdD, MSW, '01, clinical assistant professor and executive director of SWCOS. SHARP, detailed below, is a way for social services providers to change how they operate on the back end, while focusing on how clinicians can look at all of the factors clients experience to better serve them.
"We just started asking ourselves some really tough questions about whether or not we are addressing the root causes of issues that families are experiencing or are we just dealing with the symptoms?" Shaia said. "And I think we came to the very tough understanding that we were addressing symptoms, and that was why people kept circling back, because we never actually dealt with the issues."
SHARP is an attempt to answer those questions by giving social workers a different perspective on how they're going to provide help or referrals. Shaia's framework was published in the Journal of Social Work Values and Ethics in 2019, and now will be examined closely with two other methods thanks to a $2.9 million federal grant awarded to Kennedy Krieger Institute's Center for Child and Family Trauma Stress and the University of Maryland School of Social Work to create support and training in antiracism and anti-oppression to more than 2,000 Maryland service providers to repair trauma among Black and Latinx children, youth, and families. The program will be called the Collective for Antiracist Child and Family Systems.
The money, provided through the Substance Abuse and Mental Health Services Administration's (SAMHSA) National Child Traumatic Stress Initiative, will be awarded over five years' time. SAMHSA is part of the Department of Health and Human Services.
What is SHARP?
The SHARP framework includes five core components:
Structural oppression – What are the issues in the person's physical and social environment that impact the person and his or her ability to be successful?
Historical context – What historical issues impacting the person's environment/community might be relevant to the issues the person is experiencing now? How has this history contributed to the situation the person is in now?
Analysis of role – What will be the provider's role in this service relationship: maintainer or disrupter of the status quo? There is no neutral space.
Reciprocity and mutuality – What strengths and gifts can the person share with the provider and with his/her community?
Power – What can the person do, alone and/or with others, to change the impact of historical and structural oppression?
Shaia created this framework with Baltimore in mind.
"A lot of people who come into service with us are there because of Baltimore's history of structural racism. And if we look at poverty in Baltimore today, it completely matches the 1937 redlining map, there's no difference there," Shaia said. "We see exactly the same situation. So why aren't we talking about that in our work with clients?"
That's what led to the article. And FCB was the laboratory where SHARP was put into practice.
"We're actually asking questions related to race-based trauma, to socially engineer trauma," Beegle said. "We really want to take a look at that, because we believe that for the families that we have the privilege to work with, there is an element where families have experienced oppression and racism. And we want to make sure that we're assessing for that in order to make sure that we have services that are appropriate to support them in their healing journey."
SHARP is designed to evolve, and it is also not the only approach. That's where UMSSW's Ericka M. Lewis, PhD, assistant professor, and SWCOS assistant director Becky Davis, MSW, play a role.
Lewis, the co-investigator, will scale SHARP up to be able to train programs and organizations based on their needs, with an attention for leadership and supervisors in organizations. The Anne Arundel County Department of Social Services and Baltimore City Social Services will be trained this year, as well as UMSSW students, National Association of Social Workers members, and social work practitioners in continuing education.
Baltimore Racial Justice is helping to develop the curriculum at the organizational level to ensure UMSSW stands by its own antiracist values completing this work, Shaia added.
Davis, the program evaluator, said SHARP helps address what Beegle described, in that parameters placed on families could be created out of mistrust by the agency or worker.
"I think all of those policies that come out of a place of, 'Well, we're just trying to be accountable to the money,' or 'We're trying to ensure that the deliverables of this project are headed in the right way' really is about a mistrust of the people we are serving," Davis said. "For someone who's experiencing our program or experiencing our interaction with them, it can feel really oppressive. They feel that 'I'm trying to make the best decisions for my family, but you don't trust me, and you don't believe that I have the ability to really do that.'"
Part of this process will include advisory boards where clients who received services can tell the organizations and providers what needs to change to make their services better or how to help their families better.
Chicago School of Professional Psychology faculty also created the Healing Ethno-Racial Trauma (HEART) framework and the Radical Healing intervention that will be used for Latinx communities in Chicagoland as part of the overarching study. These tools have more of a client-focused approach compared to the organizational approach of SHARP, Lewis said.
As a result, SHARP could evolve. It's possible that a new framework or intervention is created by blending these three approaches. Whatever the result, Shaia wants to make sure it works for the people who are asking for help.
"I think what's most important is for us as an institution to be going down this road that says, 'We've got to look at some of the root issues,'" Shaia said.