Community engagement is a staple of the University of Maryland, Baltimore (UMB). So the institution being draped in purple light at night should come as no surprise. After all, the Baltimore Ravens, top seed in the NFL playoffs, are one of our neighbors at M&T Bank Stadium.
"UMB is an integral part of the Baltimore community and wants to show our support for our home team," says Rob Riesner, MBA, CEM, acting director of Facilities Maintenance and Operations at UMB.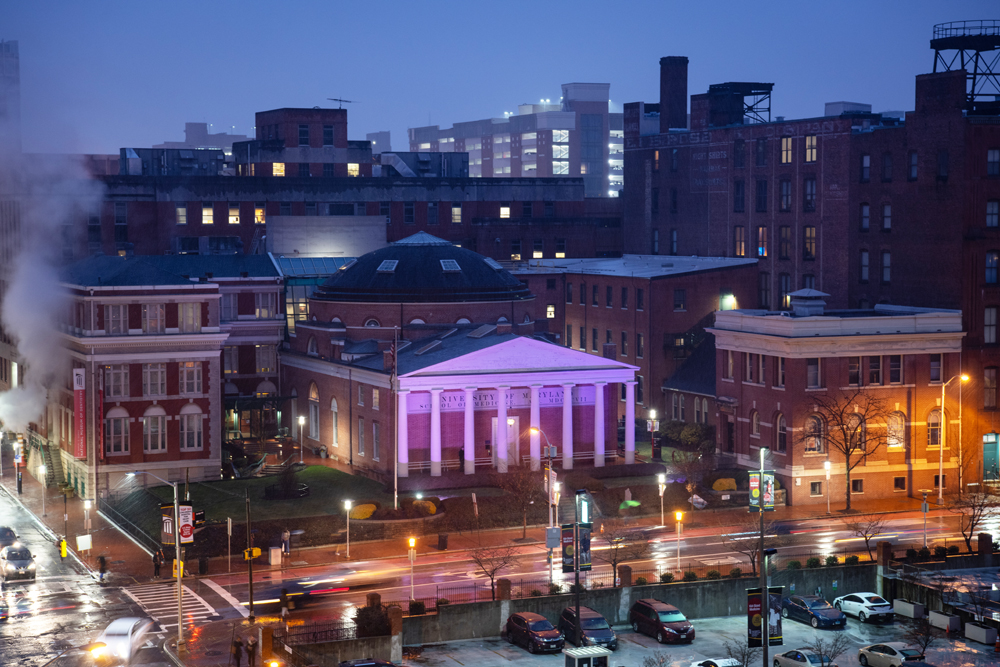 Purple LED lighting now emanates from Health Sciences Research Facility (HSRF) I and II on Baltimore and Penn streets, from HSRF III and Pharmacy Hall on Pine Street, and from the University's most iconic building, Davidge Hall, on Lombard Street.
"We even installed purple lighting at the sculpture outside of HSRF III," Michael Ahlfeldt, supervisor of the UMB Electrical Shop, said when the work was completed on Dec. 31. "I would like to thank all of the electricians who worked diligently to make this happen as well as Scott Versteegh [manager, Supply Services] and his staff for all the work they did to get the materials here to make this happen."
This is not the first time UMB has been bathed in purple. But perhaps fittingly, with the Ravens being a Super Bowl favorite after a 14-2 season, there is more purple lighting at UMB now than in previous years — and at no additional cost.
"Where purple lamps are used they are no more costly to operate than the normal white lights," Riesner says. "In many instances, the color change is accomplished with a filter applied over the white lights."
So will the purple lighting be a part of the UMB landscape as long as the Ravens stay alive in the playoffs?
"Absolutely," Riesner says. Chimes in Ahlfeldt, "Go Ravens!"
UMB Interim President Bruce Jarrell, MD, FACS, adds, "UMB is proud to be supporting the Ravens in their playoff run. Hopefully we can help light the way to a Super Bowl victory."