On Jan. 14, the University of Maryland, Baltimore's (UMB) President's Council for Women convened for a red-letter meeting.
Margaret McCarthy, PhD, professor and chair of the Department of Pharmacology at the University of Maryland School of Medicine and chairwoman of the council, welcomed the 38 council members as they filtered into the president's boardroom in the Saratoga Building. Among the council members was Bruce E. Jarrell, MD, FACS, marking his first official meeting with the council as UMB's interim president.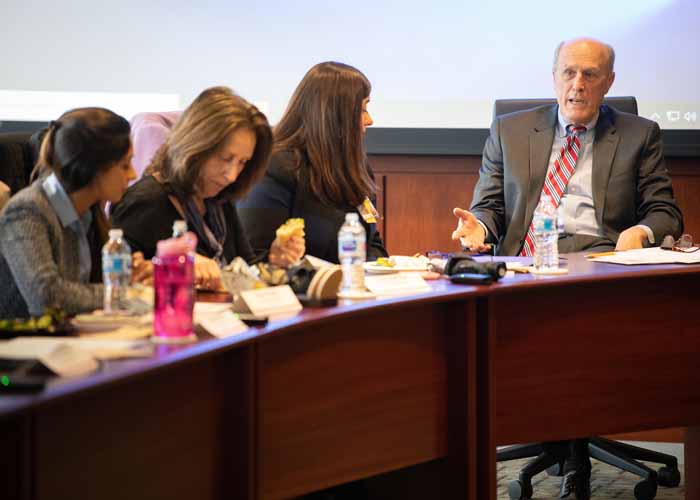 "I'm very excited about this advisory council and I have great expectations of the work from this group in the form of both recommendations and practice," Jarrell said.
The council, which is made up of women and men from across the University, was created in 2019 with the purpose of advising the president on matters of gender equity and other issues affecting women at UMB. Jarrell said this council is particularly important to him because he was part of the initial envisioning with his predecessor, Jay A. Perman, MD, who became chancellor of the University System of Maryland on Jan. 6.
McCarthy and the rest of the President's Council for Women were delighted to have Jarrell at the table and actively participating in their meeting.
"His presence today shows that he shares our commitment to making sure we address issues that are relevant to women on every level of this campus," McCarthy said. "There are certain topics that cut across for all women, and we're happy that he's here to listen and work with us in a collaborative and productive manner."
Several weeks into his interim presidency at UMB, Jarrell is eager to work with the council to address issues impacting women and gender equality across UMB and then find solutions that result in effective and lasting change.
"If we're going to talk about a problem, then we're also going to address the problem and get it solved. I'm a firm believer in that," he said to the council. "I hope that you will give us enough information and direction so that we can take actions and make things happen. My priority is to see the fruits of your labors actually result in actions at a university level."
After Jarrell's remarks, the council members finalized and voted on the duties of its four subcommittees: the Gender Equity and Access Subcommittee, which will identify areas of concern and make recommendations to the president on potential corrective actions; the Family Subcommittee, which will address issues related to maternity leave, daycare, and elder care; the Gender Bias and Discrimination Subcommittee, which will focus on issues related to inequality; and the Education, Advocacy, and Awareness Subcommittee, which will focus on the council's presence and impact in the UMB community. The council members also discussed different avenues of communicating with the public as well as logistics for future content they may put out.
McCarthy has high hopes for what the council will accomplish under Jarrell's leadership.
"I've worked with Bruce for a very long time, so I couldn't be happier to have him as interim president," she said of Jarrell, who came to UMB in 1997 as chair of the Department of Surgery at the School of Medicine. "With this council, we hope that we will make progress in both identifying and correcting any issues that are systematically holding women back. Some of those are going to be really clear endpoints and others are going to be much more challenging. We hope that we can develop a multi-pronged approach that will have a broad impact and improve the well-being and workplace for all of the women on campus."
The next President's Council for Women meeting is set for March 2020.