University of Maryland School of Medicine (UMSOM) Dean E. Albert Reece, MD, PhD, MBA, has announced that Claire M. Fraser, PhD, a pioneer in the field of microbial genomics who is the Dean's Endowed Professor, Department of Medicine, and director of the Institute for Genome Sciences (IGS), has been chosen as president-elect of the American Association for the Advancement of Science (AAAS).
AAAS is the world's largest multidisciplinary scientific society and a leading publisher of cutting-edge research through its Science family of journals.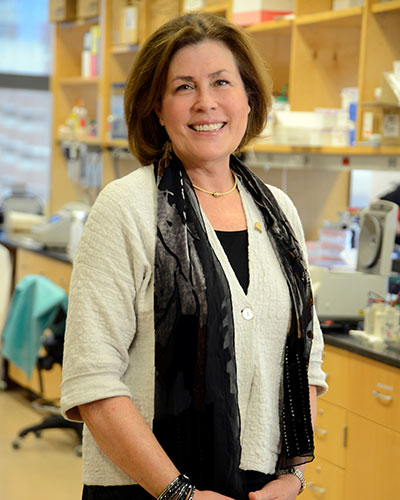 Fraser is among the 114 officers selected during the 2018 election, AAAS announced Jan. 8. She will begin her term Feb. 18 after the AAAS Annual Meeting in Washington, D.C., serving for one year as president-elect, one year as president, and one year as chair of the AAAS Board of Directors.
"One of the most important roles of the AAAS president is to serve as an ardent spokesperson for science and to promote application of the scientific method to the solution of our most pressing problems," said Fraser, citing such challenges as climate change, antimicrobial resistance, and food, water and energy security. "Our ability to respond to these challenges has been hampered to a considerable extent by a lack of adequate funding, a tendency to fund 'safer' research projects, and a relative lack of public trust in science," Fraser added, noting the increasing political attacks on science in the United States and abroad.
"Dr. Fraser is one of the pre-eminent scientists of our time in a field that is redefining how we investigate and treat complex diseases," said Reece, executive vice president for medical affairs, University of Maryland, Baltimore, and the John Z. and Akiko K. Bowers Distinguished Professor at UMSOM.
"In addition to her own groundbreaking discoveries in microbial genomics, she has mobilized a team of world-renowned investigators at IGS who are leading the nation in harnessing the power and potential of large-scale genomic research and exploring new genomic applications in precision medicine, therapeutics, infectious diseases, virology, and cancer research."
As director of the IGS, Fraser leads a team of scientists housed in UMSOM's new 430,000-square-foot Health Sciences Research Facility III.
A pioneer and global leader in genomic medicine, Fraser is one of the most highly cited investigators in microbiology. In 1995, Fraser was the first to map the complete genetic code of a free-living organism — Haemophilus influenza — the bacterium that causes lower-respiratory- tract infections and meningitis in infants and young children. This achievement took place at the Institute for Genomic Research, where Fraser served as director from 1998 to 2007.Her discovery forever changed microbiology and launched a new field of study: microbial genomics.
During that time, Fraser and her team also sequenced the bacteria behind syphilis and Lyme disease, and eventually the first plant genome and the first human-pathogenic parasite. She also helped identify the source of a deadly 2001 anthrax attack in one of the biggest investigations conducted by U.S. law enforcement. At UMSOM in 2007, Fraser launched IGS, which holds over 25 percent of the funding awarded by the Human Microbiome Project.
Issues like health, security, and environmental protection "have no boundaries and can only be tackled by strong multidisciplinary international collaborations," Fraser said. "I am energized by the opportunity to help deliver the message that science matters to all of us."
Between 1995 and 2008, Fraser was the most highly cited investigator worldwide in the field of microbiology, and her published work has received more than 50,000 citations.
Her current research interests center on the structure and function of the human gut microbiota. Fraser has authored more than 320 scientific publications, edited three books, and served on committees of the National Science Foundation, Department of Energy, and National Institutes of Health. She is the recipient of numerous awards and honors, including the Promega Biotechnology Award and the E.O. Lawrence Award from the Department of Energy. Fraser uses her skills and position of leadership in genome sciences to improve the lives of women throughout the world. Fraser has more than $10 million in total award funding.
Fraser graduated from Rensselaer Polytechnic Institute with a Bachelor of Science degree in biology and earned her doctorate in pharmacology from State University of New York at Buffalo. She was honored by AAAS as an elected fellow in 2004 for her pioneering work in sequencing and analyzing microbial genomes. Her prior involvement with AAAS includes serving on the AAAS Committee on Nominations from 2006 to 2008, the AAAS Board of Directors from 2013 to 2017, and the AAAS Section on Biological Sciences' Electorate Nominating Committee from 2014 to 2017.