Alternative facts. Fake news. Endless squabbling. Family disputes at the dinner table. What's a person to do in today's times?
That is the question Michael Reisch, PhD, MSW, MA, the Daniel Thursz Distinguished Professor of Social Justice at the University of Maryland School of Social Work, posed to about 30 students attending his lecture on "Promoting Social Justice in a Divided Society" Jan. 26 at the Southern Management Corporation Campus Center.
"It can feel overwhelming, and then you feel like 'I'm just going to go to a beach somewhere, I give up,'" Reisch said. "We all feel that way sometimes, don't we? You've got to pick your battles. You've got to be in this for the long haul."
The lecture was part of the University of Maryland, Baltimore's (UMB) "Be Informed – Contemporary Issues" series.
Cynthia Rice, director of student development and leadership at UMB, helped to organize the event.
"How many of you feel like society is kind of divided and coming apart a little bit?" asked Rice. Most of the audience members raised their hands. "Don't you feel like every day, something is not clicking … it's not really a fun place to be to get up and run around and interact with people? But it's going to be up to us to change it. We're here and we have to do that."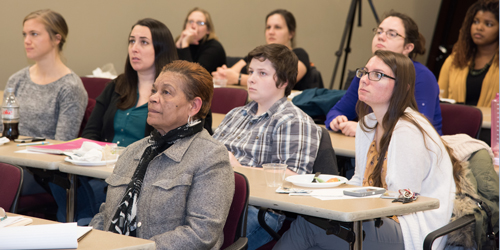 Reisch, who was recently inducted as a fellow into the American Academy of Social Work and Social Welfare, said he was going to try to avoid "discussing anyone who has recently taken public office in this country."
"I think by focusing on the individuals, we can get distracted from the larger social issues that existed prior" to President Donald J. Trump's inauguration, he said.
"A lot of what we're seeing in this country in terms of heightened division is a result of an inability to deal both with enormous economical and technological changes that have affected the nature of work in our economy, but also a huge demographic and cultural change which has been going on for more than a generation and which some people have accepted and embraced and other people are very fearful of," Reisch said.
"We continue to deny how unequal we are in this country," he said. "We like to think that anyone in America who works hard can succeed. But I think what we are seeing psychologically and culturally is people are recognizing that this is a myth but they don't know what to do with the reality that that myth is no longer valid."
Racial profiling, disparities in education, gender inequality, discrimination on the basis of sexual orientation, are all playing a role in our divided society, Reisch said.
"So, what is to be done? How do we combat this? For too long, people who care about social justice have taken on a defensive posture … we need to take a proactive stance as well," he said.
His advice:
Get closer to the issues and be informed. "We can't all be equally informed about every issue, but the issues that you care about, get informed about them so you can speak with confidence. Be persuasive and get rid of the fog of misinformation and outright lies that flood the media on a day-to-day basis. We cannot live in a universe in which alternative facts will dominate," he said.
Speak up. "You've got to let your voice be heard."
Fight against hopelessness.
Get uncomfortable. "We've got to push our own comfort zone and enable those with whom we work, to get outside their comfort zone, too."
Use social media responsibly and effectively, he advised. "Like any technology, it has its ups and downs. The upside, look how quickly people can mobilize, not just here but around the world. The downside is you have presidential tweets."
Engage with people who have different viewpoints, and do it face-to-face. "Doing it over the internet is not enough."
School of Social Work student Rebecca German added that it's important to decide which issues a person finds most meaningful and start out with those when being an agent for social change.
"You can always, if you have more time and more resources, go out and tackle more, but start out with what's most important to you. That way you won't run out of energy," she said. "I think otherwise it feels really overwhelming. It feels like you should be able to fix everything and no one person can."
After the lecture, Ebony Nicholson, MSW '16, academic coordinator, diversity and inclusion initiatives, said she was glad she attended.
"These are the types of programs we want to keep bringing to students," she said.