In recognition of his worldwide achievements in science education, Norbert Myslinski, PhD, associate professor in the Department of Neural and Pain Sciences at the University of Maryland School of Dentistry (UMSOD), was named the 2016 Science Educator of the Year by the Society for Neuroscience (SfN), the largest international neuroscience organization in the world. Presented by the SfN's president, the honor recognizes outstanding neuroscientists who have significantly contributed to public and professional education and outreach.
Through publications, lectures, and innovative programs, Myslinski has spread his passion for neuroscience to K-12, undergraduate, graduate, dental, nursing, and medical students, as well as the lay public, including the deaf, blind, and imprisoned.
Myslinski's fascination with neuroscience springs from both academic and personal experiences. He acquired a lifelong interest in the human brain from his psychology teacher at Canisius College, Donald L. Tollefson, PhD, and his PhD advisor at the University of Illinois, Edmund G. Anderson, PhD. Brain disorders suffered by family members also motivated him to choose a career inspiring future neuroscientists. His wife died of a brain tumor. His father, who was diagnosed with Guillain–Barré syndrome, died of a stroke. His brother has a spinal cord injury, his mother has Alzheimer's disease, and several cousins have dealt with drug addiction, autism, epilepsy, and multiple sclerosis.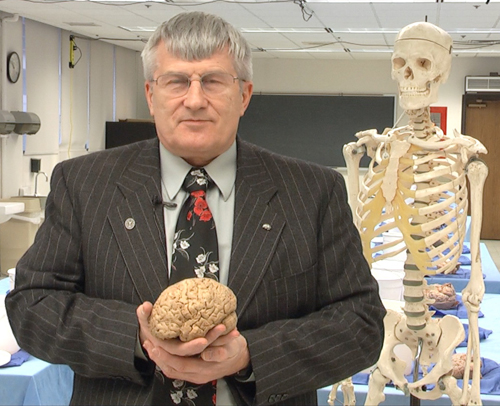 Early in his research career, Myslinski realized that the education of future neuroscientists was vital. "Finding cures needed not only funds, but also a steady stream of young dedicated scientists," he said in a 2016 interview with the Dana Foundation, a philanthropic organization that supports brain research.
When Myslinski examined the high school education landscape, he saw few opportunities for youths to study neuroscience. "In the last century, neuroscience education was not a priority in our society and schools, but I soon made it a priority of mine," he said.
In the 1980s, he created the High School Biomedical Research Summer Program, a full-time, eight-week experience for teachers and disadvantaged students. Every summer for 20 years, hundreds of students applied from more than 80 high schools, but only 30 students were admitted to this prestigious program involving hands-on work in laboratories in the University of Maryland, Baltimore schools of Medicine, Pharmacy, Nursing, and Dentistry.
The training for this program was focused in a highly scientific environment with constant supervision by trained scientists. It also involved field trips, student oral and poster presentations, bioethical debates, career seminars, science seminars, and survival skills workshops. The program was funded by the National Institutes of Health and the state of Maryland. It was recognized and supported by state senators and congressmen and women, the mayor of Baltimore, and the superintendent of Baltimore City schools.
In the 1990s, Myslinski founded the International Brain Bee (IBB), a neuroscience competition for teenagers. Its purpose is to motivate young men and women to learn about the human brain, and to inspire them to enter careers in the basic and clinical brain sciences. The Brain Bee involves a Q&A competition, neuroanatomy laboratory exams with real human brains, patient diagnosis with patient actors, MRI brain imaging analysis, and neurohistology with microscopes.
Beginning as a small, Maryland-based program, the Brain Bee has now grown to more than 180 chapters in more than 50 countries and six continents. More than 20,000 students compete annually in three tiers of competition -- local, national, and at the world championship. Hundreds of newspapers and radio and television stations have covered the IBB, and about 50 websites are devoted to IBB chapters. Winners have been recognized by presidents, ambassadors, and other public officials.
In the 2000s, Myslinski's pioneering work became widely known when he gave invited neuroscience presentations more than 45 times on radio and television, including National Public Radio, Maryland Public Radio, Maryland Public Television, Fox TV, and ABC TV. Coverage of his neuroscience programs appeared in more than 500 written media articles and websites in more than 30 countries, and more than 50 videos in the media and on the internet.
In the 2010s, Myslinski founded the International Youth Neuroscience Association, a worldwide network of neuroscience clubs for teenagers. The student-run organization combines the efforts of more than 70 clubs for mutual benefit, with projects such as a monthly neuroscience journal for teenagers, and a neuroscience curriculum for high school teachers.
Myslinski has taught 20 UMSOD professional courses and directed seven. In addition, he has taught 23 UMB graduate/postgraduate courses, directed 12 of them, and created five of them.
An innovative and inspirational instructor, Myslinski was rated best physiology teacher at UMSOD every year from 1986 to 2003, and the best teacher in the School of Nursing Physiology of Aging course at least 20 times (based on student evaluations). "He consistently gets the highest evaluation ratings from students," said Joel D. Greenspan, PhD, professor and chair of the Department of Neural and Pain Science at UMSOD.
Myslinski attributes this skill as a teacher to finding common ground with all students. "You have to engage the students and make sure it's a two-way street," he said. "You need to read them and figure out what they're interested in. If you talk to people who plant trees, you have to compare neurons to trees. If you are talking to artists, you focus on the parts of the brain that relate to color."
Myslinski also applies his understanding of the brain to how he approaches instruction. "What makes me a good neuroscience teacher is that I apply it, not that I know it. The brain is not good at isolating facts, so you have to make associations. You also have to be aware of critical periods – a specific time during a person's development when the brain is receptive to acquiring new knowledge – to be effective as a teacher," he said.