When Nina Totenberg sat down to talk about her career as a journalist covering the U.S. Supreme Court, it didn't take long for the discussion to shift to the current divisive state of the nation's highest court.
The question: Can the Supreme Court, which has seen its favorability decline in public opinion polls since the 2022 ruling that overturned the Roe v. Wade abortion decision, reverse its negative public perception?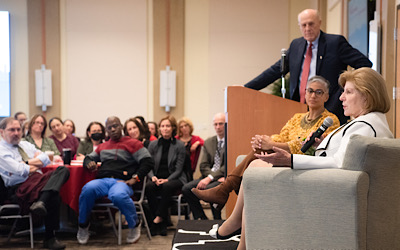 Totenberg, a longtime legal affairs correspondent for National Public Radio (NPR), doesn't see it happening anytime soon.
"This is probably the most conservative court in a century, dating back to the early 1930s," Totenberg told a hybrid audience of nearly 400 at the University of Maryland, Baltimore (UMB) President's Panel on Politics and Policy on Feb. 14. "A lot of things that this court would like to undo, partially or wholly, are things that most Americans don't agree with — and I'm not speaking about abortion or religion issues.
"These are issues like regulations that protect our air and our water. And, over time, we're seeing that the court is very much in step with a conservative agenda that is promoted by a part of the legal community that used to be considered fringe, and that is problematic."
The problem, Totenberg added, is that the bloc of conservative justices holds a 6-3 advantage, with three confirmed during former President Donald Trump's four-year term, and there is little appetite — or need — for compromise with five votes needed for a majority opinion.
"I have covered the Supreme Court for almost 50 years, and every court during that time has had a center," she said. "But at least right now, this court doesn't really have a center. It has six very conservative votes, with a chief justice [John Roberts] who's an institutionalist, and three sort of mainstream liberal justices.
"Stephen Breyer is gone from the court, too, and although he was on the liberal side, he was a justice who would often work with the chief justice to get some sort of compromise. I don't think this court is so inclined to make compromises, and it's the conservatives more than anybody else who are not so inclined, because they have the votes."
Renée McDonald Hutchins, JD, dean of the University of Maryland Francis King Carey School of Law, moderated the discussion after an introduction by UMB President Bruce E. Jarrell, MD, FACS, who pointed out that when Totenberg started her journalism career more than 50 years ago, "women reporters were scarce, but that didn't deter her" from making her mark by breaking important news stories such as the 1991 report on law professor Anita Hill's sexual harassment allegations against Justice Clarence Thomas during his confirmation hearing.
Totenberg's visit marked the 15th edition of the President's Panel on Politics and Policy, a speaker series that began in January 2017 and is designed to examine issues important to the UMB community such as health and higher education policy, federal budget priorities, and issues of civil rights and social justice.
Before fielding questions from attendees at the SMC Campus Center, Totenberg also discussed issues before the court including two cases that could roll back affirmative action, the power of her friendships with NPR colleagues such as the late Cokie Roberts, and her longtime connection with late Supreme Court Justice Ruth Bader Ginsburg, which is the subject of her 2022 book, "Dinners with Ruth: A Memoir on the Power of Friendships."
Totenberg recalled first talking with Ginsburg in 1971 to discuss the landmark case in which the Supreme Court ruled for the first time that the equal protection clause of the 14th Amendment prohibited differential treatment based on sex. Ginsburg, a Rutgers University law professor at the time, was the principal author of the plaintiff's brief in the case.
A friendship soon formed that lasted until Ginsburg's death in 2020. Hutchins noted that in reading Totenberg's book, "I got the sense that you and Justice Ginsburg had the courage to step into spaces where you didn't know that you would be welcomed. What gave you that courage?"
"I was a fearless young reporter on the outside, but on the inside, I was terrified," Totenberg said. "I never actually asked Ruth about how she felt on the inside. But we both understood that we were outsiders looking in. It was like we had our noses pressed up against a window, saying, 'Hey, guys, we can do that job, too. In fact, we might be able to do it better. Let us in.'
"I'm quite sure Ruth wasn't thinking about being a Supreme Court justice when she was 30-odd years old," Totenberg added. "And I certainly didn't think I would be writing a book and having the kind of prominence that I have today. I was just trying to get a foot in the door, I wasn't breaking a glass ceiling. I just was very determined."
Totenberg concluded the event by reading an excerpt from the epilogue of her book that referenced Cokie Roberts and four late Supreme Court justices: Ginsburg, Lewis Powell, William Brennan, and Antonin Scalia:
I have been so fortunate to have them all, and many more, as friends. For the ones who are gone, I often wonder what they would have to say about the current state of the world. Yet, I am struck by the fact that no matter their origins or paths in life, all of them shared a common trait: optimism. Today's events, at home and abroad, would surely test that optimism, but while I think each of them would be realistic about the challenges we face, they would all be determined to persevere. As Ruth often said, "My story is hopeful."

So, I will be, too. I am not hanging up my spurs anytime soon. As my mother used to tell me, "I'll see you on the radio."