University of Maryland, Baltimore (UMB) President Bruce E. Jarrell, MD, FACS, announced that Nadine Finigan-Carr, PhD, MS, has been hired as the inaugural executive director of the UMB Center for Violence Prevention, effective May 1. Finigan-Carr is a research associate professor and director of the Prevention of Adolescent Risks Initiative at the University of Maryland School of Social Work (UMSSW) and an associate professor in the Department Epidemiology and Public Health at the University of Maryland School of Medicine (UMSOM).
The center will marshal the expertise and resources of the R Adams Cowley Shock Trauma Center at the University of Maryland Medical Center, and three of UMB's schools — UMSSW, UMSOM, and the University of Maryland Francis King Carey School of Law — to help reduce and respond to violence in Baltimore City.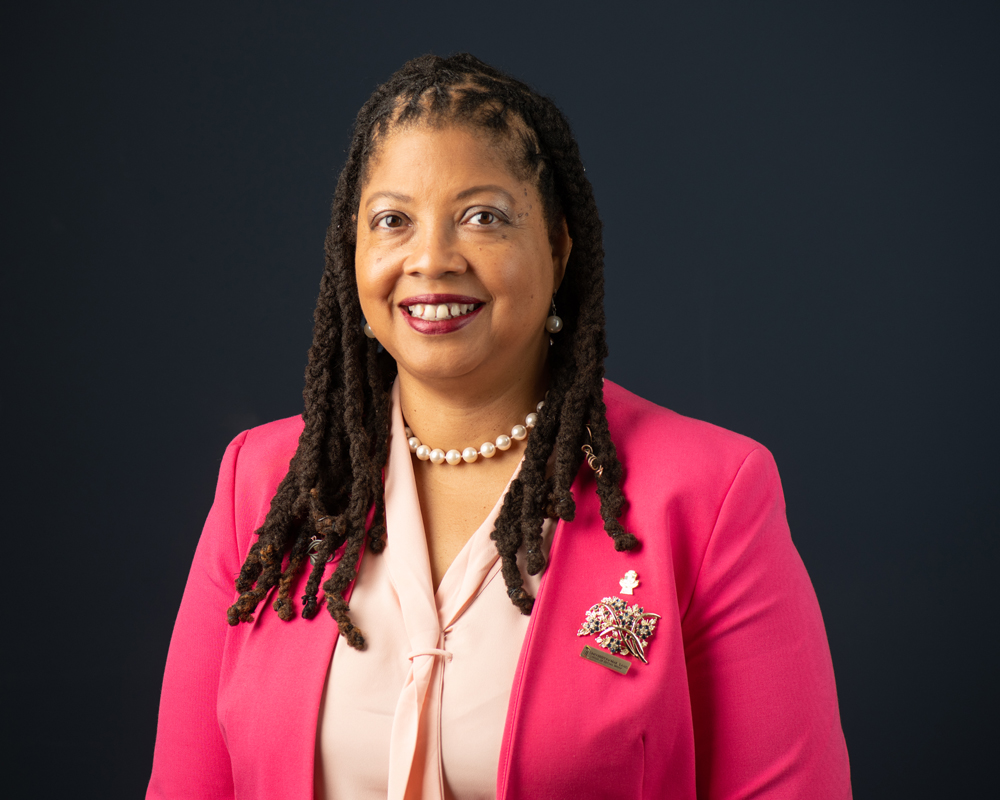 "This interdisciplinary center seeks to bridge the activities of those across the University and in the community in a collaborative fashion to conduct community-based participatory research, provide creative and impactful education, and inform and advocate for policies that strengthen our communities to prevent violence and trauma," Jarrell said. "Dr. Finigan-Carr offers a unique blend of outstanding scholarship in the area of violence prevention and a track record of success in securing grant funding for important research."
The Center for Violence Prevention is funded initially by a $2 million gift from Betsy Sherman and the Sherman Family Foundation in partnership with Thomas M. Scalea, MD, the Honorable Francis X. Kelly Distinguished Professor of Trauma Surgery at UMSOM and the physician-in-chief at Shock Trauma. Scalea has led Shock Trauma, the nation's only standalone trauma hospital, for more than 25 years and is globally recognized as a pioneer in trauma-related care.
"Violence is not a political issue. It's a public health issue, an epidemic," he said. "We hope that what we start here, with our schools of medicine, social work, and law, will continue to grow and become a focal point for violence prevention efforts in a much, much larger way."
Gun-related violence, in particular, has galvanized public attention in recent years. According to data from the Centers for Disease Control and Prevention, guns are used in most suicides and nearly four out of five murders. In 2020, more Americans died of gun-related injuries than in any other year on record.
"The center will employ an interdisciplinary approach to prevent and intervene before violence and violence-related traumas occur. The center will be equipped to address violence rooted in several facets including physical, sexual, financial, emotional, gun, and community," said UMSSW Dean Judy L. Postmus, PhD, ACSW, who also co-chaired the executive director search committee. "We are fortunate to have in Dr. Finigan-Carr an internationally recognized expert who has successfully developed behavioral and social science approaches to contemporary health problems."
"I am so excited to work with our city partners, our community partners externally, and our UMB partners internally, to create a slate of evidence-based strategies and policy initiatives that are designed to prevent and reduce violence in Baltimore City," Finigan-Carr said. "We want to generate new knowledge about violence prevention by identifying and testing evidence-based research strategies. And we want to translate that research so that it's relevant to the community, it's action-oriented, clear, and based on that evidence."
More About Dr. Finigan-Carr
The work of the Center for Violence Prevention will come in many forms, from researching how to prevent violence and intervene with perpetrators and victims, to creating opportunities for education and employment and looking at the social determinants of violence, to trauma-informed training, supporting strong communities, and advocating for just policies. This will be done through collaborations and partnerships across several sectors (community, academic, nonprofit, government, corporate, philanthropic). The mission of the center is to prevent and intervene before violence and violence-related trauma occur in order to build resilient and equitable communities that are safe for all.
Finigan-Carr is a prevention research scientist focused on the application of behavioral and social science perspectives to research contemporary health problems, especially those that disproportionately affect people of color. Her scholarship is grounded in theories and methods found primarily in the field of health behavior change among individuals and the environments that support or impede chronic disease prevention or management, injury, and violence. She is an internationally recognized expert on human trafficking and sexual exploitation of minors.
She is the principal investigator of research projects at the state and federal levels designed to intervene with system-involved youth — those in foster care or the juvenile justice system. These youth have a double vulnerability — adolescence, a critical stage marked by increased risk for negative social and behavioral outcomes including aggression and sexual risk behaviors, and being removed from their families of origin. Finigan-Carr is the author of "Linking Health and Education for African American Students' Success" (Routledge Press). She has served as special guest editor for the Journal of Negro Education (2015), the Journal of Violence and Victims (2020), and Children Youth Services' Review (2021). She also serves as a commissioner of community relations in the Baltimore City Office of Equity and Civil Rights.
Learn more about the UMB Center for Violence Prevention: https://www.umaryland.edu/violence-prevention/