Albert Einstein once said, "The hardest thing in the world to understand is the income tax." While this may have been the case during Einstein's time, today, filing and understanding income tax does not have to be rocket science for Maryland residents thanks to the CASH Campaign of Maryland. CASH stands for "creating assets, savings, and hope." This acronym encapsulates the essential service provided by the nonprofit organization, which is to provide free tax preparation services to low- to moderate-income Marylanders.
On Jan. 27, the CASH Campaign of Maryland celebrated its annual kickoff event at the University of Maryland, Baltimore's (UMB) Community Engagement Center (CEC). The UMB CEC is just one of many locations across the state where Maryland taxpayers who earned $60,000 or less in 2022 can get help filing both federal and state taxes. With an appointment, eligible taxpayers can speak with an IRS-trained volunteer who will help them file on time, maximize their tax refund, and receive their earned income tax credit (EITC).
"Here in Maryland, we are lucky enough to have the most generous EITC in the country," said Robin McKinney, the CEO and co-founder of CASH Campaign of Maryland. "We're working to ensure that almost half a million taxpayers, including more than 50,000 in Baltimore, have a fighting chance for financial freedom and to move out of poverty."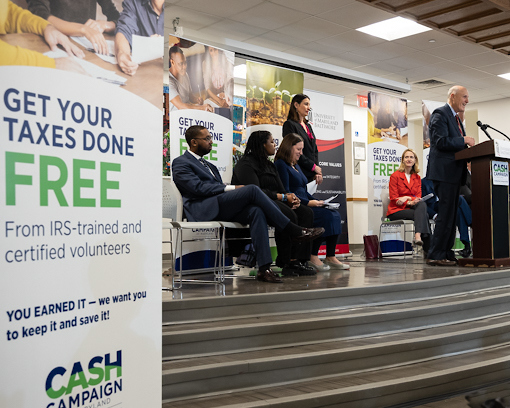 It was only fitting that the CASH Campaign of Maryland's kickoff was held on Jan 27, which is also National Earned Income Tax Credit Awareness Day. It was also the first time the event was held in person since the COVID-19 pandemic. Many elected officials came out to help celebrate including newly elected Maryland Comptroller Brooke E. Lierman.
"This is an important day to make sure that people understand this process so they can seize their economic future and take control of it," said Lierman. "We are at the start of tax season, and we want you to know that you can reach out to any of us for help during this time. The CASH Campaign is all about creating savings and hope and assets. We support this mission, and we want to help, too."
Over the past 22 years, the CASH Campaign of Maryland has prepared and filed more than 248,900 tax returns free of charge, putting almost $361 million in refunds and tax credits into the pockets of families and individuals in Baltimore. These efforts have saved taxpayers an estimated $39 million in unnecessary filing fees by filing with the CASH Campaign free. This tax season, the CASH Campaign of Maryland hopes to put more than $30 million back into the pockets of hardworking Marylanders.
Aliya Kingwood, a young Baltimore resident, used the CASH Campaign's services last tax season and plans to use them again. Kingwood says she was surprised to see how much money she was eligible for on her tax return last year and was able to use those funds to invest in her future.
"I was able to pay for a course to invest in my career, and now, I work for a law firm in the intellectual property sector," she said. "I'm excited that I'm able to use this opportunity to better myself. In fact, next year, I won't be able to qualify, but that's a good thing because I am moving up."
Kingwood continued to say that she encourages everyone who qualifies for tax prep services from the CASH Campaign to take advantage of the opportunity. Many taxpayers have the potential to get thousands of dollars back on their tax refunds, which is why this kickoff event was so important for spreading the word about the CASH Campaign of Maryland.
Baltimore Mayor Brandon Scott summed up this message. "As our 'forever' Congressman Elijah Cummings would say, 'We want to go out and tell Lottie, Dottie, and everybody.' By spreading the word, we are helping our residents who work extremely hard for their money, keep that money that they deserve, because they earned it."
The CASH Campaign of Maryland will be available by appointment for eligible Marylanders through April 18. Appointments are available Tuesday through Saturday from 9 a.m.-5 p.m. and can be made on the UMB CEC CASH Campaign website or by calling 410-541-5086.