Finding ways to offer health care in residents' homes, neighborhoods, and, in one case, at a bus stop was the topic during a news briefing held Feb. 5 at the University of Maryland Medical Center (UMMC) to launch the Mobile Integrated Health-Community Paramedicine (MIH-CP) program.
The University of Maryland, Baltimore (UMB) is among several partners in an innovative effort to improve the health of residents of West Baltimore that is led by UMMC in tandem with the city of Baltimore and the Baltimore City Fire Department.
"I believe in mobility. I believe in taking services to people," said Mayor Catherine E. Pugh. She was joined by Fire Chief Niles Ford, PhD, who said he envisions the program becoming citywide after completion of its two-year pilot status serving six ZIP codes.
(View a video below.)
MIH-CP is a community-based, cost-effective health care solution designed to provide effective and efficient care to patients outside of the hospital, utilizing a two-pronged approach that is described in a Feb. 5 news release.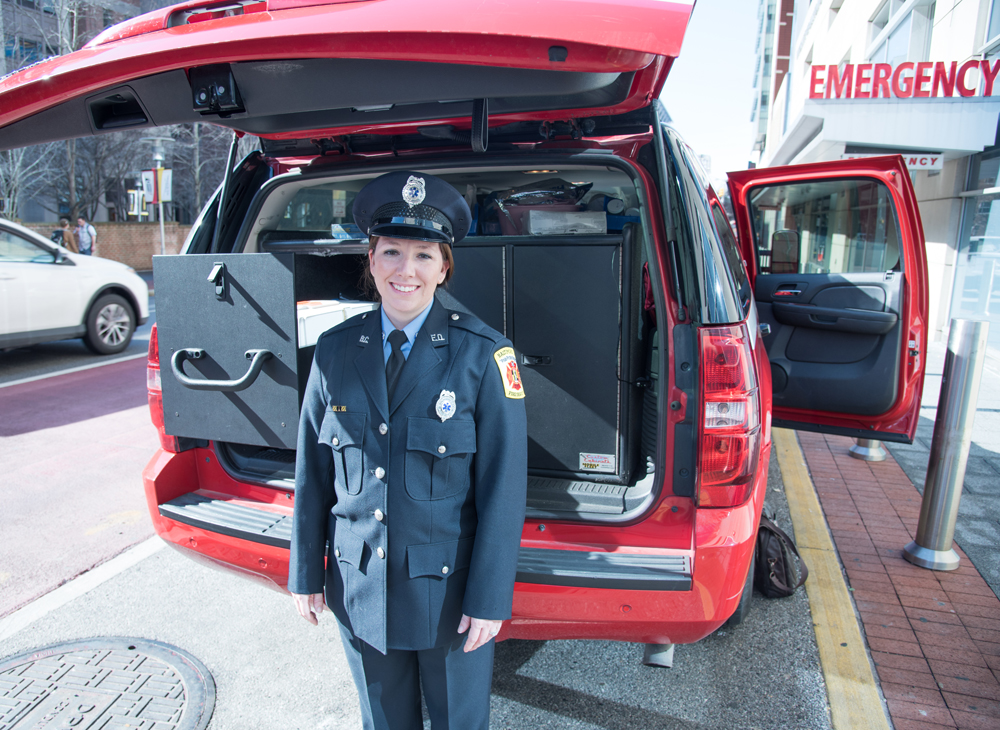 Paramedics and nurses with advanced training are able to function outside traditional emergency response and transport roles and instead assist in maintaining individuals' health at their homes while also providing convenient, unscheduled care access.
The Maryland Health Services Cost Review Commission funds MIH-CP through a $4 million grant.
This community-based program will support the health of individuals through a comprehensive, free, multidisciplinary care model for patients that provides care outside the hospital setting and is designed to reduce health disparities, decrease emergency department visits, and prevent hospital readmissions.
"We are in this transformation in how we think about the delivery of health care, and moving from hospital systems to health systems means taking on the responsibility of the health of our community beyond the walls of our organization," said Mohan Suntha, MD, MBA, president and chief executive officer of UMMC, who referred to changes in the state's regulatory landscape affecting hospitals and expressed gratitude for funding to test the concept.
The principal investigator is David Marcozzi, MD, MHS-CL, FACEP, assistant chief medical officer for acute care services at UMMC and associate professor at the University of Maryland School of Medicine (UMSOM). "As an emergency physician, I see firsthand the challenges West Baltimore citizens face to stay healthy," he said.
MIH-CP consists of two separate efforts to address these challenges: Minor Definitive Care Now focuses on pre-hospital health care delivery; Transitional Health Support improves the transition of care from hospital to home.
The post-discharge program was the first to enroll patients, beginning May 15, 2018. While still hospitalized at UMMC, patients are invited to enroll, discharged, and then evaluated in their homes by a field team of paramedics and nurses from the fire department. Backing up this team is an operations center supported by UMB and staffed by physicians, nurses, pharmacists, social workers, and community health workers. For instance, the e-Health Center at the University of Maryland School of Pharmacy engages in medication management.
"You have to meet patients where they are," said UMB President Jay A. Perman, MD, referring to the supporting role of the operations center in maintaining patients at home, where they are comfortable. "It's low-tech, it's high-tech, it's community-based. It combines what we can do with our tele-health abilities. And it is a model that puts the patient at the center of the team."
Perman described the coordination of care and attention to social determinants of health provided by the schools of medicine, nursing, pharmacy and social work as well as possible involvement in the future by the schools of dentistry and law.
"It teaches our students, the providers of the future, that people need a team-based approach to deal with these incredible obstacles," Perman said.
The pre-hospital program began enrolling patients in October 2018. Participation starts with a 911 call. At that point, fire department personnel determine if the patient is appropriate for on-site evaluation and definitive care by a team consisting of a paramedic and a physician or nurse practitioner. Before going to the emergency department (ED), the patient is informed of the services and can opt in, avoiding ambulance transport and the need to wait in the ED. After being evaluated, patients still have the option to request transport to the ED.
Marcozzi gave the example of a bus passenger who was injured when the bus stopped short, causing her to fall to the ground. After a call to 911, the Minor Definitive Care Now team arrived and the woman agreed to treatment on scene.
"Mrs. V, a diabetic, had minor injuries and was given a prescription for her pain and information to help her manage her injuries," Marcozzi said. Her evaluation revealed an elevated blood-sugar level. "From the scene, we contacted her primary-care physician and got her a same-day appointment to potentially adjust her medication."
Marcozzi and co-authors from UMSOM and the fire department have published an article about MIH-CP, "Baltimore Helping Baltimore," in the February issue of EMS World.
Patients' difficulty with prescription medicine was among issues raised by Ford, who recalled the frustration of a paramedic's traditional role during that part of his own fire department career. Last year, he said, the post-discharge program team went to a residence and found the patient had numerous medications in a garbage bag. The woman had just gotten home from the hospital and had a history of readmissions.
Without getting into specifics, Ford said the team successfully met her needs. "To leave there knowing that you took care of somebody's needs and they didn't have to go to the hospital … that they had a better quality of life," he said, "I wish I'd been in that position."
U.S. Rep. Elijah E. Cummings, JD '76, also spoke at the briefing, commending the way the program has been designed to "reach people where they are," including some who have gone for years without preventive care or without treatment for a chronic disease of which they're unaware.
"You're going to make it possible for somebody to go to a daughter's wedding. You're going to make it possible for somebody to avoid a stroke," Cummings said.
After the briefing, paramedics invited guests to see the MIH-CP vehicles, which the fire department has equipped and staffed to provide certain health care services in the eligible areas. They are ZIP codes 21216, 21217, 21223, 21229, 21230, and 21201.